I didn't want to agree with anything the men's rights movement had to say.
I had already decided the word "stupid" would figure prominently in my headline.
But instead of pouring my third double whiskey on a Friday night, I decided to trek to the University of Toronto Campus to see the reality for myself. What I found surprised me.
Waiting for a lecture on campus men's groups within the heart of the school's vaunted engineering program, stood a rough-and-tumble group of mostly young and middle-aged men. Some had shaved heads, others were scruffy -- ill-fitting suits and faded Ts were the norm. The voice of an older man with a bright pink beard reverberated across the open space.
Men on the margins, I thought to myself.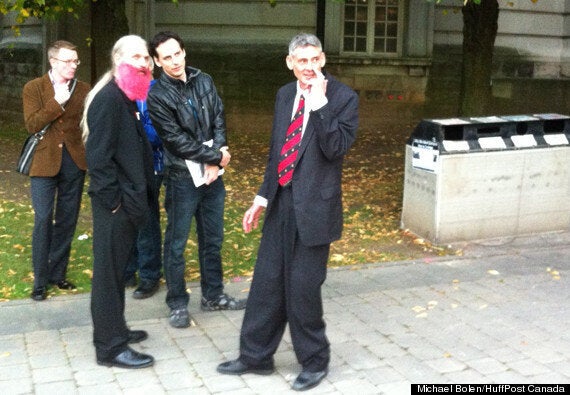 I've always seen these people as misogynists who cloak themselves in the language of equality. Men are still the dominant sex in our society, and after a pretty privileged upbringing I've had a hard time seeing the need for a men's movement for anyone other than closet fans of the Don Draper era.
But what I discovered on campus is that the culture of male silence Draper embodies is still alive and that the victories of feminism actually present an opportunity to break it down. What I found were a group of men who just wanted to talk.
Inside the the packed lecture hall, nine men for every woman, my eyes fixed on the slogan of the event's sponsor, the Canadian Association for Equality (CAFE), emblazoned on the blackboard.
Equality means equality for everyone.
We had come to hear Dr. Miles Groth discuss why there should be men's centres on university campuses, but many clearly just wanted to see what the "men's rights movement" was all about.
The term has become synonymous with misogyny and a push to roll back the accomplishments of feminism. CAFE and the U of T men's group it sponsors opted for "men's issues" and "human rights" instead.
Story continues below slideshow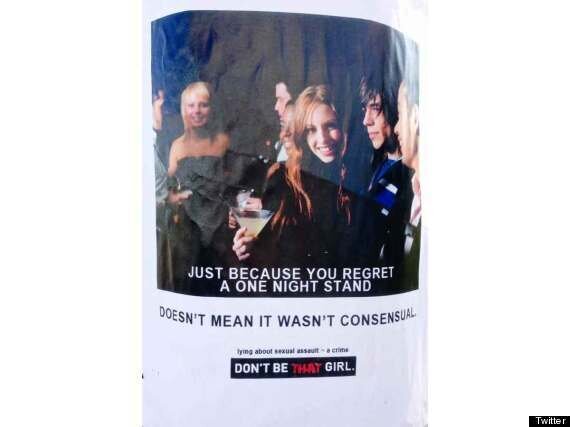 Not So Nice Men's Rights Posters
And while there were certainly some hateful people in attendance, CAFE's goal was to talk about shared custody of children, unhealthy perceptions of masculinity, declining rates of university enrollment, spousal abuse and suicide.
They were themes CAFE cameraman Steve Brulé knew all too much about.
After losing his child in the the breakup of his marriage, a work colleague, whose brother had killed himself during a difficult split of his own, was the only person to reach out to him.
"I didn't think I really needed a visit," he said. "He was the only guy I knew that, if I felt I had to talk to somebody, he would listen and be there."
Brule told us about another colleague who could have used that kind of support.
"They found him hanging in a hallway in his house. I was in the company gym, I had a good job at the time, and we were on the treadmill and a couple of my female colleagues were jogging beside me," he said. "The main concern that I overheard ... [was] that it was insensitive of him to hang himself where his daughter might find him.
"There was never expressed ... that here was a guy who was literally at the end of his rope. And I didn't know there was anything like a men's movement, I didn't know how to put a name toward this callous feeling towards men in difficulties."
Too often the pressure for men to keep feelings locked away and to not ask for help leads to disaster. The lack of sympathy for men in distress surely doesn't help.
Suicide really is a "men's issue," as is the collapse in male university enrollment.
Story continues below video
Young men, according to Dr. Miles Groth, the night's keynote speaker, now make up just 35 per cent of undergraduate students on U.S. campuses, roughly the same percentage as women in 1960. The stats are slightly less dramatic, but outside of math, computer science, engineering and doctoral programs, women also outnumber men at Canadian schools.
Groth lamented that while women have seen an explosion in campus groups, certain "ideological commitments" have resulted in a hesitance to address the well-being of men in university.
After the talk, I asked Groth why he thinks fewer men are pursuing degrees. He said he didn't know, which is precisely why universities should be fostering discussion about men's issues -- to help break the culture of silence. And isn't fostering discussion what universities are supposed to do best?
Now, I'm not interested in debating patriarchy. I think it's crazy to argue that women now have a more privileged place in society than men, or even an equal place. Men dominate in politics and at the highest levels of business. Our culture still objectifies women in a way that wreaks havoc on the self-image of young girls. Women still do the lion's share of the child rearing while at the same time taking on career challenges equal to, if not greater than, those of men.
But one of the side benefits of the advances made by feminism has been to break down the traditional "strong silent type" definition of masculinity and the destructive behaviour it can encourage.
There is a healthy discourse among women about what feminism means for their lives, but men too often face taunts of "queer" from fellow men when they try to discuss redefining what it means to be a man in the modern world. When a man tries to discuss the particular challenges facing his gender today, he is often labelled sexist or misogynist by women who feel it's ridiculous for a privileged demographic to whine about its difficulties.
The fact that a push to discuss male issues at universities has sparked such a backlash is particularly troubling. Where better to discuss questions of gender than at institutions of higher learning?
Progress for men is not a setback for women. Gender issues are not a zero sum game.
There is, however, a dark undercurrent to the men's issues movement that explains why so many women, and men, are so vehemently against it.
At nearby pub that smelled of the unfortunate choice to carpet a bar, I spied some of the less progressive elements of the movement, many of whom are involved with A Voice for Men. The group's stated goal is to "expose misandry on all levels in our culture" and to "push for an end to rape hysteria, DV [domestic violence] hysteria and false allegations."
I also spotted the man with the pink beard from earlier, Dan Perrins, Ontario news director for A Voice for Men.
Perrins stood up before the group and promised to shave his beard in exchange for fundraising dollars.
"For $20 I'll let a feminist shave me."
Some laughed, but the three young men I was sitting with groaned.
Two were involved with the U of T group, another -- bearded and red-faced -- said he was depressed, unemployed, living with his sister and struggling with thoughts of suicide.
When I asked all three of them about whether men's issues groups could be "complementary" to feminism, the red-faced man echoed the word back to me.
All three of them became animated as we discussed what it means to be man in a post-feminist world. None seemed hostile toward women. They just seemed like they wanted someone to talk to.
Popular in the Community