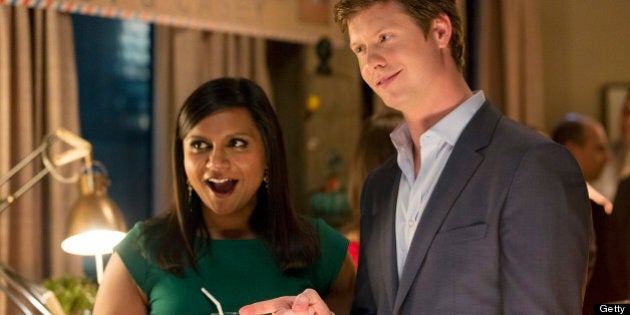 Have you been watching the third season of "New Girl"? I have. I've been a loyal fan since it debuted in 2011. There was just something so endearing about Zooey Deschanel and her portrayal of Jessica Day (though I get why some would be annoyed by how absolutely precious she can be). I, however, simply thought she was a clumsy breath of fresh air.
Fast-forward to now and I have been sorely disappointed, almost from Episode 1 of Season 3. I'm not sure why. Is it because Jess and Nick (Jake Johnson) are a couple? Nope. I love them together and the "I love you"/finger guns exchange on Sunday's post-Super Bowl episode only added to that. Is it because Coach is around but Damon Wayans Jr. is only considered a "Special Guest Star" and not a regular cast member? Maybe. Is it because there has been more Winston (Lamorne Morris) and not enough Schmidt (Max Greenfield), and Schmidt and Cece (Hannah Simone)? Kinda-sorta. I'm always cool with more Winston, but I do miss the Schmidt/Cece romance and, as far as I'm concerned, there is never enough Schmidt. But with plenty of the focus on Jess and Nick, the other characters are losing out and it has been pretty awful. After two seasons, I'm finding Jess grating on my nerves and I am ready to lose it whenever Deschanel utters something ridiculous (which, as of late, has been almost always).
What probably isn't helping "New Girl"'s cause is the fact that "The Mindy Project" is one of the funniest and best-written shows right now. Watching "New Girl" and "Mindy" back-to-back only highlights just how crappy "NG" has gotten and how "Mindy" has elevated its game. But apparently no one else has noticed, because Zooey and "New Girl" continue to get love from the awards shows while "Mindy" and Mindy Kaling continue to be neglected.
Where to begin with "Mindy"? Well, Kaling, for one. The actress-writer-creator-executive producer and her character have always been confident -- unapologetically so. At first I was a little thrown by it and perceived it as arrogance, but then I realized her self-assured attitude was actually kind of refreshing. She's pretty, talented and funny -- why wouldn't she be a little cocksure too? (Aside: Have you read her book? It's awesome, just like her, and it's clear why she believes in herself. She had a wonderful upbringing, raised by loving, supportive parents, both of whom stressed the importance of education. That alone seems healthy enough, but Mindy -- and Mindy Lahiri -- also seem like women who are content with their lives and that radiates a positive aura about them both.)
But enough gushing about Kaling. Because, to be honest, it's Chris Messina's Danny Castellano that does it for me (though I'm not sure if it's Messina or Dr. D that has captured my heart). For the most part, Mindy has dated an array of men and all of them have been fascinating, whether it was the "SNL" guys, Bill Hader and Seth Meyers, or her former "Office" cohorts BJ Novak and Ed Helms. Josh (Tommy Dewey) was all right, Casey (Anders Holm) seemed like the one, and there was, and maybe even might still be, hope with Cliff (Glenn Howerton), but let's call a spade a spade here: Danny is Mindy's lobster. They are the end game, as they should be.
The rest of the cast is also fabulous, a nice mix of normal and crazy. Morgan (Ike Barinholtz) continues to be ridiculously fantastic, I dig the one-liners Beverly (Beth Grant) and Tamra (Xosha Roquemore) get to throw in every now and again, but I would love it if Jeremy (Ed Weeks) and Betsy (Zoe Jarman) got a little more love and attention from the writers. And while that seems like an already large-enough cast with not enough screen time to share, I couldn't be happier with the addition of Adam Pally's Peter Prentice.
And I think that's the perfect example of how "The Mindy Project" is doing it right and how "New Girl," well, isn't. The cancellation of "Happy Endings" devastated many of us, but it was great when both Wayans Jr. and Pally found work on "New Girl" and "Mindy," respectively. But "New Girl"'s writers have yet to properly work in Coach and he just seems to be back with no real purpose. "Mindy"'s writers, on the other hand, properly introduced Peter, fleshed him out, and he fits in almost as though he'd been there from the start.
Guest stars shouldn't make or break an episode; they should simply enhance something that's already entertaining. That was one of "Happy Endings"' problems. I only liked the six main characters and any outsider worming their way into an episode -- be it a parent or a friend or love interest -- was unwelcome. Mindy's guest stars (think James Franco, Chloe Sevigny, Timothy Olyphant, Max Minghella and Kevin Smith) have only added to already-hilarious episodes. "New Girl" used to be like that (remember the days of Dermot Mulroney, Justin Long, Lizzy Caplan, David Walton, Olivia Munn and Margo Martindale?) but now the show seems to rely solely on their guests to make an episode less painful to watch.
The post-Super Bowl episode was actually reminiscent of "New Girl"'s good ol' days, but the rest of the season has been sub-par thus far. Prince may have been a stunt, but his spot was actually funny and his appearance made sense. Perhaps Adam Brody will bring some of his Seth Cohen-y magic when he shows up in Tuesday's episode, "Exes," as Jess' former boyfriend. But is a guest star enough to make an all-around quality show? Nope. But I'm as confident as Mindy Lahiri that "New Girl" will bounce back and find its footing again. If the Prince episode was a sign (see what I did there?) of things to come, the comedy can return to its roots of uncomfortable hilarity. And when "Mindy" returns (on April 1, waaaaaaah!!!), hopefully Fox's best one-two punch will be a force to be reckoned with once more.
"New Girl" airs Tuesdays at 9 p.m. ET on City and Fox. "The Mindy Project" returns with new episodes on Tuesday, April 1 at 9:30 p.m. ET on City and Fox.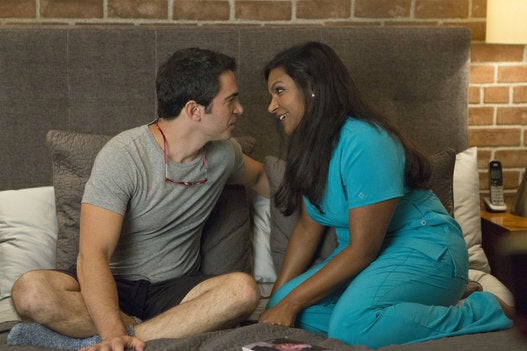 "The Mindy Project" Season 1
Popular in the Community