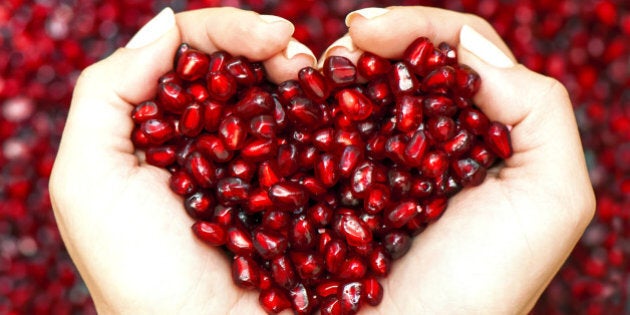 Pomegranates have always brought up happy memories for me. My dad used to bring pomegranates home to my sister and me each winter and would exclaim, "Look what I found! Now don't ask me how to open it!"
Then we'd spend an evening rolling up our sleeves, seeing who could remove the bright red seeds with the least mess. I've always enjoyed the flavour and juicy crunch of the seeds. Throughout my childhood, I'd enjoy the sweet deliciousness of the pomegranate seeds in yogurt or by the spoonful.
Here are my favourite recipes featuring pomegranates collected from dietitians and chefs across North America. There's everything from refreshing beverages to nourishing salads to delightful desserts. Enjoy!
Nutritional Benefits of Pomegranate
I've learned so much since I was a kid, thinking pomegranates were more of a puzzle than a food. First of all, that opening a pomegranate can be done more quickly and without staining your hands using a wooden spoon or by releasing the seeds (called arils) from the membrane under water. There are plenty of videos on how to do that now, so you don't have to struggle like I did (although it was fun trying to work through it ourselves). We also now have the luxury of buying pomegranate arils that have already been separated for us. How awesome is that?
Now that I'm a dietitian, I'm happy to know my dad was introducing us to healthy foods packed with antioxidants (although telling kids that may or may not entice them to eat them). Antioxidants help prevent and repair free radical damage, lowering the risk of type 2 diabetes, heart disease and cancer. Pomegranates are rich in an antioxidant called ellagic acid which may help fight cancer in the digestive tract. This nutrient also helps prevent cancer cells from multiplying!
Pomegranate arils are also rich in an antioxidant called punicalagin that may help lower blood pressure, reducing the risk of heart attack and stroke.
Anti-inflammatory diets seem to be all the rage at the moment, and for good reason. The importance of following an anti-inflammatory diet is receiving more attention lately as we learn more about how inflammation plays a role in obesity, heart disease, stroke and inflammatory bowel disease. Pomegranate may help lower inflammation, making them a food to include as part of an anti-inflammatory diet.
Pomegranate arils are an excellent source of vitamin C which is needed for a strong immune system and wound healing. They are also a source of vitamin K which helps regulate blood clotting.
Choosing the Best Pomegranate:
Pick pomegranates that are plump, round and heavy for their size. This means their arils will be juicy rather than dried out.
How to Store Pomegranates:
Pomegranates will keep well in a cool dry place for up to one month.
How to Enjoy Pomegranate Arils
In addition to the slideshow of tasty recipes earlier in this article, I still love pomegranate arils in yogurt. Now I'm adding them to even more foods, including hummus, smoothies, muesli, oatmeal, labneh, green salads and quinoa pilaf.
Is there a food you want to learn more about? Let me know on Facebook.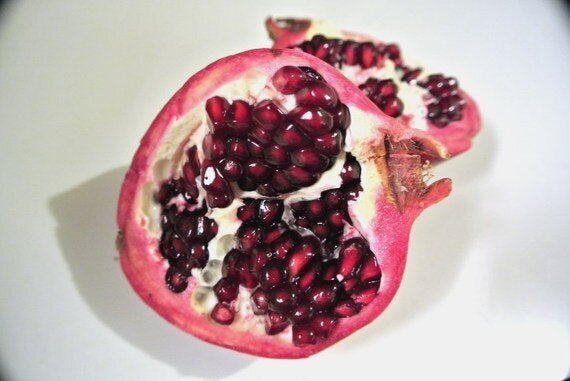 Christy Brissette is an ambassador for POM Wonderful.
Follow HuffPost Canada Blogs on Facebook
Popular in the Community