This weekend, the NDP is meeting in Edmonton to decide their direction moving forward. Eugene Levy once complained about filming a season of SCTV in Edmonton because "It's Edmonton." While I'm sure it's a great city, this is a party who is dreading at the Big E. The election of the past year saw an early lead blown, notable key members of the party lose their seats in the House of Commons, and a third place finish for Tom Mulcair's rookie federal election run.
As the NDP head to the Gateway to the North, it's time to begin paving the highway towards the future. The next election is going to be a lot tougher than this one. On the left, you'll have current Prime Minister Justin Trudeau, standing at one term down and that charming smile that will age like wine. On the right, you don't know what yet. But get the notion they won't have someone or a rebranding complete by then out of your head.
One thing that occurred during the election was that the party's identity was questioned.
The Conservatives are forced into a rebranding, as Stephen Harper stepped down after losing the October election. The Harper era ended some 300 km from Edmonton when he gave his concession speech on election night. How fitting in one province that the death of one government could spark not just the Noltey NDP rebirth but on a federal level.
There are a few questions that a delegate should ask themselves before deciding how to approach the future. First, are you sure that this next 2019 election is one worth battling for? The Liberals could very well botch their mandate and lose public support and blowback from past Conservative scandals could haunt them, but the highway here is more a dirt road/trail through the woods at night. Basically, is the urge there to focus on 2019 to win it or just get your numbers back up?
One thing that occurred during the election was that the party's identity was questioned. Where do they stand? On the right or left of Liberals? Are they too far left or moving towards the centre? It became so dizzying that it felt like the party was a teenager going through phases to try and fit in. Problem was and still is, you don't know if it's the true NDP or not and just hope they'd find their own path. They need an on-ramp to the highway.
So if you answer "no, we're writing off 2019," you have to ask when do you start the rebranding? I've written about Mulcair and the NDP in the past and after being a dipper my entire voting life, had a bad feeling about the election that was a year and a half away. I wasn't sold on him as a leader who had that prime minister vibe.
He is in fact a great Member of Parliament, well-versed in issues I'm completely ignorant to and has done quite well for himself in the House of Commons. But after the election loss, I'm not exactly back-tracking on my original prediction. As much as I've grown to respect him and what he's done for this country, I still don't believe he's the leader to take into an election.
There's a very reasonable for keeping Mulcair at the head of party. Take your time vetting a group of stand-out candidates new and old and have them build the new direction of the party. The highways congested right now anyway so there's no need to rush. Have Mulcair advise and lend a hand in the transition. Identify a pool of candidates and in a year or two have a leadership convention. Find your Trudeau. The fresh face that defines the new brand and can garner media attention just for being someone different. It worked for the Liberals.
I really do wish the NDP figure out where they are headed, even if they delay the torch passing a while. At least if you give it a good, honest shot in the next election, you have a shot at power again. But the Conservatives are deep in the trenches cackling and crunching numbers as they calculate their own makeover. The difference between them and Liberals is there's no other "right leaning party" for them to flock to. And it wasn't so much a Conservative loss but Harper's, as mentioned.
The NDP is idling right now in a roundabout. After this weekend, we'll know what highway they're taking when they leave Edmonton. Because it's Edmonton.
Follow HuffPost Canada Blogs on Facebook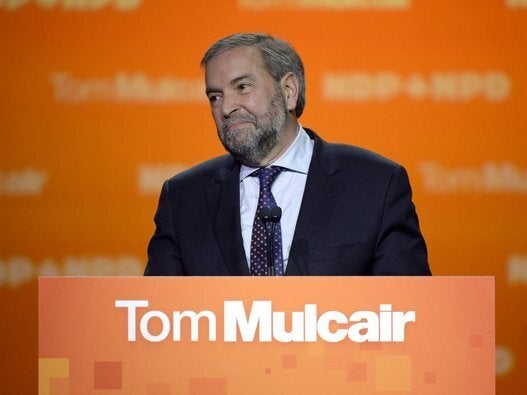 Key NDP MPs Defeated In 2015 Election