YELLOWKNIFE, NWT - My first trip to the Arctic was in 1984 to Inuvik, Tuktoyaktuk and a drilling rig 31 miles offshore in shallow water in the Beaufort Sea.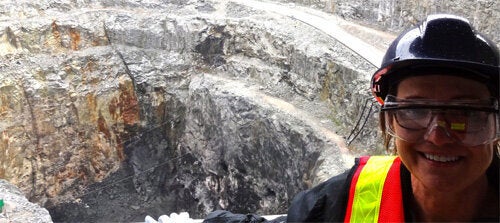 Diane Francis at the edge of the Diavik Diamond mine in the Northwest Territories
A few months after that trip, the last oil well offshore was drilled after many successes. Amauligak flowed 18,060 barrels per day, a giant by any measure, and in 1986 Gulf Canada loaded 422,000 barrels from the rig onto a tanker and shipped the oil via the Bering Sea. This, and other drilling results, proved that more than one billion barrels was there in that lead oil field. Two more deposits were identified too in the 1980s.
Then nothing has happened since Amauligak.
The wells were capped, oil companies stopped drilling due to new federal taxes and Canada's North has remained frozen, literally and figuratively. Even so, plans to eventually ship this oil out in tankers and to ship gigantic natural gas deposits along the Mackenzie Valley Pipeline continued to move. Progress was at a snail's pace due to federal foot dragging and because of land claims squabbles. But eventually, a pipeline easement has been established, but the plummet in natural gas prices makes the gas pipeline concept uneconomic.
But this year, something incredible happened and the planets appear to be lining up for the Northwest Territories.
A major discovery of oil in shale deposits was made this year near Norman Wells (900 miles north of Edmonton and 300 miles south of Inuvik) and a bidding and drilling frenzy is underway.
"We are told that the shale oil in our territories (near Norman Wells) is gigantic, 3-billion barrels or even more," said Peter Vician, Northwest Territories' Deputy Minister of Industry Trade and Investment in an interview in Yellowknife this week. "The current spending commitment is $627 million and interest in other blocks is significant."
Husky Energy made the first discovery and others have followed. If 3-billion barrels or more are there, then the North will get its Mackenzie Valley pipeline, but it won't carry natural gas south. It will likely carry oil north along the same easement to export markets from Norman Wells and from the oil sands too. Alternatively, the Norman Wells oil could go south or west to Alaskan seaports.
(Three-billion barrels is equivalent to five years' of oil consumption in Canada and roughly half the resource estimate for North Dakota's booming Bakken shale oil play.)
The significance of this find cannot be under-estimated: In an era where pipelines cannot be built easily, the Mackenzie Valley easement exists and there has been a small pipeline from Norman Wells to Edmonton since 1985.
The existence of this pipeline easement means that Alberta's stranded oil sands production could also flow northward in order to get to export markets. This doesn't remove the need for Keystone XL or oil rail shipments but it means that development can increase.
Infrastructure already exists too: Tuktoyaktuk has a deep water port for exploration and shipping. This means that stalled economic development in the top northwest corner of Canada could finally happen. There would be more drilling and pipeline and port development and that could make liquefied natural gas plants viable. The North can become Norway with its vast gas production above the Arctic Circle.
Geologically, the Northwest Territories is the extension of Alberta's sedimentary basin with its massive oil and gas deposits. Norman Wells, for instance, has produced and shipped a small amount of oil since 1985 along its 12-inch pipeline, 869 kilometres long. It can carry up to 39,400 barrels per day but oil companies have only shipped half of that amount since.
This week I spoke at the Prospects North 2013 conference in Yellowknife sponsored by the NWT Chamber of Commerce and I also visited the Diavik Diamond mine, the biggest of three gigantic mines 180 miles northeast of Yellowknife. These mines, and another to open soon, are why the Northwest Territories is the third biggest diamond producer in the world.
The conference was organized by executive director Mike Bradshaw and well attended by policy, political and business leaders. My message was simply that the territories needed a new metaphor. They are not isolated and helpless political jurisdictions. They must think of themselves as the world's biggest energy, mining and resource play.
The three -- NWT, Yukon and Nunavut -- are bigger than Australia and have only seven operating mines now. Another 20 mines are in advanced stages of pre-development approvals and hundreds more undiscovered ore bodies exist in the frozen north. Such mature projects and exploration must be their top priority -- as the world's biggest mining play -- and will usher in an unprecedented amount of prosperity and the building of essential infrastructure.
"By 2020, our GDP will double and we will have several new mines, one diamond, two gold mines, one zinc mine and two lead-zinc mines," NWT Premier Robert McLeod told me in his Yellowknife office. His prediction doesn't include the economic development that will result from a discovery of oil from shale and the huge hydro-electric potential in the Northwest Territories, bigger than Quebec's James Bay or B.C. Hydro's.
Vast portions of Canada's North are unexplored and unmapped making Canada itself a laggard in terms of economic development. The territories are cold and remote and unpopulated but so are Alaska and Siberia and yet those jurisdictions are massively wealthy, have large populations and impressive infrastructure.
The North is North America's last frontier and maybe its time has finally arrived.