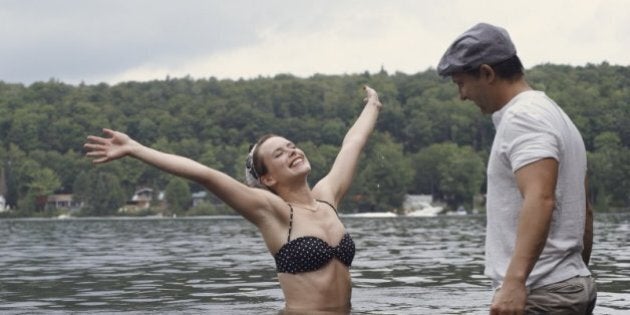 What do you get when you combine the (arguably) most romantic movie of all time with an engaged couple's photoshoot? Apparently, a soul-warming set of pictures straight out of a movie set, with the love story to match.
For Quebec couple Cindy and Jean-Nicola, who married in September, 2010, their engagement pictures were a direct contrast to the "traditional" wedding they were going to hold. Getting the inspiration from one of Cindy's favourite movies, "The Notebook," was a natural fit.
Chelsea Gray of Montreal-based photographers Blushing Bride Studio suggested doing something a bit out of the box, and Cindy came up with the idea, even promising that her fiancé would grow a beard for the occasion (which he did, though unfortunately it had to be shaved due to rescheduling problems).
Though the shoot is a few years old, considering (a) its timelessness, (b) how many less interesting engagement pictures you probably see, and (c) how crazy the resemblance between Cindy and Rachel McAdams is, they were too good to pass up showing.
The couple now has a 2-year-old son and seem to be just as in love as ever. Check out their engagement pictures below, and swoon right along with us.