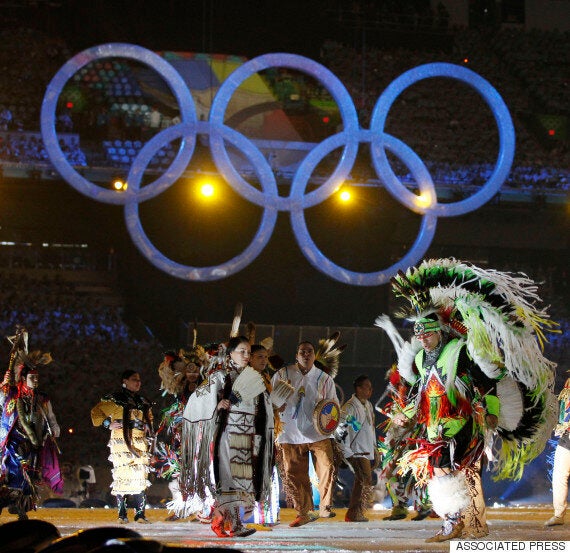 Aboriginal people of Canada perform during the opening ceremony for the Vancouver 2010 Olympics in Vancouver, British Columbia, Friday, Feb. 12, 2010. (Photo: AP Photo/Mark Baker)
The final report for the Truth and Reconciliation Commission, released in 2015, includes 94 Calls to Action that outline how Canada can help reconcile its past with Indigenous people. Five of those action items focus on sport. One of those items, number 91, addresses the inclusion of Indigenous people in major games, such as the Olympics.
Why was the Commission interested in major games? Didn't it address the history and legacies of Indian residential schooling?
Organized sport played an important role in the residential school system, which means that sport is implicated in Canada's history of cultural genocide. How we move our bodies, the values we attach to those movements, and the resources we provide to support certain types of movements and not others are political decisions.
Not so long ago, in the late 1800s, the federal government made it illegal for Indigenous people to engage in their traditional dances and ceremonies. Indian agents and missionaries attempted to fill the cultural void by encouraging sports participation instead. That prohibition, called the Potlatch Law, was finally repealed in 1951, the same year that Indian Affairs began encouraging sports in the residential school system, believing it would help Indigenous youth assimilate into mainstream culture.
The final report and the 94 Calls to Action are thus clear reminders that sport has always been and will always be political. Even if you don't participate in sport, it is an important feature of modern life, and that is why the commission included items about sport in its final report, alongside talks of treaties, health, justice and education.
It is tacit recognition that the relationships that structure Indigenous involvement in sport, including the Olympic Games, need to be rearranged so that Indigenous people do not have to fight the same battles -- for inclusion, for consultation, for legacies -- every time an event rolls into town.
Will future Olympic hosts build on the progress made in Vancouver with the Four Host First Nations by providing Indigenous people with more concrete benefits rather than symbolic ones?
How Indigenous people are involved in major games is important because the benefits they accrue from taking part offer important insights into whether or not the International Olympic Committee, the National Olympic Committees, the host societies (which includes government representatives) and corporate sponsors are serious about creating meaningful legacies for people other than themselves.
There is a lot of room for improvement when it comes to the Olympics. The 1904 Games in St. Louis pitted Indigenous people against white athletes in a scientific experiment called Anthropology Days, with the purpose being to demonstrate white athletic and cultural superiority.
The 1976 Games in Montreal incorporated Indigenous imagery and people into various aspects of the Games to sell Quebec as a multi-cultural region and the Olympics as a vehicle for bringing peace, harmony and friendship to all corners of the globe -- never mind the fact that Quebec didn't recognize Indigenous people as "people" at the time, or that the Olympics were struggling from acts of violence and terrorism (Mexico 1968 and Munich 1972) and global concerns about the financial risks associated with hosting.
Indigenous symbolism took on increased importance to organizers after Montreal. Consider Calgary 1988, Sydney 2000, Salt Lake City 2002 and Vancouver 2010. In each case, there were more Indigenous people and imagery everywhere as the Games moved forward in time.
How have Indigenous people benefited from their involvement in the Games? Vancouver 2010 offers some instructive examples. The highly acclaimed First Nations Snowboard Team, a youth-based program, initially benefited from a $3-million dollar legacy fund.
Along the way, funding for the team was reduced and finally cut, and not one organization has yet explained why the team cannot access the reserve fund. The remaining four or five team leaders who are working on volunteer hours are struggling to keep the program alive.
And according to Grand Chief Stewart Phillip of the Union of B.C. Indian Chiefs, the Four Host First Nations (on whose land the Games took place) were the only beneficiaries outside of the big corporations, the host society, and the provincial and federal governments. "We need to decide where we go from here," Phillip said back in 2009. "We can't sit idly by and watch this continual generation of wealth, while our communities sink deeper and deeper into poverty."
The exploitation needs to stop.
Will future Olympic hosts build on the progress made in Vancouver with the Four Host First Nations by providing Indigenous people with more concrete benefits rather than symbolic ones? The Vancouver Games were far from perfect, but they created a space to have a long-overdue conversation about Indigenous involvement in the Games.
Imagining what is possible is even more relevant now that the Truth and Reconciliation Commission has come to a close.
But what does reconciliation in sport look like?
Is it the underfunded snowboard team, the only legacy from Vancouver for Indigenous athletes in Canada? Is it the ongoing exploitation of Indigenous people and imagery for commercial gain? That would explain Hudson's Bay hiring Dsquared2, the fashion designers who apologized for their "Dsquaw" line only after they signed their deal with Hudson's Bay.
Or maybe it's an Aboriginal youth forum, like the one that was organized for the 2010 Games? In the words of John Furlong, then-CEO of Vancouver 2010, "We would dress them up in modernized versions of their tribal regalia to create the colour and pageantry for which we were striving" and then "had them locked in a hall in Squamish, a week or so before the Games" so that they didn't leak confidential information about their role in the Games. This is the perspective that the Olympic chief brought to the Games and wants us to celebrate?
There needs to be a robust discussion about Indigenous involvement in the Games and about legacies that offer enduring concrete outcomes for Indigenous people. In those structural changes, we will see the limits for what is possible for Canadians generally, so that the broader public can benefit, too.
Canada, we can do better.
Follow HuffPost Canada Blogs on Facebook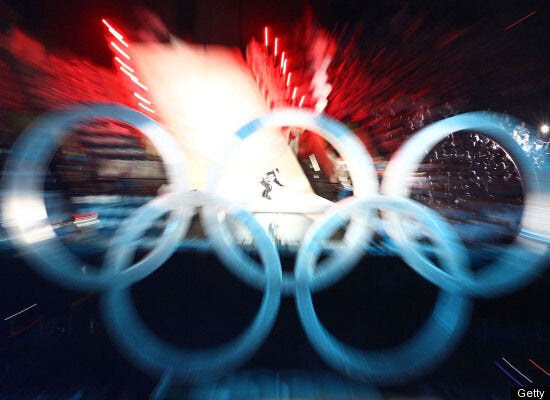 Vancouver Olympics Opening Ceremony
Popular in the Community