Many people walk along the dusty red road between the Protection of Civilian (PoC) Site (population 115,000) and Bentiu town. During the day white UN tanks are parked at strategic areas to make it safer for the people on their way. Young men with sticks in one hand and Kalashnikovs slung over their shoulders herd large hump-backed cattle that cause little traffic jams.
Bentiu had the largest hospital in South Sudan before the conflict. Not any more. Most of the buildings were ransacked in the war, and now, thanks to UNICEF, two years later, maternity wards, vaccination clinics and nutrition centres have re-opened.
Christopher shows us around. Children waiting for their vaccinations here; mothers coming for ante-natal care there. In the Nutrition Centre the children have simple homemade toys to play with while they wait to be seen – but frankly, most of these little ones are too weak and small to do much playing. They sit quietly on floor mats with their mothers and wait. Once they have been seen by the nurse they will get their Plumpynut and then be sent on their way.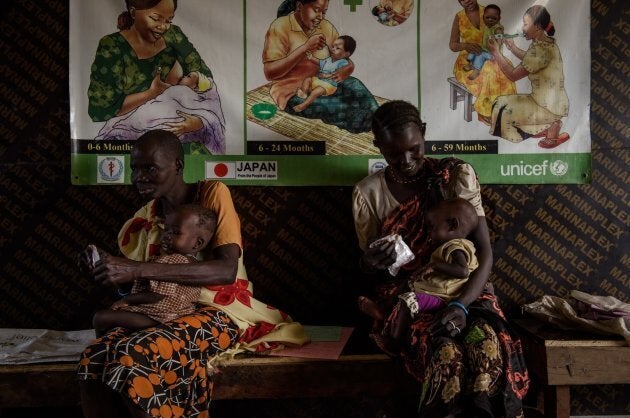 A garden project has started up in a corner of the hospital grounds. Mothers are growing vegetables; there are cooking classes too, so they can supplement their diet.
"How do people know to come here," I ask?
"We have Home Health Providers who go into town, and also mobile teams who go out beyond Bentiu. But it is still difficult and some of them had to evacuate the other day because there was an attack. We also use radio to tell people we are open and functioning again, because when the conflict was here in 2014 and 2015 it was a little difficult."
"I think it was very difficult," I said.
"Yes," he replied, quietly. "It was very hard." And his eyes grew unfocused for a moment; seeing things in his mind's eye which I could never even imagine.
"We want to do so much more here. Get our operating theatre up and running again, but for now this is what we can manage, and the health it gives to these children is very important."
The fighters did terrible things to people, but to things as well. Not only did they ransack the hospital, but they targeted the Bentiu water supply as well by destroying the town's water plant. We have been working to bring water back to Bentiu, and the woman lead that is Elizabeth.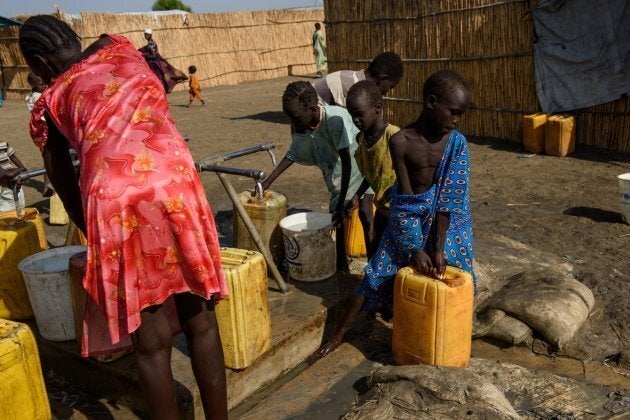 She shows us how the water is drawn from the river and all the stages it goes through – sedimentation, flocculation, addition of chlorine – and then it is distributed to 27 water points around Bentiu town.
"For a while," Elizabeth explains, "the few inhabitants here were drinking bad water. Then we drilled some bore holes, and now, as more people move back, we have done this. And we dug the pipes deep, too, so they cannot be vandalized, and at each water point there are 6 or 12 taps. It is working. At the hospital cases of diarrhea have already dropped by a third." And that is important, because for poorly nourished children, diarrhea kills.
On the way back to the United Nations Mission in South Sudan and the PoC we see a smaller water plant. "We will use this one to support these communities and it will reach the PoC, too," says Elizabeth proudly.
But it points out one of the paradoxes of our work here too. Putting in permanent services could make the PoC into a permanent town. Does the government want that? Can there be an economy here which will sustain that? But can we continue to get enough water into the PoC if we don't? And even if the government doesn't want a permanent place here, until there is peace – and that prospect seems far away indeed – people will live here needing the basics of life. And you can't get much more basic than water.
UNICEF Canada President and CEO David Morley has just returned from South Sudan.