The recipe to a perfect cottage kitchen? Colin & Justin reveal all...
Hallelujah! We can finally reveal our cottage kitchen, whose transformation has been a veritable state secret these last few months. Truth is we wanted to avoid stealing our own thunder and opted, therefore, to throw a veil of secrecy across the mini miracle (see the project's full extrapolation on tonight's Cabin Pressure -- 10pm, Cottage Life) to reveal it -- just one day pre-broadcast -- in these virtual pages.
In the meantime, feast your eyes upon the gloomy cook zone from which our excited ambition boiled. Had the kitchen been salvageable, we'd have considered a paint job -- and new counters -- but the floor underneath was buckled and the orange pine cabinetry so gappy it was little more than hangout for partying mice colonies.
But our ambition lay far beyond cornflake box rodent avoidance or floors that rose and fell like the hemline whims of Victoria Beckham. From a design perspective (ours certainly) too much wood is less than ideal. Let's be honest -- our weekend retreat is a timber cabin and with pine cupboards set against lumber logs (not to mention the battered oak floor). The resultant woody woes were somewhat overpowering. Less, frankly, is generally more.
And so, without further ado, we assembled mood boards and started to plan. We knew we wanted a battery of modern conveniences, but we also knew that a state of the art kitchen with gloss and sparkle wouldn't sit well within our cute wee forest bolthole. All things considered, this seemed the perfect opportunity to roll out a spot of traditionally styled food prep' alchemy.
To realize our dream, we visited several local manufacturers but none seemed confident they could deliver (in either aesthetic or functional terms) on budget and within our strict ten week time frame. Frustrated, we hit the highway and headed for Toronto, stopping halfway at 'B8's Smokehouse Deli', Oro (near Barrie) which we'd heard produce the best hot beef sandwiches this side of Boston. And it was there the coincidences started to roll.
Paying up after a delicious lunch, we spotted a classic 1950s Mercedes parked further down the plaza. As aficionados of German motoring (we drive a lovely old 1968 280 SL which we picked up in Arizona and shipped to Toronto) we battled a path to snap a pic of the four wheeled beauty. And then he appeared. Like Elvis Presley reincarnated (jet black hair slicked into a perfect quiff and sporting a jaunty Hawaiian shirt) cue the utterly charming Bruce Bateman, owner, it transpires, of the whole plaza. "If you like the Merc', he enthused, you'll love my car showroom. Come see..."
Following instruction, we turned on our heels and entered 'Cool Rides', a veritable vehicular heaven. Bruce, we learned, is also a respected classic car consigner and his inventory is staggering. From vintage Ford pickups to Studebakers, they're all there, meticulously arranged and detailed.
But what does this tale have to do with kitchen planning? Well rather a lot, actually. "How d'you find us?" asked Bruce, as we stared, slack jawed, at his gleaming inventory. "The plaza sarnies. They're the stuff of folklore, so we decided to give them a go." Bruce smiled: "Glad you liked 'em, they're my pride and joy." Then -- almost in unison -- us: "Cars and subs, that's quiet a mix." Bruce: "Both ventures are a fun adjunct to my main business." Us: "Which is?" Bruce: "Furniture retail. Oh, and kitchen design." Well, you could have knocked us down with a feather.
A few moments later, just next door to the car showroom, we walked into 'Bateman's Furniture' (http://www.batemanfurniture.ca) and marveled at a huge collection of case goods and tables, much of which is designed -- and manufactured -- on site. We were more than impressed. Thereafter, Bruce ushered us into his kitchen manufacturing workshop where our interest really piqued. Wow...
Bruce's son Brandon, we discovered, along with a cast of master craftsmen, builds the cabinetry to the specification and layout that his dad's partner Eve hand draws. Hey, classic draughtsman ideals (draughtswoman in this case) family values, hand built cabinetry, hot beef sandwiches and classic Mercedes. In Bruceville (for it was that we renamed the plaza) we felt we'd died and gone to heaven.
Just one week later, we were back at the cottage with Batemans senior and junior, at which point the perfect client/manufacturer relationship developed. Soon, terms were agreed, colour decided upon, drawings approved (hand penned on graph paper by Eve) and plans underway.
In short, we opted for a walk around island, lit from above with huge nickel plated pendants from Casa Life, and creamy Caesarstone installed by The House Of Granite (http://www.thehouseofgranite.com) A statement faucet, from Blanco, elicits a professional feel while a whisper quiet dishwasher by AEG (http://www.aeg-appliances.ca) assures negligible noise bleed into the connecting living room, a space we'll reveal, in these virtual pages, next week.
But come on; a good kitchen is only as good as its appliances, right? To this end, we specified a 24" Liebherr Bio Fresh Refrigerator and matching freezer (http://www.liebherr-appliances.com) from Euro Line Appliances, integrated into solid wood (no MDF or plyboard here) grey painted, Brandon assembled, cabinetry. The appliances have proved wonderful; not only are they manufactured 'panel ready' for doors to be attached (invisibility rules in our world) they're like Mary Poppins bag with almost never ending space for food storage and freezing.
The AEG stove and hob, too, have already proved a boon to our culinary prowess. As lads who fought it out on Celebrity Masterchef a couple of years past, we needed to be well appointed. Everything, as you can clearly see, is designed with Euro 'integration' at the forefront of our logic and, to this day, it never disappoints.
So we're pleased. Very pleased. If the kitchen is indeed the heart of the home, then ours -- which had previously flat lined -- has been brought back, kicking and screaming, from the precipice. The dinner party stories of its realization (pursuit of hot beef, vintage cars and a pinch of Elvis Presley) are simply the fluff; our dream, brought skillfully to life by the Bateman dynasty, is the real meat in our designer sandwich.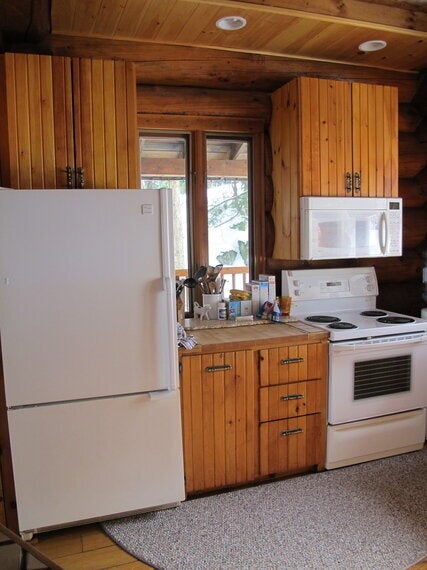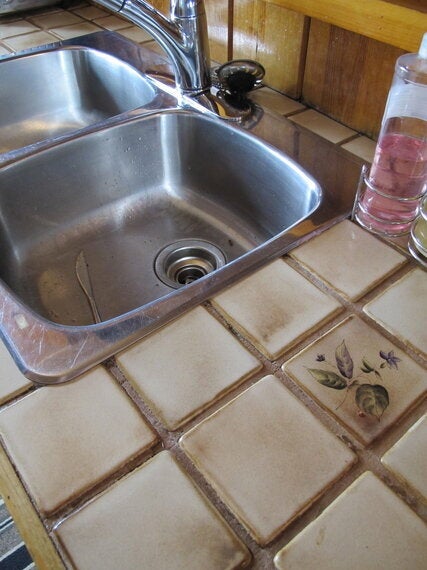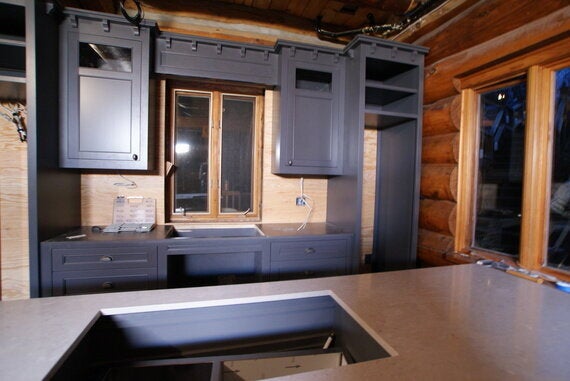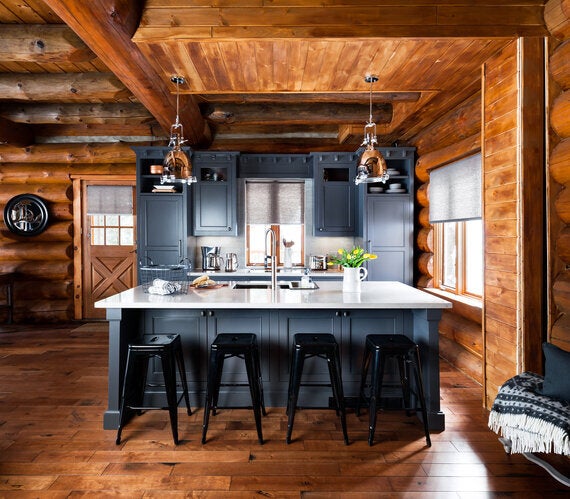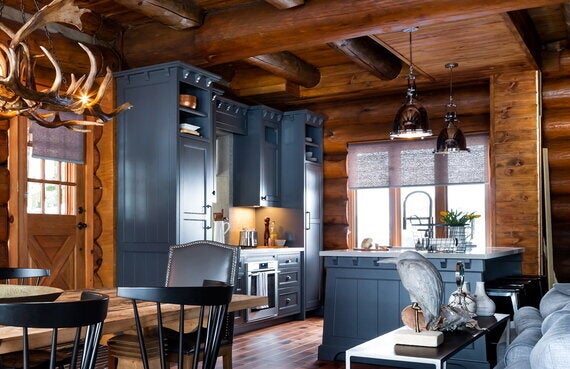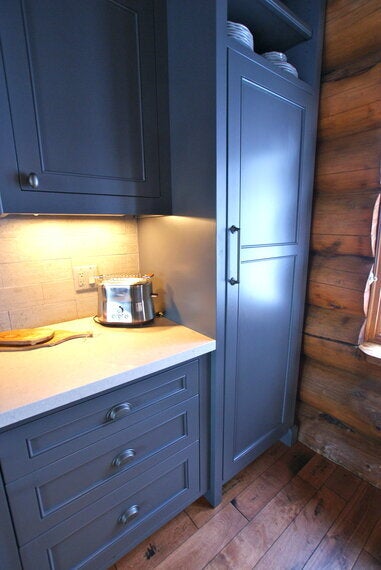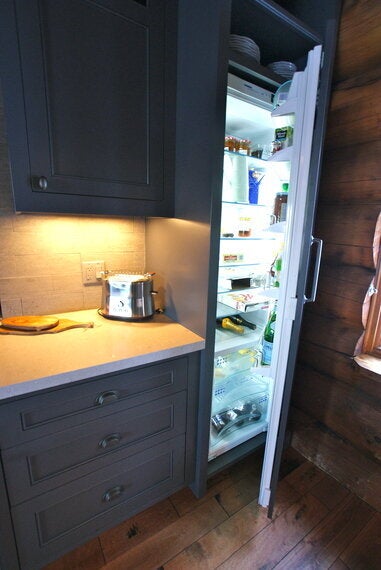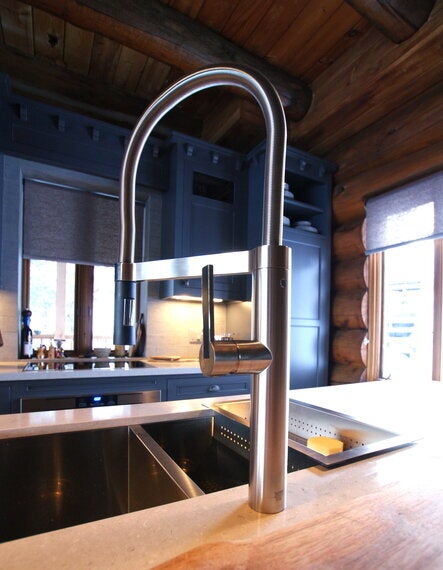 Popular in the Community