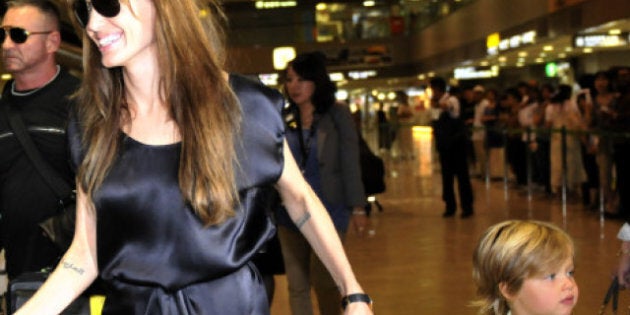 If you relish a spirited debate, plop a photo of five year old Shiloh Jolie-Pitt in front of a group of parents and watch the fireworks explode.
Shiloh is the daughter of movie star/humanitarian/"home wrecker" Angelina Jolie and her partner Brad Pitt. And she is almost always dressed as a boy. Whether it's a tuxedo shirt, a Peter Pan outfit or a fedora and tie, the pint-sized celebrity is forever sporting something masculine. In fact, with her cropped hair and penchant for sneakers, it would be easy to assume that she is a he.
Some parents claim that little Shiloh is merely going through a phase. They say that she is just a tomboy and enjoys wearing the same clothes as her older brothers and that it's no big deal. Others wonder if Shiloh might be suffering from gender dysphoria or gender identity disorder.
Like I said though, Shiloh is only five, so we may not get to the bottom of this for several more years.
What is interesting to note, however, is the fact that Shiloh's "cross-dressing" began when she was just a baby. In the first publicly released baby picture of their darling little girl, Brad and Angie chose to dress Shiloh in a grey shirt (featuring a skull and crossbones) and blue pants. She was less than a month old.
Later on, when Shiloh was just a toddler, she was photographed wearing a pair of black and white shoes emblazoned once again with the skull and crossbones.
One may argue that Angie is merely a pirate or poison lover and that this explains the atypical clothing choices. But the public rarely ever saw Shiloh dressed in anything remotely girly or feminine, even as an infant.
Don't get me wrong, when my daughter was a baby she practically lived in sleepers. They were comfortable and easy to take on and off. She also had plenty of stretchy cotton pants when she was old enough to crawl. But most of her pants had cute little ruffles along the bottom. Her shirts were generally adorned with feminine touches -- a bow here, a rosette there. And if I knew we were taking photos, I would take special care to make sure our daughter was wearing something pretty (and wasn't covered in oatmeal).
It is perfectly reasonable that Shiloh, having two older brothers, might want to emulate them and hence gravitate towards a boyish wardrobe. It is also reasonable that rather than fighting with a wilful child over unconventional clothing choices, a parent would prefer to allow the child some autonomy in that department.
What is hugely peculiar though -- and somewhat disturbing -- is the fact that Shiloh was being dressed as a boy long before Shiloh could make such choices for herself. So really, in this instance, it has nothing to do with older brothers or a possible case of gender dysphoria. Shiloh was being guided in this direction from the very beginning -- most likely by her mother, who has a long history of odd and questionable behaviour. (Remember when she French kissed her brother or wore vials of blood?)
In Canada, we seem to have our own "Shiloh experiment" in the case of Storm -- a baby boy or girl being raised by a Toronto couple who had decided to keep their child's gender a secret. The parents also have an older child named Jazz, age six. Jazz is a boy. He has long hair, prefers to wear dresses and his favourite colour is pink. Jazz recently had a fairy-themed birthday party.
I'm all for diversity and acceptance. But when a youngster is indeed different or diverse, we need to make sure that the diversity is genuine and not rooted in a parent's desire to make political statements at the expense of his or her child.
Lydia Lovric is an opinion columnist and talk-radio host, turned stay-at-home mom. Her fiery pieces have appeared in The National Post, The Montreal Gazette and various other papers across Canada. She is a regular guest on BBC Radio, The Michael Coren Show and Charles Adler.