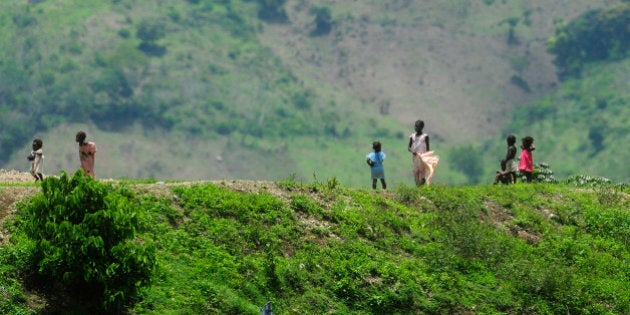 As we sat huddled in a small thatch and wood structure waiting for a mix of rice and beans to boil over charcoal embers in Oriani Haiti, it was hard to imagine that this rudimentary cooking fuel, made from slowly charred trees, could be the cause of so much turmoil.
We were there on production for our feature documentary Death by a Thousand Cuts, which investigates the alleged murder of a Dominican park ranger by a Haitian charcoal producer caught illegally producing wood charcoal within a Dominican national park. The murder becomes a manifestation of violent conflict over limited forest resources and a symbol of the larger conflict between two nations occupying one island. It is an exploration of the far-reaching -- often overlooked -- human and ecological ramifications of the struggle over natural resources.
The island of Hispaniola, shared by the Dominican Republic and Haiti, is a unique case study that explains how the exploitation of natural resources can directly affect the fate of a nation. That the two countries have starkly different trajectories is largely related to how they have historically managed their natural environment.
There is no doubt that the extreme pressure on the land is an important factor exacerbating poverty in Haiti.
In the 1960s, the Dominican Republic, concerned with the effects of rapid deforestation and eager to modernize its economy, implemented severe laws to protect its forest: it subsidized propane as a cooking fuel and widely distributed cook stoves in rural areas, outlawed the production and use of wood charcoal, shuttered a large part of its timber industry and put the management of its national parks and forests under the control of the military.
During the same period, Haiti made little headway protecting its forests and providing viable alternatives to charcoal and wood fuel, which today remain the primary source for cooking fuel throughout the country. As the forests of Haiti rapidly disappeared, many Haitian rivers were reduced to small streams or dried up completely, and a large part of productive soil for agriculture was eroded. Over the years, charcoal production spread to all corners of the country. There is no doubt that the extreme pressure on the land is an important factor exacerbating poverty in Haiti.
Over the past few years, we have seen firsthand how the severe lack of trees in Haiti translates into charcoal produced from ever-smaller pieces of wood, branches, and even tree roots. With inadequate forests of its own, Haiti has become increasingly dependent on the nearby Dominican forests to meet its substantial charcoal demand.
Since charcoal is considered contraband in the Dominican Republic, it is challenging to get reliable figures on the amount of charcoal illegally crossing the border, but by all indications it is a profitable and growing industry. From our own investigation, we saw firsthand as thousands of bags of charcoal were stockpiled and loaded on to trucks bound for Puerto Principe on a weekly basis. As a Dominican government official told us, charcoal trafficking is comparable to the drug trade; as long as there is high demand for the product, there will be producers willing to meet that demand.
The profitability of charcoal has also meant that its commercialization is no longer limited to poor Haitian farmers working the Dominican high mountains. While Haitians are responsible for part of the illegal charcoal trade, well-connected Dominicans with their own transport and distribution networks have developed a nearly industrial-scale production in the low-lying dry forests of the Dominican Republic.
The risks of continued deforestation for both countries of Hispaniola are significant.
Most alarming, what was once an entirely illegal activity in the Dominican Republic has in recent years acquired a convoluted legality. We obtained a copy of a permit from the Dominican Ministry of Environment authorizing the large-scale production of charcoal for export,100 acres of forest or 124,649 trees to one landowner alone, under the pretense of sustainably managed production. In documents we obtained from the Dominican Customs authority, over 2,800 tons of charcoal was exported from the Dominican Republic to the United States, Puerto Rico, Europe, Haiti and other countries in 2015.
The chronically underfunded Ministry of Environment is now responsible not only for controlling illegal charcoal production, but also for overseeing forest management plans by newly permitted charcoal operations. Despite a dearth of vehicles, gas, personnel, equipment, now these officials are responsible for deciphering a new and confusing matrix of "legal" versus illegal charcoal operations. It clearly isn't working. "Legal" charcoal commerce, fueled by lack of supervision and corruption, has greatly increased the deforestation of lowland forests.
The risks of continued deforestation for both countries of Hispaniola are significant. Haiti, ranked as one of the most vulnerable countries in the world to climate change, is increasingly more susceptible to a range of environmental impacts, including flooding, droughts, hurricanes, earthquakes, and landslides. More and more of this vulnerability threatens to extend to its closest neighbour.
While it is still not too late to save important habitats across the island, it will require a long-term, comprehensive approach be put in place. Stricter enforcement of forestry laws and ecological "charcoal" substitutes alone are not enough to address the escalating deforestation of the island, as long as the demand for charcoal is so great and the poverty of rural populations on both sides of the island remains so pervasive. A comprehensive solution requires a collaborative Dominican-Haitian approach that recognizes that continued deforestation will have dire consequences for the entire island.
DEATH BY A THOUSAND CUTS will have its World Premiere at the Hot Docs Canadian International Documentary Film Festival.
Follow HuffPost Canada Blogs on Facebook
Popular in the Community