A large survey exhibition of the famed Haida artist Charles Edenshaw (1839-1920) is currently on display at the Vancouver Art Gallery. At the opening, I was given the opportunity to speak at a symposium for the exhibition about oral traditions and how Charles Edenshaw's work captured and preserved some of the stories that otherwise might be lost. I realized that there are other stories that must still be told that are part of that continuum.
Charles Edenshaw lived and created art during a time of high external interest in Haida culture from meticulous ethnographers such as John R. Swanton, and at the same time, the suppression of language, oral traditions and culture by missionaries and colonial governments. Many of Edenshaw's works illustrate Haida oral traditions, including the epic Raven travelling oral histories, which explain how the physical world as we know it came to be. Haida oral traditions contain lessons about humanity that are as relevant today as they were in Edenshaw's time. They provide insight into other realms of existence, thereby assisting with enlightenment. They affirm our connections to each other and to other nations and teach the foundation of proper and lawful co-existence with each other and the environment.
When I set out to study and learn Haida oral traditions as a young person from Haida elders, I was struck by the fact that my naanaay awaay, my great grandmother, Susan Williams (1862-1971), expressly recorded songs and oral traditions to preserve them. In this way, my naanaay awaay was like Charles Edenshaw, as they both consciously set out to preserve oral traditions through their art. Both experienced the dark period that had threatened Haida culture. I have tremendous gratitude for Edenshaw, my nanaay awaay and others for their vision and dedication to preserve Haida culture and oral traditions in the face of organized suppression.
Edenshaw was an artist blessed with rich subject matter ripe for creating stunning and sophisticated visual representations, and his artistic mastery blossomed over time to better illustrate the oral traditions that surrounded him and permeated his life. He sculpted and carved Haida laws in wood and argillite, engraved Haida laws in silver and gold, and drew Haida laws on paper and hide.
Viewing his art brought me back to his time. It was a challenging time with momentous change for the Haida: dispossession and expropriation of land and resources, suppression of language and the banning of the potlatch, the socio-political institution where laws are made and affirmed. It was a time when the colonizers declared the land "terra nullius" -- literally, empty land. The colonists strove to empty the land of its real owners and resource users, and tried to make the land empty of culture, oral traditions, ways of teaching, and also art. Yet, despite this dark history of British Columbia and Canada, Charles Edenshaw created, preserved and elevated the Haida art form.
Charles Edenshaw's art will touch your heart, soul and intellect, and to honour that connection, it is important to understand the significance of the social and legal landscape that Charles lived through. Because that history remains alive today -- it extends into the present day very much like the arms and tentacles of the octopus or sea monsters that Charles illustrated.
The B.C. and Canadian governments give little recognition to Haida laws, culture, ways of life and governance. At law, the Haida do not own the land and waters of Haida Gwaii, the very lands and waters that are the origin and well-spring of the incredible legacy of Charles Edenshaw. Only 0.1 per cent of Haida Gwaii has reserve status, and those lands are not owned by the Haida but are held in trust by the federal government for the Haida people. While the Haida Nation, B.C. and Canada have taken strides in shared land management, B.C. and Canada oppose Haida Aboriginal Title to the lands and waters of Haida Gwaii. In their legal arguments they completely deny Haida Aboriginal Title and rights. They deny that the Haida owned land.
These denials are centuries old and belong to "another time". Charles Edenshaw's art tells a different story. This art contains layers of cultural knowledge, documents a deep relationship between the land and sea and the resources and species inhabiting the land and sea, and demonstrates a long inter-dependent history with Haida Gwaii. The point is that this art would not be possible without a sophisticated people and culture, without an intimate knowledge of the land and sea, and without a people and culture that were capable of land stewardship and ownership.
Exhibiting Charles Edenshaw's art and his story-telling pieces, comes at an opportune time in the evolution of the relationship of the Haida Nation and Canada. We are all the stories we tell, and we can change reality by the stories we tell. I want to tell a new story that draws upon the wealth of knowledge contained in Charles Edenshaw's art. I want all of us to tell that story in our lifetimes. This new story begins like this: near the start of the new millennia, British Columbia and Canada moved out the dark ages and embraced a new era of mutually beneficial relationships with the Haida and other Aboriginal Peoples, the hallmarks of which are respect, partnership, recognition of culture and jurisdiction over lands and resources, and balance.
I raise my hands to the many people who made the Charles Edenshaw exhibition possible, for you have made visible a new story, belonging to this time.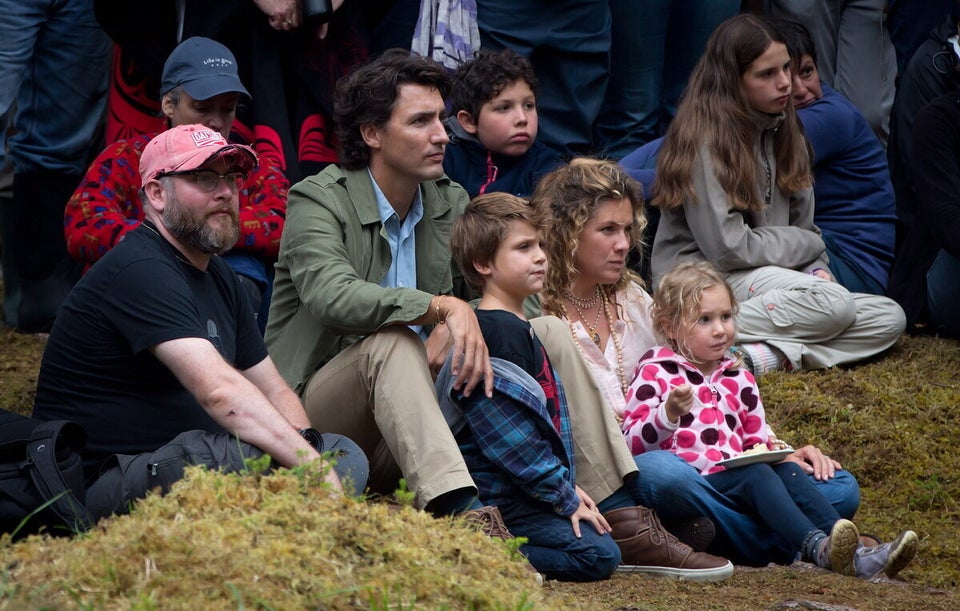 Justin Trudeau In Haida Gwaii