When the book of Great Canadian Musical Success Stories™ is written, one of the most surprising chapters will be dedicated to now 58-year-old new wave/prog rock pianist-singer Lawrence Gowan.
Gowan has comfortably traversed the world's lucrative amphitheater and casino for the last 16 years as co-lead vocalist for classic rock band, Styx. But it was 30 years ago this month when the singer experienced his first true taste of success with the release of his second solo album, "Strange Animal."
Recorded in England in Ringo Starr's house with Peter Gabriel's backing band, "Strange Animal" would achieve triple-platinum sales in Canada on the backs of marquee singles "Cosmetics," "(You're A) Strange Animal," "A Criminal Mind" and their innovative-for-1985 music videos.
Gowan spoke to the Huffington Post Canada about the album's 30th anniversary, its connection to The Beatles and Peter Gabriel and, of course, what happened to the bone from the ridiculous-even-for-the-80s "Strange Animal" music video.
What would 1985 Gowan think about the fact that 2015 Gowan is still talking about "Strange Animal"?
I think 1985 Gowan would be thrilled with the fact he'd be alive and talking about anything in 2015. I'm grateful for that to begin with, but to take that question seriously, you can never really hope for longevity when it comes to music, you just don't know what's going to stick around and what's going to kind of go by the wayside.
I might be misinterpreting it a bit, but did "Strange Animal" get you fired from Ronnie Hawkins' band?
That's a better story than the real one, close though. Ronnie has always been an astute individual and still is... So on January 10, 1985 we played the Toronto Auto Show down at the Automotive Building at the C.N.E. I was his piano player and what would be my trademark mullet was well on my head at that point. And about a week later, on January 15, "A Criminal Mind" was released. Two days later, we're only at January 17, we were playing at the auto show in Montreal.
So we finished our first set and by the end of that set there was a gathering of people by stage right (in front of me), and I could hear them between songs saying things to each other in French. And I heard the words "le criminal," "le criminal guy, no?" And I thought, "Are they talking about 'Criminal Mind'?" So the set ends, and as we're stepping off the stage Ronnie's behind me, and a fan asks, "Are you that 'Criminal Mind' guy?"
I was stunned. And I went, "Yes!" And immediately all these hands went up with papers to sign. So in that moment it kinda blocked Ronnie a bit, and Ronnie's going around me — there were some people getting his autograph as well — and as Ronnie steps around me he says, [affects Hawkins' southern drawl] "It looks like you done played your last show with me, son."
So I won't take that as a firing, I'll take that as a bon voyage.
Was there a eureka moment when you realized you might have a hit record on your hand?
The eureka moment happened long before the record came out. It was because of the unique circumstances of recording that album, because we recorded in Ringo Starr's home. It's called Tittenhurst Park in England, and that house was previously owned by John Lennon, and the home studio that we recorded in was put there by John Lennon where he recorded "Imagine."
The studio's in the house, just off the kitchen and about halfway through making the record, Ringo had popped in because he was living there at the time, and he would come in the studio occasionally and make a comment or two. And one day "Cosmetics" was playing and he came through the kitchen door, he had a big smile on his face and he said to me, [imitates Ringo's voice] "We love it every time this song comes on 'cause we all start dancing around the kit when we hear this one start up."
That's the reason why "Cosmetics" is the first song on the album.
In that moment, for one of the Beatles to have this reaction, in even the most offhand, off-the-cuff-manor, to take a moment out of his day and make a comment like that I realized, "Man, if this is all that ever comes of this record that's incredible."
How did you get the members of Peter Gabriel's band (Jerry Marotta on drums, Tony Levin on bass, David Rhodes on guitar) to work on the album.
It was [producer] David Tickle. He had done the Platinum Blonde records and he had also done a Red Rider record called "Neruda," but my favourite record he'd done at that time was "True Colors" by Split Enz, I loved that record. Jeff Burns, CBS A&R, sent Dave my demo cassettes. Dave was doing live sound for Peter Gabriel at the time and he put the cassette on in his car. He was in England and he had Tony and Jerry in the car with him and when then they heard it they liked it. He actually called me from his car — and in 1984 that was pretty rare — and I could hear, I think it was "Desperate," I could hear the cassette. He said, "I'm in my car. Do you have a permanent band?" "No." "Well Jerry Marotta and Tony Levin are here and they like it too, and they'd be willing to make a record with you if you're willing to wait until February we'll do it."
It's amazing how all those pieces just fell into place like that.
I think the greatest things that have happened in life are by sheer chance. Obviously you have to be ready for it, the songs had to be of a calibre that they wanted to record. And if it didn't happen that they had a break coming up in the early part of next year... There were so many coincidences that fell into place and suddenly it was all happening. It was one of those real-life magic moments.
Interview continues after video
When did Styx add "A Criminal Mind" to their own setlist?
Almost immediately. In 1997, when they opened the new Montreal Forum, the Molson Centre, now it's called the Bell Centre, [promoter] Donald K. Donald called me and he said "So you want to open a show for Styx?" I said, "Donald, this year I'm touring entirely solo, so I'd have to get my band..." and he said, "I want you to do it solo." So I said, "OK, I'll give it a shot."
When I played for the audience, the last song I played that night was "A Criminal Mind" and the whole audience was singing it and the guys from Styx were standing sidestage watching it. And they remembered it. Suddenly two years later when they needed a piano player and singer it was that song they remembered, and I got a call from Tommy Shaw and he said, "Could you come out here (for a tryout)?"
I learned a couple Styx songs — "Crystal Ball," "Lady," "Come Sail Away" and a bit of "Grand Illusion" — but before I even played those for them, they go, "OK, play something." I go to play "Crystal Ball" and they go, "No no no, don't play any of our songs. Play the last song that you played, 'Criminal Mind,' play that..."
By the end of the song Tommy had a mandolin up and he was jamming along and he went, "Yeah, we should make that a Styx song." And now we play it every year. Periodically it makes the set and there are a lot of people who think of it as a Styx song.
How did you come up with "A Criminal Mind"?
I was at the Canadian National Exhibition and there was a display on of the Canadian penal system. And they had transported a cell from the Kingston Penitentiary to the actual site. No one was paying attention to it. It was this weird kind of sideshow thing. People were walking past it and there was only this one guy there and he was a retired prison guard.
I got into the cell and closed the door and sat there awhile and suddenly thought of a melody I had kicking around for a couple weeks. And I had a conversation with the guard and he talked about the recidivist people that he'd known for years in the course of his career and he said basically, "They keep coming back. They're tremendous at covering it up, very innocent on the outside and claim they're the victim, but quietly they'll admit they really got caught for the right thing."
He said it's funny because there are so many sides to people. He said, "A guy may have been a murderer and after a few years a whole other part of his personality would come out and it's that side I got to know and I can honestly say a good number of them became friends even though I knew they were right where they belonged." So over the course of that conversation I thought, "This is a really unusual thing. How do I put that into a song?"
You were at the vanguard of the music video era and had great success because of the "Strange Animal" videos. What was it like trying to navigate this new artform?
My old band Rhinegold were an over-the-top theatrical band, very, very visually connected to what we were trying to put across musically. I pulled from the experience in Rhinegold and said, "I'm going to make this a full-on theatrical experience" and I convinced them to put animation in there and turn into a cartoon character in the middle of it. The record company was thrilled with it because it softened the impact of a song that has very dark lyrics. So they were all for that and it was the first video I'd seen where the act became a cartoon character and that suddenly made it for all-ages.
In those days it was of critical importance because if you didn't get the video right in 1985 nobody was going to hear your song.
Do you ever look back at your video for the song "Strange Animal" where you're dancing around with a bone and ask yourself, "Why did I do this?"
No. I look back at it and kind of think there's another good character we created for that video. That was basically something similar to the Tarzan story, the kid is found living in the forest and he just found all the crap that he could pull together and the bone represented some sort of talisman that he was carrying around, much like a singer perhaps would carry around a microphone. Easy metaphor.
I still have that bone, by the way.
Really? Amazing. Do you keep it on a fireplace mantle or something?
It's not on a mantle. I think for a little while we had it on the fireplace, but no, it's wrapped up and actually, when we did the Return To The Strange Animal tour in 2010 the show opened up with me holding the bone. Twenty-five years later it's still intact.
Looking back at those old videos, do you ever miss that signature dyed mullet haircut?
I have to say no. I love looking at it and seeing a great historical hair statement — or hysterical — whichever way you want to look at it. But no, I don't. I'm still connected to it in a lot of ways because there's still a lot of purple and red in my hair to this day, so in some ways I'm still holding on to it.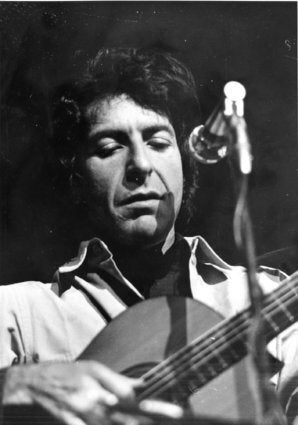 CanCon Icons: Then and Now (Part I)