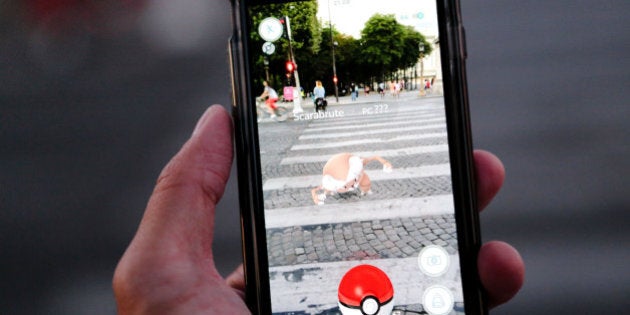 Looking ahead in the history books, I wonder if the summer of 2016 will be referred to as "The Summer of Pokémon GO"--in the same manner that 1967 is recognized as "The Summer of Love"? Pokémon GO has been a huge social phenomenon; a tidal wave sweeping through people ages 6- to 76-years old. All this from a free Android and iOS phone app that has users hunting through their own neighbourhoods for virtual Pokémon creatures to catch, collect, and battle. The game is the love child of The Pokémon Company and Niantic, and will be rolling out new features in the future like Pokémon character trading, one-on-one battles, wearable tech to catch Pokémon, and new creatures to discover.
In July 2016, Pokémon GO had 45 million daily users. Walking through my own community, I spy kindergarteners being tutored in the art of Pokémon GO by their dads, social networks of moms going on daily walks catching Pokémon, and kids on bicycles from ages 8 to 18 scouring the area for a Pikachu. I see 40- and 50-something business men on lunch breaks trying to get the elusive Onix into a Pokéball, and retirees--both grandmas and grandpas--crying out in Cantonese, Hindi, Russian, Farsi and other languages as a Squirtle spawns before them!
Pokémon was created in 1996, so I'm not surprised that 30-something adults find appeal and nostalgia in something that harkens back to their youth. But what surprises me the most is that the teen and 20-something crowd has dusted off that bike from their youth in the pursuit of Pokémon. Not until this demographic reappeared on the streets, did I realize how long they had been absent--and I'm glad to have them back.
Pokémon GO has brought together people of all ages and demographics in the pursuit of one common goal: catching Pokémon. The game rewards users for being sociable (clustering together where other users can be found), and people who wouldn't have ever conversed before are now engaging in dialogues. Yes, Pokémon GO has people once again talking to one another.
Players of Pokémon GO are getting out of the house and walking, jogging and biking more than previously, so the app definitely promotes health. Also, Pokémon GO lessens the weariness some may feel towards strangers and makes the community seem like a friendlier, safer place.
Because the virtual world meets the real one, of course caution must be taken. Whether playing the game or not, care must be taken when crossing the street, distracted driving must be avoided, and being aware of one's surroundings and who's about is essential. But by using the same common sense that one employs on a daily basis, Pokémon GO can be described as a fun, healthy and social diversion.
My five children aged 6- to 11-years old all love Pokémon GO and even have a dedicated Pokémon YouTube channel (established prior to Pokémon GO). We all enjoy playing Pokémon GO as a family in the background of our usual routine, and we're not in the minority: every community we have visited has people taking to the streets with Pokémon GO.
So, is summer 2016 truly "The Summer of Pokémon GO"? I firmly assert yes, and believe that it will be written in the history books this way: the summer that we all took to the streets and talked to one another again. Now, with the harsh winter climate we experience in Canada, I am confident that the winter of 2016 will not be "The Winter of Pokémon GO", as we'll freeze off our fingers trying to catch a Charizard, or a snowbank will block our path to a Blastoise. Here's to trying, though, and to the unshakable Canadian spirit.
Do you believe that Summer 2016 will be remembered as The Summer of Pokémon GO? What are you experiences with the game? Leave your thoughts in the comments below.
Follow HuffPost Canada Blogs on Facebook
Popular in the Community