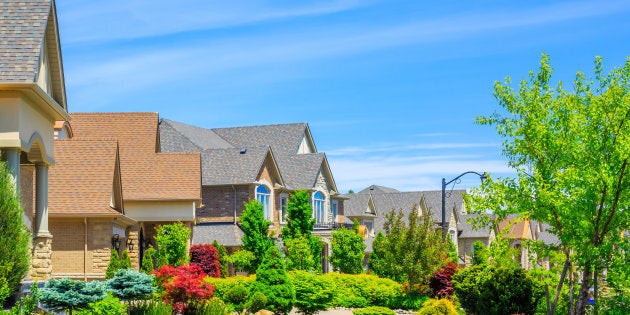 The battle continues between the city and the suburbs. Each has it's benefits and drawbacks. I became a suburbanite a few years back, and I continue to be pleasantly surprised by my new community and everything it has to offer. Here are a five unexpected advantages that could tip the scales in favour of the outskirts.
OK, so this one's a bit obvious, but let me stress: everything's new. Your new home comes with a new roof, windows, appliances, heating, plumbing and electrical systems. Nothing requires repair or replacement at your cost – thanks to the warranty that comes with your brand new home. (The warranty provider varies by province.)
This benefit extends beyond the home itself. The infrastructure all around me is new – I can't remember the last time I landed in a pothole in my neighbourhood. Highways, streets and sidewalks, retail, public transit stations, sewage, water and electric systems – all new. The schools, parks and community centres are all state-of-the-art facilities that impress me at every turn. My kid's skating arena, for example, has three NHL-sized ice pads, 20 change rooms, two community rooms, two shooter pads, theatre-style seating for 1,500, and an upper-level viewing gallery – complete with a Starbucks and a pub. Cheers!
As a suburbanite, I never have trouble finding a parking spot.
Urban developers do their best to incorporate greenspace wherever and whenever they can, such as rooftop gardens. But you'll be hard-pressed to find too many city homes backing onto designated greenspace, let alone afford and actually snag one. Meanwhile in the suburbs, my whole town is planned around a system of pathways, parks and forests, mere steps from home.
3. Park it here – or anywhere
A chat with a downtown-dwelling colleague revealed her frustrations at grocery shopping in her neighbourhood, which regularly involves fruitless efforts to find a nearby parking spot, and ultimately lugging bags of groceries to her car that's parked nowhere nearby.
As a suburbanite, I never have trouble finding a parking spot. Ever. However, this also speaks to the fact that a suburban lifestyle is typically a car-dependant one, with two parked in every driveway.
4. We've got affordability!
Prospective homebuyers are increasingly looking to the suburbs in search of affordability – however, the gap is getting smaller. Canada Mortgage and Housing Corp. recently reported price sprawl in hot housing markets like Toronto and Vancouver. That being said, some things are still cheaper in a newer community, such as my property tax, daycare and home and car insurance.
On the down side, car and commuting expenses increase in the suburbs, and some argue that groceries and entertainment are also pricier – though I haven't seen evidence of that myself.
Sly And The Family Stone sang it back in the '70s, and suburbanites continue to hum this tune today. While downtown living has changed to accommodate families seeking urban convenience, the suburbs continue to be a hot spot for families who still want the square footage, yard and picket fence.
Ultimately, the decision between city and suburbs depends on your personal needs and preferences, your budget, your current lifestyle and future plans. Suburban living isn't for everyone, but I'm sure glad I made the move.
For more essential real estate reading, visit NextHome.
Follow HuffPost Canada Blogs on Facebook
Popular in the Community