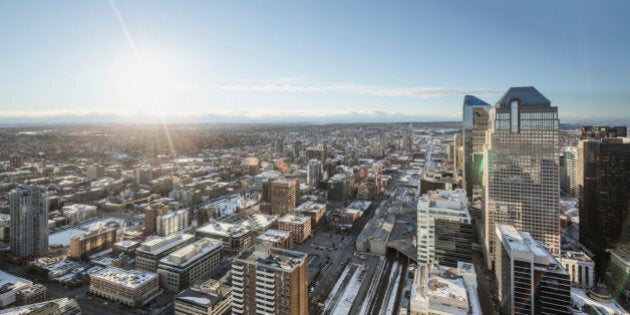 Calgary sees strongest job growth of any major city
Toronto's job market 'smokin''
But experts question accuracy of jobs data
You'd think that, as the epicentre of Canada's oil industry, Calgary would be bleeding jobs these days. But apparently you'd be wrong.
And you'd think that, with few signs in the data of a pickup in manufacturing and exports, Greater Toronto's job market would be stumbling along. But, again, you'd be wrong.
These two cities are among the unlikely bright spots in Canada's job market. The latest report from StatsCan, released Friday, was a mild disappointment, showing a loss of 6,400 jobs. The jobless rate stayed steady at 6.8 per cent.
But it was a very different picture in Calgary, which — despite the collapse in oil prices — has seen the strongest percentage job growth of any major city in Canada over the past year. There were 30,000 more jobs in Calgary this June than there were a year earlier, up 3.8 per cent.
"Most of Alberta's job losses to date have been in the oil patch, so Calgary has been somewhat insulated so far," Bank of Montreal economist Robert Kavcic said in an email. "There were also probably many businesses that hard a hard time finding labour in recent years, and are now taking the opportunity to absorb some of those who have lost jobs."
Alberta as a whole lost 5,000 jobs in June. But over the past year, it has still gained 22,800 jobs, a gain of 1 per cent.
Toronto may be even more surprising. Despite Ontario's reliance on manufacturing and exports, neither of which have shown much signs of life in the first half of 2015, the city is seeing what can only be described as a job boom.
Toronto has added 95,000 jobs since the start of the year, according to StatsCan data; at an annual rate, jobs in Toronto are growing by a stunning 6 per cent. That's good enough for BMO's Kavcic to describe the city's job market as "smokin'."
Those numbers don't square up with data showing Canada's exports sinking and manufacturing plodding along. But they do square up with the city's hot housing market, and may help to explain how Torontonians have the money to send the price of detached home up 14.2 per cent over the past year, to an average above $1 million, as home sales volumes hit an all-time high.
This housing boom might actually be what's driving the job market. StatsCan data shows construction was behind most of the 14,000 jobs gained in Ontario, even as manufacturing shed 5,200 jobs in the province.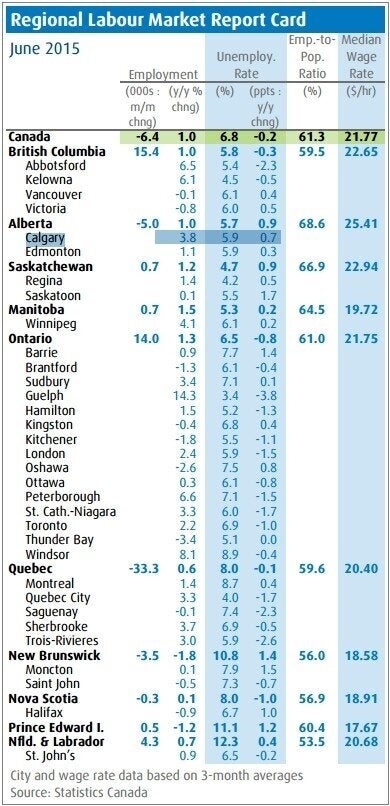 Of course there may be another explanation for those amazing numbers: They may just be wrong.
"The year over year number for Toronto looks unrealistic," economist Will Dunning told HuffPost in an email.
He points in particular to May's numbers for the city, which showed an unrealistic jump of 53,000 jobs in just one month. "That in turn contributed to an unbelievably high number for all of Canada for the same month," he said.
He notes that while Greater Toronto accounts for one-sixth of Canada's population, it's only 3 per cent of the sample StatsCan uses to survey unemployment. It's similar with Montreal and Vancouver.
"The consequence is that there are often bad estimates for one of those three centres that unnecessarily distort the estimates for all of Canada," he said.
A CBC story earlier this week indicated Calgarians also have their doubts about the strong job numbers; they don't seem to correspond with the reality on the ground.
"All anyone has to do is drive downtown in what used to be rush hour and tell me there haven't been job losses," human resources specialist Wendy Giuffre said.
"I have about 60 per cent energy-related clients. We are still busy in letting people go, busier than we've ever been in that area."
And with other economic data pointing to a negative first half of 2015, some economists say the real trouble for the job market could still be ahead.
"Overall, the recent pace of employment gains is one sign that the economy isn't completely tanking in response to the oil price shock," writes David Madani of Capital Economics. "But with forward-looking indicators pointing to continued weakness in GDP, it may only be a matter of time before the pace of jobs growth slows to a trickle."
Madani, along with the economists at most of Canada's major banks, expects the Bank of Canada to cut interest rates at its meeting next week, in an effort to shore up the economy.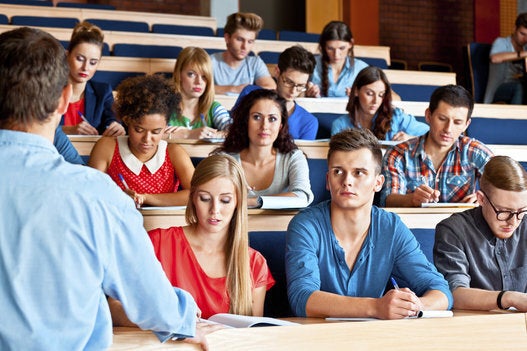 Top 10 Jobs Canadian Employers Can't Fill (2015)