Baseball fans are furious after the lyrics of Canada's national anthem were changed ahead of the MLB All-Star game on Tuesday night during a performance by a Canadian music group.
The Tenors' rendition of the anthem included the addition of the phrase "All lives matter," as they sang to the crowd at Petco Park in San Diego, Calif.
One band member, Remigio Pereira, held up a sign with the controversial statement and the words "United We Stand" written on the back.
"We're all brothers and sisters, all lives matter to the great," Pereira sang, replacing the original lyrics, "With glowing hearts we see thee rise, the True North strong and free."
"All Lives Matter" is widely denounced by the U.S.-originated Black Lives Matter movement, which believes the phrase undermines its struggle for equality.
The Tenors' performance wasn't televised in the U.S., as the FOX network cut to a commercial break instead — but social media users noticed the lyric change almost immediately.
Twitter users called the group's version "disrespectful," and many promised to boycott the band.
The Tenors' Facebook page was also inundated with angry messages.
"All true Canadians should boycott The Tenors for the way they dishonoured our Nation Anthem," wrote Facebook user Rick Ketteringham.
"You guys are a JOKE, Canadians pride ourselves on being humble and diverse and you just slandered the anthem for your own selfish reasons," said another.
"The other members of the group are shocked and embarrassed," read the statement, which added that Pereira will not be performing with the band until further notice.
'Lone wolf' explains motivation
Pereira tweeted early Wednesday morning that he had hoped to make a positive statement that would unite people in light of recent police killings of black men in the U.S. and an ambush in Dallas that ended with the deaths of five officers.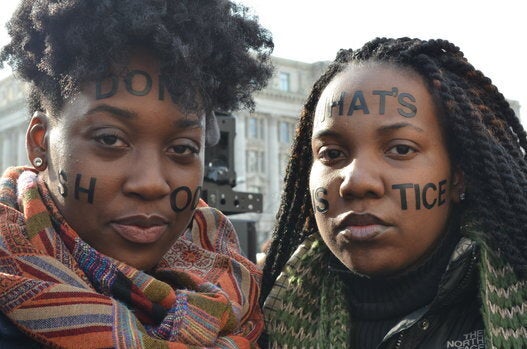 "Black Lives Matter" March