It appears Conservatives are executing something of a covert attack on Justin Trudeau.
Earlier this week, Tories began running television ads criticizing Trudeau but did not upload those clips to the party's YouTube account or the website they launched last year to hammer home their central message that Trudeau is "in over his head."
But The Huffington Post Canada has obtained copies of the three new ads, each running about 15 seconds. The ads again target Trudeau's judgment and, specifically, recent comments on the economy, terrorism, and the legalization of marijuana.
The clip opens with the sound of an explosion and sirens, then cuts to Trudeau saying: "There is no question that this happened because there is someone who feels completely excluded."
As images flash of Trudeau removing his shirt, a woman then asks: "How can you make excuses for terrorists and keep Canadians safe? Justin Trudeau. He's in way over his head."
The clip comes from an interview Trudeau gave to the CBC's Peter Mansbridge last April, just hours after the Boston marathon bombings that killed three and injured an estimated 264 people.
Trudeau said examining what may motivate such attacks is important, even amid the security response.
"We have to look at the root causes," Trudeau said. "Now, we don't know now if it was terrorism or a single crazy or a domestic issue or a foreign issue.
"But there is no question that this happened because there is someone who feels completely excluded. Completely at war with innocents. At war with a society. And our approach has to be, where do those tensions come from?"
Conservatives pounced on the "root causes" quip as proof Trudeau is soft on terrorism.
"When you see this type of violent act, you do not sit around trying to rationalize it or make excuses for it or figure out its root causes," Harper said.
"You condemn it categorically, and to the extent you can deal with the perpetrators, you deal with them as harshly as possible."
One of the victims of the bombing was 8-year-old Martin Richard of Boston, who was waiting at the finish line to see his dad finish the race.
Trudeau referenced the boy in a response to Harper's criticism.
"I expressed clearly yesterday and today the shock that I can only imagine that father feels whose son was killed for wanting to give him a hug," Trudeau said.
"I really hope that Mr. Harper rethinks the extent and the lengths he's willing to go to personally attack people and to politicize tragedies like that."
The clip opens with the sound of a school bell and image of children on a bus, then cuts to Trudeau saying: "I'm actually not in favour of decriminalizing cannabis, I'm in favour of legalizing it."
Again, images are shown of Trudeau at the charity striptease as a woman says: "Imagine. Selling marijuana just like cigarettes and alcohol. Justin Trudeau. He's in way over his head."
"I see my friend waving a sign about decriminalizing cannabis. I'll take that as a question," he said, to some laughs.
"I'm actually not in favour of decriminalizing cannabis – I'm in favour of legalizing it. Tax and regulate. It's one of the only ways to keep it out of the hands of our kids because the current war on drugs, the current model isn't working."
Conservatives have accused Trudeau of wanting to make pot easier for kids to obtain but the Liberal leader has maintained that regulating the drug will do more to keep it away from children.
While the Tories have fundraised extensively on the issue, it appears they may now be open to loosening Canada's marijuana laws.
Just this month, Justice Minister Peter MacKay said the Harper government is giving serious thought to more lenient pot laws that would allow cops to ticket anyone caught with small amounts of pot instead of laying charges.
But MacKay cautioned Tories aren't "talking about decriminalization or legalization."
The clip opens with the sound of a cash register and an image of Canadian money, then cuts to Trudeau saying: "The budget will balance itself."
Again, more striptease shots as a woman asks: "How can someone who thinks budgets balance themselves be trusted with jobs and the economy? Justin Trudeau. He's in way over his head."
The clip comes from a February interview Trudeau gave to CPAC's Peter Van Dusen shortly after the release of the federal budget.
Unfortunately, the interview was live and there does not appear to be another clip of the full interview online. (UPDATE: CPAC got in touch to let us know the interview can be viewed here at the 27:35 mark.)
Van Dusen asked Trudeau how committed he would be to a balanced budget at this moment.
"Would it worry you to go into deficit in this current climate to, as you say, put more people to work?" Van Dusen asked.
"The commitment needs to be a commitment to grow the economy and the budget will balance itself," the Grit leader replied.
Conservatives have since mocked Trudeau relentlessly over the "budget will balance itself" quip.
Just last week, Finance Minister Jim Flaherty tried to make a joke in question period about Trudeau needing to find a leprechaun, but he essentially ran out of time.
"Being of Irish heritage, I know that what he must be thinking is that there's a pot of gold at the end of the rainbow and over St. Patrick's Day I'm sure he'll search out a leprechaun to lead him to that pot of gold so that he can balance the budget," Flaherty said. "So I'm just trying to aim him in the right direction."
Tory spokesperson Cory Hann told HuffPost in an email exchange Friday that the ads are meant to let Canadians know the choice in 2015 is "between the strong, stable leadership of Prime Minister Stephen Harper, and the poor judgment of Justin Trudeau."
Liberal House leader Dominic LeBlanc said the ads prove Tories are more focused on Trudeau than the concerns of Canadians.
"If the Conservatives want to talk about judgment, we would be pleased to compare our leader's solid judgment to that of Mr. Harper -- the same guy who appointed Mike Duffy, Pam Wallin and Patrick Brazeau to the Senate," he said in an email to HuffPost.
What do you think of the new attack ads? And why do you think Tories are seemingly reluctant to post them online? Tell us in the comments.
With files from Althia Raj, The Canadian Press and previous files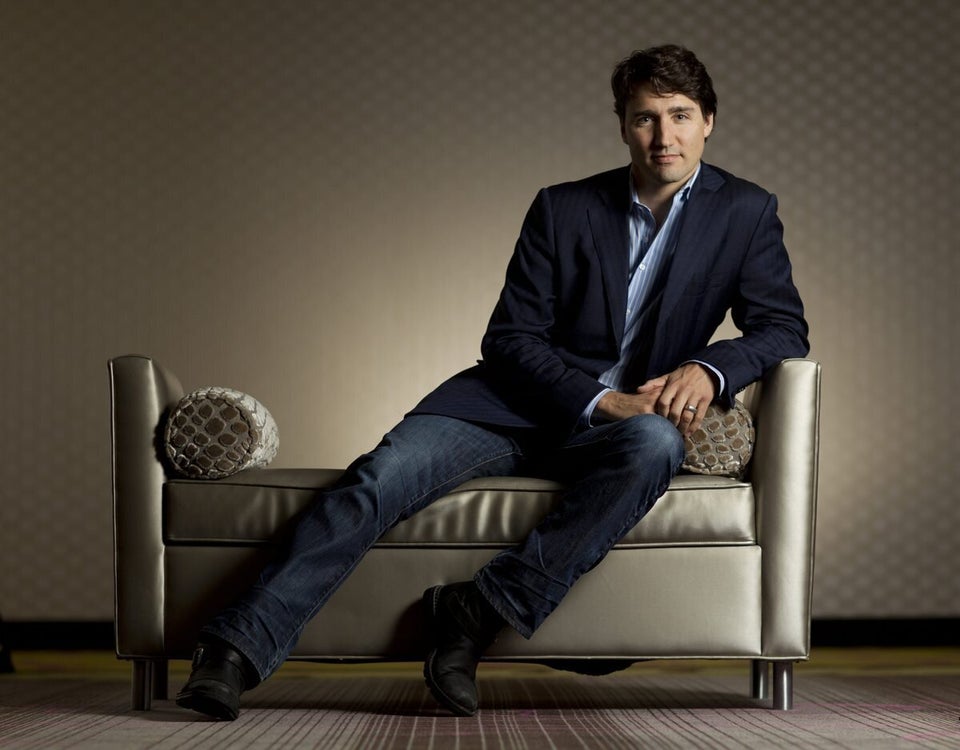 Trudeau Glam Shots