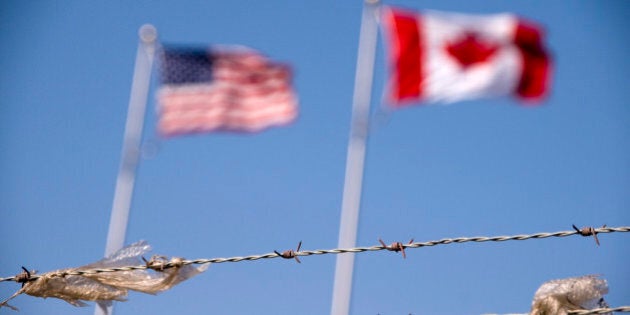 On a map, Toronto looks like a great city for a band to be based in -- Detroit, Chicago, New York, Philly, Cleveland, Cincinnati, Pittsburgh, and Boston are all within a day's drive. Unfortunately though, thousands of dollars in fees and a quagmire of paperwork stand between Canadian bands and U.S. audiences.
Canadian groups headed to America have two choices: Stump up $2000-$5000 in border fees and union dues and wait weeks for a permit, or go without and risk a two to five year personal ban from the U.S. Whether it's a one night show played for beer and beds or a full arena tour makes little difference to the costs and paperwork involved.
Meanwhile if an American band wants to come north, all they've got to do is rock up to the border with a gig contract, an e-mailed invite from a promoter, and a list of gear and merch. Canada had introduced a $250 per person charge on American musicians and crew members in 2014, but that was soon rescinded (along with a need for Labour Market Opinion documents) after an outcry from the music industry in both countries.
The costs and bureaucracy of U.S. work permits create such a barrier that some Canadian musicians put their careers on the line trying to go without them. Megan Miller went down to Massachusetts to volunteer at a girls rock camp in 2012 and ended up forming a band with her fellow instructors. She stayed in the U.S., living on the cheap in a shared room as the girls built And The Kids up from nothing into their future. At that point, they hadn't had the acclaim needed to secure a work permit for Miller.
So she carried on visa-less, crossing the border from time to time to visit her family and friends seven hours away in Ottawa. Until when returning to America in December 2014, she was detained through the night and sent back to Canada, barred from the USA for five years. A month later, And The Kids began to break through with coverage from media sources large enough to warrant a visa.
Now two years on, Miller has spent close to $10,000 attempting to have her 'deported' status waved. Yet there's been no luck in her appeals and there's nothing the team of U.S. businesses now involved with And The Kids can do to get Miller back in. "They're my best friends," she says, "And now I can't even go visit them, let alone play with them."
A similar fate befell Toronto garage rockers Pow Wows when heading to play their U.S. label Get Hip Records' South By South West showcase. Front man Ryan Rothwell's rental van had border officials haul him in for secondary questioning and with-in a few hours he was deported and barred. The group's Broken Curses LP was just being released, leaving the label without a touring band to make good on their investment.
"Our U.S. label lost out," Rothwell says, while also pointing out the border guards' misconceptions, "They grilled me for hours. They kept saying 'You're playing Southby, you must be getting paid $5000,' not understanding we weren't getting paid and that for small bands touring is a kind of glorified vacation. We were going to be spending far more on American hotels, food, and gas, than we were going to be getting."
Aware of such ill-fated crossings, Toronto conceptual musician Maylee Todd put in eight months of planning to mount a U.S. tour this fall - only to end up cancelling it all due to a work permit delay. The official processing time length had been changed after her application was submitted.
"I'm trying to go by the book, but it's like the system is fundamentally set up for failure," says Todd from Vancouver where she was left stranded in a mess spanning contracted musicians needing payments, venues demanding cancellation penalty fees, and grant funders balking as the shows didn't occur.
Toronto folk rock act Beams have also had shows run aground due to processing. Days before setting off on a tour, they were told a backlog meant their visas wouldn't be ready. A few venues then cancelled shows, though Buffalo's Mohawk Place put their congressman into action declaring it a U.S. small business issue and thusly getting the visa sorted - but not in time for the tour's first three nights.
Currently on the road with their third work permit in a year, Beams' co-leader and drummer Mike Duffield explains how bands who self-book tours need to constantly apply for new permits. "If you have an agent, they've got relationships with the venues and can ask for shows and contracts that happen every 45 days so one permit can stretch for a year. But we need to apply for a new one every time we go down there."
Duffield cites the visa requirements for gig contracts as a major difficulty in booking U.S. dates, "You're like a beggar asking for things from people who really don't owe you any favours. A lot of the potential gigs for us are at DIY spaces, and they don't normally use contracts."
This past spring, the Canadian Independent Music Association (CIMA) published Over The Border And Into The Clubs, a 75 page report detailing how the border is causing music companies in both countries to miss out on revenues. It asserts that Canadian bands provide an economic benefit to the U.S. through increased business for their clubs, labels, record stores, studios and more.
The Most Important Stories Sent To You

'The Daily Brief' connects you with our best stories sent right to your inbox.
CIMA's president Stuart Johnston says the report has garnered support from the Prime Minister's Office, the Ministry of Canadian Heritage, and Global Affairs Canada, alongside the U.S. embassy and CIMA's stateside sister organization, the American Association of Independent Music (A2IM). "The Americans view it as an American business issue," Johnston explains.
When asked how long a policy change could take, Johnston replies, "It could take a year, it could take a decade. But having made it simple for U.S. musicians to come up here, Canada holds the moral high ground on the issue and we're pushing for reciprocity."
In the meantime, I'll leave the last words to Pow Wows' Rothwell, "It sucks 'coz I like America."
Follow HuffPost Canada Blogs on Facebook
Popular in the Community