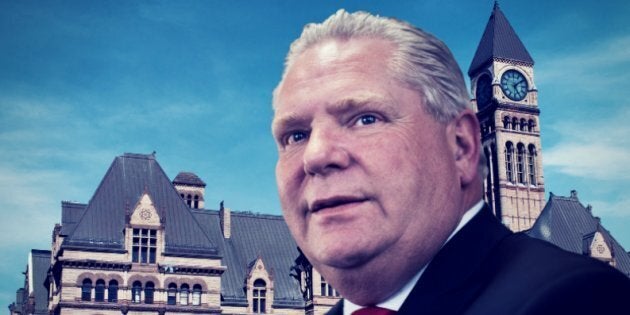 Government lawyers are getting busy in Ontario.
Over the course of two days in August 2018, Tesla won its case against Ontario's Progressive Conservatives, the government was also slapped with a notice of action from basic income recipients and then named in the City of Toronto's challenge to council cuts.
The Minister of Education faces four separate actions over her decision to revert to a health curriculum first introduced in 1998, which doesn't teach students about consent, cyberbullying, gender identity or gay relationships.
Here are the lawsuits, challenges, and applications for judicial review filed against Premier Doug Ford's government. This story will be updated as decisions are released and more documents are filed.
Greenpeace v. Ministry of Environment
Greenpeace and Ecojustice activists announced on Sept. 11, 2018 they were suing Ontario over the cancellation of cap and trade. The previous government's cap and trade program funded green energy programs by charging companies for pollution they emit.
Ford's government cancelled the program a few days after taking office.
Greenpeace says that Ontario's Environmental Bill of Rights, legislation unique to the province, gives every Ontarian the right to be consulted on significant environmental regulation and law. The Ministry of Environment hadn't posted a notice about its plan to change the law or asked for the public's input, but did so hours after the lawsuit was filed.
The Ford government still must answer in court for its violations of Ontarians' rights.Charles Hatt
Now, the government's trying to quash Greenpeace and Ecojustice's suit. Lawyers for the environmental groups will argue at a hearing in Toronto on Jan. 7, 2018 that it should be allowed to go forward.
"We are happy to see that the Ford government is now doing what the law requires when it comes to public consultation rights on Bill 4 – but it shouldn't take a lawsuit to get them there," Ecojustice lawyer Charles Hatt said in a press release when the government posted its notice. "... the Ford government still must answer in court for its violations of Ontarians' rights under the Environmental Bill of Rights. We are confident the Court will make a ruling that vindicates these public rights."
Elementary Teachers' Federation of Ontario (ETFO) v. Minister of Education
The ETFO is taking Premier Doug Ford's government to court over its repeal of the updated health curriculum and its so-called "snitch site" for parents.
The ETFO's legal application, filed at Ontario Superior Court on Sept. 4, 2018, argues that the government is infringing on the Charter of Rights and Freedoms. Forcing teachers to use health and sex-ed material first introduced in 1998 infringes on their right to freedom of expression, as well as students' rights to security and equality, the application for judicial review states.
Watch: Teachers' union boss lays out legal fight against province. Story continues after video.
ETFO lawyers will make their case before a panel of judges at Divisional Court on Jan. 9 and 10, 2018. Judges will also hear arguments from the Canadian Civil Liberties Association at the same time.
Canadian Civil Liberties Association (CCLA) v. Minister of Education
The CCLA filed an application to stop the PC government from rescinding the 2015 health curriculum with Toronto's Becky MacFarlane, who describes herself as a queer parent.
Minister of Education Lisa Thompson's directive to teachers to use the previous curriculum, "stigmatizes, degrades, and alienates LGBTQ* students and parents," the application filed on Aug. 23, 2018 says. By removing lessons on online safety, the government is also limiting a student's right to safety, it states.
"For me and for my daughter, the 2015 HPE [health and physical education] Curriculum is so important because it helps to foster a safe and respectful environment at school and elsewhere," MacFarlane states in a sworn affidavit for the case. "In my experience, many queer students and queer families - including ours - feel a sense of isolation, and it is profoundly important for them to have their own experiences recognized and reflected in the curriculum."
Parents of LGBTQ+ youth v. Minister of Education
Lawyers representing families with queer and trans children filed a complaint with the Ontario Human Rights Tribunal over the province's repeal of the updated sex ed curriculum.
"We'll be challenging it under gender expression, identification, sexual orientation, and gender," lawyer Marcus McCann told CBC News on Aug. 9, 2018.
Lawyers requested an expedited hearing so that the case can be resolved as quickly as possible.
Sylvie Liard's child, who is gender non-conforming, is named in the case. Liard told The Toronto Star that going back to a curriculum that doesn't address gender identity "is unfathomable."
Trans highschool students v. Ministry of Education
Two 15-year-old high school students in Toronto, who are being identified as Ryan and Noah, have filed an application with the Ontario Human Rights Tribunal to have the 2015 health curriculum reinstated.
The new curriculum leaves people out.Noah
Both teens are transgender and Ryan also identifies as bisexual and living with a disability. They say that material introduced by the previous Liberal government made their lives easier, reducing the bullying and discrimination they experienced in elementary school.
"The new curriculum leaves people out," Noah said of the lessons brought back by Ford's government. "Students won't be taught what they need to know to ensure everyone feels welcome," the student said in a press release from Justice for Children and Youth, a legal clinic for young people.
The students don't have a date for their hearing set yet, Justice for Children and Youth lawyer Claire Millgate told HuffPost Canada by email.
Basic income recipients v. Minister of Children, Community and Social Services
Lawyer Mike Perry plans to sue the Ontario government in a class action on behalf of the participants of Ontario's basic income pilot project. First, he'll ask a court to overturn Minister Lisa MacLeod's decision to end the program early. That hearing is set for Jan. 28, 2019 in Toronto.
Should he fail at that hearing, Perry will formally launch the class action, he told HuffPost Canada by email.
The intent to file is for "anticipatory breach of contract, negligence, and misfeasance in public office."
He hopes to include all 4,000 participants in the province's basic income pilot project, which gave them no-strings-attached payments on top of income or in place of social assistance.
Former premier Kathleen Wynne's government designed the program to run for three years. One month after taking office, the PC government announced it would go back on its campaign promise to let the pilot run its course. Cheques will stop arriving in March 2019, about one year after the program reached full enrollment.
Ontario Public Service Employees Union (OPSEU) v. Minister of Training, Colleges and Universities and Attorney General of Ontario
OPSEU filed an application at Ontario Superior Court on Sept. 5, 2018 to revoke a government order that killed the College Task Force. The task force was working to make recommendations to the province on how to handle issues like precarious work, funding and accessibility at colleges.
The union had agreed in collective bargaining to refer some issues, including precarious work, to the task force. So OPSEU is arguing that the PCs have violated its members' charter right to collective bargaining.
"Ontario's actions deprived OPSEU and its members of a key outcome of the collective bargaining process, in a manner that jeopardizes the security of employment of OPSEU's members," the application says. "Ontario's actions warrant an award of damages to the Applicants, in order to compensate them for the infringement of their Charter rights."
A hearing will likely happen in late 2019, OPSEU's general counsel Eric O'Brien told HuffPost Canada.
City of Toronto v. Attorney General of Ontario
In the course of two roller coaster weeks in September, a judge thwarted Premier Doug Ford's plan to cut the size of Toronto city council, only to be thwarted himself by a panel of judges at appeal court.
The original court challenge — which argued that Ontario's bill changing the number of city councillors was unconstitutional — was brought by lawyers for the City of Toronto.
Watch: Councillor says premier is 'clearly' trying to meddle in Toronto's election. Story continues after video.
Justice Edward Belobaba sided with the city, ruling that Ontario had violated voters' and candidates' charter rights by changing the size of council during an ongoing election. His decision was set aside by appeal judges, who said Belobaba made a mistake.
Tesla v. Ministry of Transportation
Ontario Superior Court ruled on Aug. 28, 2018 that Tesla had been treated unfairly in the province's cancellation of a rebate for buyers of electric cars.
Tesla launched the petition after the PC government ended the program on July 11, but said it would extend the rebates to vehicles already sold through dealerships if they were delivered and registered within 60 days. The provincial government later said that the extension only applied to vehicles sold through franchised dealerships, which excluded Tesla's Ontario dealerships.
A judge ruled that the decision to exclude Tesla from the grace period was arbitrary and singled out the company for harm.
With files from Jessica Chin and The Canadian Press