In the months leading up to the last election, Justin Trudeau delivered a moving speech in Toronto at an event hosted by the McGill Institute for the Study of Canada. The backdrop was the Conservative government's pandering to part of its base and to Quebec voters with a ban on the niqab during citizenship swearing-ins — a policy the Tories had championed since late 2011.
Trudeau decried the tactic as "dog-whistle politics." In the speech, which he shared again on Twitter Wednesday, he pledged to stand up for liberty and inclusion, noting that building a society with those values "won't continue without effort" and will require a certain type of "political leadership."
The Liberal leader told the crowd that there was no way to predict the events political leaders would have to navigate during their time in office.
"So Canadians ought to know what core values will motivate their leaders' decisions, whatever events may throw at them," he said.
"And for me, one of the most important core values is liberty. Specifically, I believe that one of the highest aims of Canadian political leadership is to protect and expand freedom for Canadians."
While it may be difficult for many voters to accept some of Trudeau's broken promises, at least he tried to justify them as the right decisions, in his mind, for the best interests of the whole country.
So colour me surprised when Trudeau sang a much different tune Thursday in Roberval, Que., where the Liberals are in a three-way byelection race with the Conservatives and Bloc Québécois in one of the province's most ardent sovereigntist ridings.
Trudeau, who was campaigning for the local Grit candidate, was asked to comment on the passage of Bill 62, provincial Liberal legislation that bans anyone wearing a face covering from delivering or accessing government services. In practice, it attempts to prevent Muslim women who wear the niqab or burqa from taking the bus, working in subsidized daycare centres, or even taking a book out of the library.
Quebec Liberal MP Alexandra Mendès expressed confidence Wednesday that Trudeau would challenge this unconstitutional charter-flouting bill tout de suite.
"I presume we will, because I know him. Well, I normally know his opinions on this subject. He was pretty clear during the 2015 election, so I presume he is in agreement with my position," said Mendès, the MP for the Brossard–Saint-Lambert riding on the south shore of Montreal.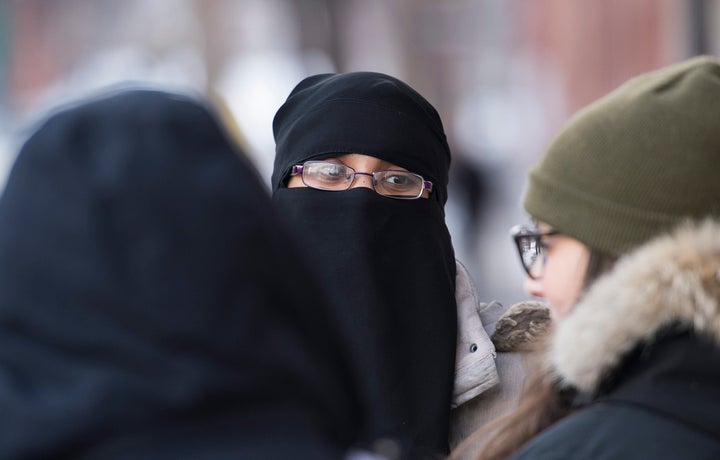 Then Mendès repeated a line we've often heard Trudeau say: "It's not up to the government to impose on a woman what she can and cannot wear."
But in Lac-Saint-Jean, that's not what Trudeau said.
"I think we have to respect that this is a debate that is ongoing in society, and we respect that the National Assembly in Quebec has taken a position on this," the prime minister told reporters.
He added: "It's not up to the federal government to challenge this."
How to square this with Trudeau's tweet from the previous day stating: "When it comes to what people can & cannot wear - my position has always been known, and it's where I'll always be."
Far away from Roberval, MPPs in the Ontario legislature had no trouble banding together and condemning their provincial neighbour's bill. Montreal Mayor Denis Coderre, who is up for re-election, said he will instruct municipal staff to ignore the law.
But it seems winning in Roberval, or perhaps safeguarding some of his party's 40 seats in Quebec — where the new law is popular — is more important to Trudeau than standing up for those values he claimed two years ago to hold above all else.
For months, the NDP has attacked Trudeau for speaking through both sides of his mouth. New NDP Leader Jagmeet Singh repeated the refrain last Sunday, telling a group of about 450 New Democrats in Ottawa that they had been "let down" by the prime minister on everything from privatization of public infrastructure assets, to reconciliation with Indigenous peoples, to a climate plan that shares former Conservative prime minister Stephen Harper's targets.
While it may be difficult for many voters to accept some of Trudeau's broken promises, at least he tried to justify them as the right decisions, in his mind, for the best interests of the whole country. (Whether or not you buy that is another matter).
If you're a voter in B.C.'s Lower Mainland, for example, you may have thought Trudeau would deny the expansion of the Kinder Morgan Trans Mountain pipeline because, for months, he promised to revamp the environmental assessment process and respect the rights of those affected, including Indigenous communities. When the prime minister approved the deal, perhaps you understood he was just trying to put Alberta's resource workers back to work.
"This major initiative will... put food on the table for middle-class families and grow and strengthen our communities. It will give much-needed new hope to thousands of hardworking people in Alberta's conventional energy sector who have suffered a great deal over the past few years," Trudeau said, in announcing his government's decision on Nov. 29, 2016.
If you were disappointed that the Liberal government broke its promise to reform the electoral system, and understandably annoyed that Trudeau misled Canadians about it, at least the prime minister tried to justify his actions by saying he believed that the system the opposition wanted to adopt, a proportional ballot system, "would be bad for our country."
"It would weaken one of the great things about Canada, which is that we come together in our diversity to work together on big things. And I think creating fragmentation amongst political parties, as opposed to having larger political parties that include Canada's diversity within them, would weaken our country," he said on June 29.
But this position, on Bill 62, is different. This is about protecting the rights and liberties of Muslim women. This is about building the kind of inclusive society Trudeau talked about.
As he reminded us on March 10, 2015, this issue speaks to the prime minister's core values.
Values that should not shift depending on where the political winds blow.
Correction: This piece has been updated to reflect that Trudeau's speech was given in Toronto, and not at McGill University.