This week, there were plenty of highly publicized dramas in the world of politics: Justin Trudeau admitted to smoking pot as a sitting MP, Rob Ford arm-wrestled Hulk Hogan (and won), and Quebec pondered banning religious headwear for public employees. Not a single comment that I could see, though, about what strikes me as an equally relevant and potentially provocative politics story: Senator Romeo Dallaire is listed as a speaker at a conference being held by an organization that the Southern Poverty Law Center calls "perhaps the single largest group of hard-core anti-Semites in North America."
General Dallaire is not hailed as the keynote speaker at the Fatima Center's "Fatima: The Path To Peace!" Conference in Niagara Falls in two weeks. That honour has been reserved for former U.S. Rep. Ron Paul, who is taking considerable heat for his decision to address the group in light of his own history with anti-Semitic newsletters bearing his name. And yet, as a sitting member of his country's Parliament, who is currently drawing a taxpayer-funded salary, Mr. Dallaire is surely the one with the most explaining to do about his appearance on the speakers' list for this event. Given his role as Senator, any association with a group whose publications have, according to The Washington Free Beacon,
"published columns criticizing the Pope for 'kowtowing' to the 'Synagogue of Satan,' argued that Jews are attempting to undermine the Catholic Church on behalf of Satan, and claiming that 'Zionist billionaires' have been 'financially raping" the Russian people," bears explanation.
On Friday morning, I emailed General Dallaire's senate office address asking for confirmation of his attendance at the conference and comment on the characterizations of the group as anti-Semitic. On Saturday morning, I received a reply, not from General Dallaire, but from Christy de Couto of the National Speakers Bureau, who wrote: "I wanted to follow up with you and confirm that General Dallaire is not attending this conference." So what's going on? Did General Dallaire accept a speaking invitation, then become aware of the Fatima Center's history and reputation and think better of it? And if so, has he mentioned that change of heart to the Fatima Center? Because his name and photo are still prominently displayed opposite Ron Paul's on the main publicity banner for the conference? My follow-up questions along these lines so far remain unanswered by General Dallaire's office.
I don't know how General Dallaire came to be listed, and heavily promoted, as a speaker at the Fatima conference -- an event I am now told he's not even attending. But let's put it this way: I highly doubt the Fatima Center simply grabbed his name from thin air and pretended he was coming without his knowledge. (Had they done so, I think his office would have given me a more direct follow-up than the amusingly context-less one-liner I received from the National Speakers Bureau.) The more likely explanation is that General Dallaire did, at one time anyway (perhaps until the moment his office received my email!), plan to address the Fatima conference. Which is disturbing if it's true. Because as a public official, General Dallaire should surely have been given pause by the other speakers at this event, who include the president of the John Birch Society (John McManus) and a former professor named John Doak, who is slated, according to the conference speakers' list, "to explain satan's role in current human history." Also on the agenda are a vaccine skeptic, and a woman named Cornelia Ferreira, who is to give a talk on "World Revolution and Diabolical Disorientation." (Ms. Ferreira's previous writings include "The New Age Movement: The kingdom of Satan on earth" and "The Feminist Agenda Within the Catholic Church.")
I don't think one should have to agree with every position a group takes before agreeing to give a talk to them. There's a lot to be said for addressing and debating an audience whose views differ from one's own. But when a sitting senator gets high billing at a conference for a divisive fringe group that was apparently too far right for William F. Buckley, and whose leader is reported to have attended Holocaust denial conferences, there's reason to get riled up. At the very least, this is a Canadian politics story this country should be talking about.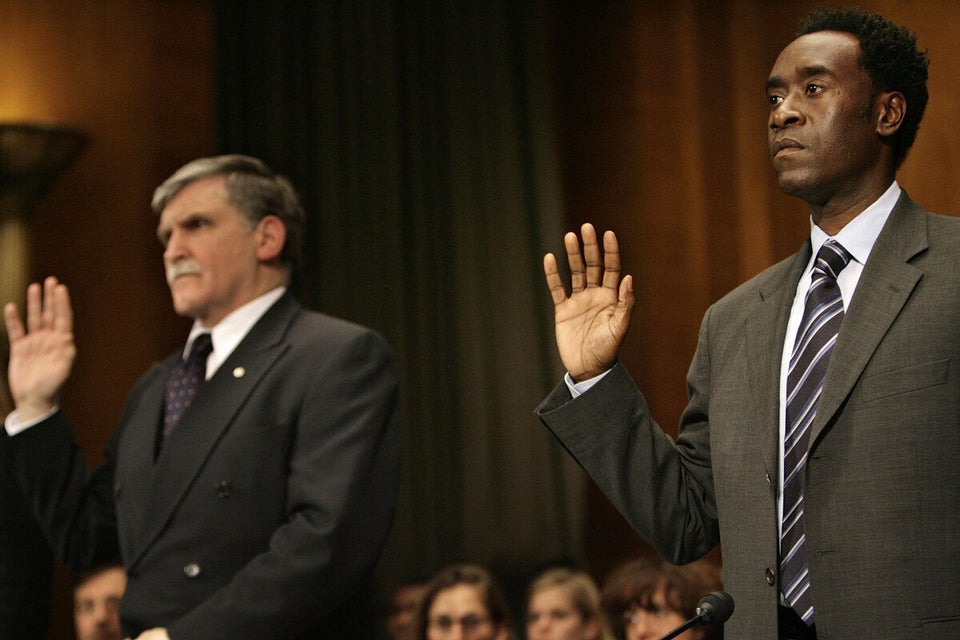 Don Cheadle And Romeo Dallaire Testify On Genocide