In 2010, no one knew who The Weeknd was when he uploaded a bunch of songs to YouTube. Now he's mingling with Prime Minister Justin Trudeau in Washington, D.C. Because it's 2016.
That's right — Toronto's own Abel Tesfaye, a.k.a. The Weeknd, was a guest at the Canada 2020 reception with Trudeau on Wednesday night, hours after the prime minister touched down in the U.S. capital for a historic state visit with President Barack Obama.
The superstar musician posted a photo on Instagram of him and Trudeau sharing a laugh together.
"thank you for inviting me to this historical evening. an honor to witness this moment my friend and Prime Minister @justinpjtrudeau," The Weeknd wrote. They do look pretty friendly: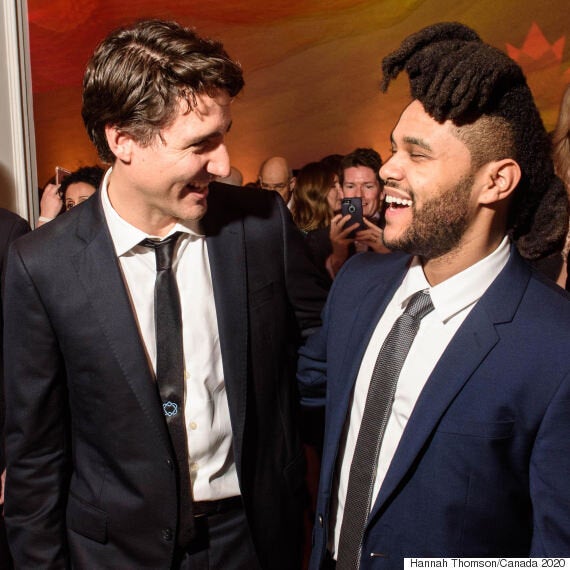 Prime Minister Justin Trudeau and The Weeknd at Canada 2020's reception event at the Renwick Gallery in Washington. (Photo: Hannah Thomson for Canada 2020)
The event's attendees included the Canadian delegation, senior members of the Obama administration, senators, members of Congress, and Trudeau's wife, Sophie Grégoire-Trudeau.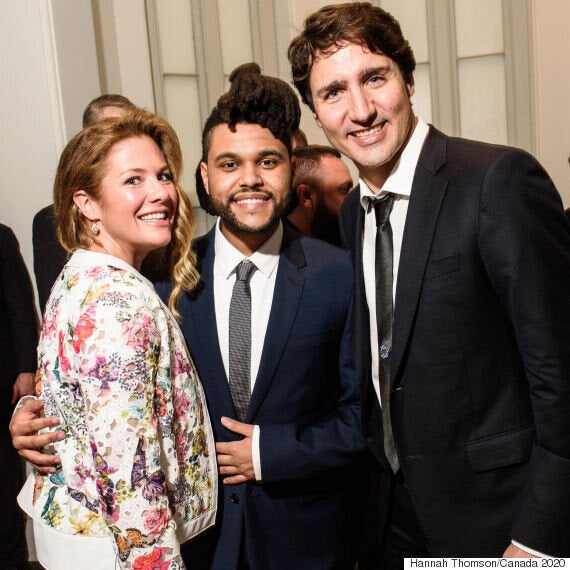 Prime Minister Justin Trudeau, Sophie Grégoire-Trudeau and The Weeknd (Photo: Hannah Thomson for Canada 2020)
The singer was front and centre for Trudeau's remarks, captured on Facebook Live by HuffPost Canada's Ottawa bureau chief, Althia Raj (The Weeknd appears at 4:17 into the clip).
Tesfaye was decked out for the occasion in a blue suit and black tie.
The singer's rise from an unknown Scarborough, Ont. native to global stardom in a scant six years has been impressive.
Diehard fans will remember Tesfaye's dark mixtape trilogy that was decidedly underground, but won him tons of street cred and critical acclaim. Now, you can't go anywhere without hearing one of the The Weeknd's hits. In 2016 alone, he won two Grammys, was nominated for an Oscar, and performed with the legendary and elusive Lauren Hill.
So mingling with Canada's leader probably isn't much of a surprise for The Weeknd. You could say that, at the tender age of 26, he's earned it.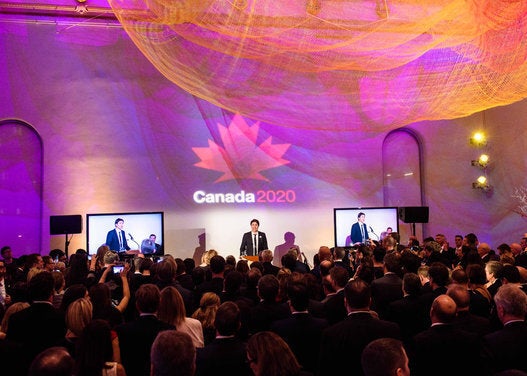 Washington, D.C. Party For Justin Trudeau
Popular in the Community