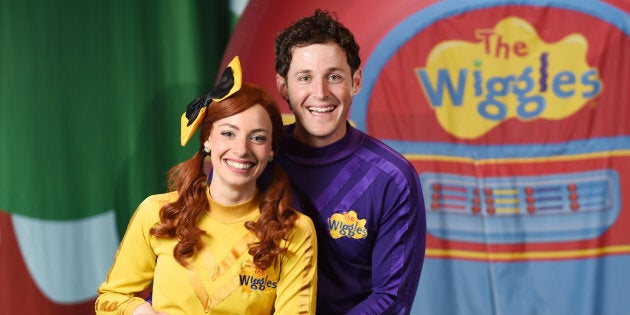 Parents around the world are spinning out over news that Emma "Yellow Wiggle" Watkins and Lachy "Purple Wiggle" Gillespie are breaking up, devastated both by the announcement and the fact that, for some reason, we care so much.
Is it possible that in the 37,000 times we've watched "The Wiggles" on Netflix with our utterly enchanted children, begging for someone to Pappadum-put us out of our misery before we Romp-Bomp-A-Stomp our heads against a wall, we ... learned to ... care for them? Could it be that we took a secret comfort in knowing that, even while singing and dancing about why you should wash your hands after "toilet use," two young people can find love?
And when Watkins and Gillespie were married in 2016 (the bride did NOT wear yellow), and looked so incredibly happy — like, even happier than our kids when we accidentally Propeller ourselves in the head — might we have shed a tear, knowing that happy endings really do exist?
Well, too bad, because they're getting a divorce and LOVE IS DEAD.
On Thursday, Watkins and Gillespie announced that they're splitting up via The Wiggles Facebook and Instagram pages.
"We have, and continue to share, the most beautiful life together, but we wanted to let you know that privately for the last six months we have been navigating through a trial separation, and we have made the decision to separate as a couple," they said in the announcement.
"Throughout that period, we have performed hundreds of shows together and that is always a continued source of joy for us both. We have embraced this as a very positive change in our relationship."
Before you start worrying about what to tell your kids, the band assures us that this does not mean they're breaking up.
"We have chosen a different path to travel in our personal lives, but please know that we are stronger than ever and we can't wait to see you at a show soon," they said.
"It was obvious for both of us that we had a lot of feelings for each other so it happened naturally that we started spending more time together on top of already spending every day working and preforming together," Gillespie told The Daily Telegraph in 2015.
"Definitely for me, I was attracted straight away to Lachy's musicality," Watkins said.
"Lachy is also a gentleman. I have always loved his kind, gentle nature. Being able to experience, together, this amazing time of becoming Wiggles has been the best thing to happen to me. He makes me smile and I have never been happier."
They were married in 2016.
Thursday's breakup announcement shocked the parents who have been listening to their music and watching their shows on a non-stop reel since they had children, and those children inevitably discovered "The Wiggles."
"ALL THE MOMS BE SHOOK!!!" one person commented on the Facebook announcement.
Parents everywhere needed a moment, both to grieve, and to wonder why they were even so upset.