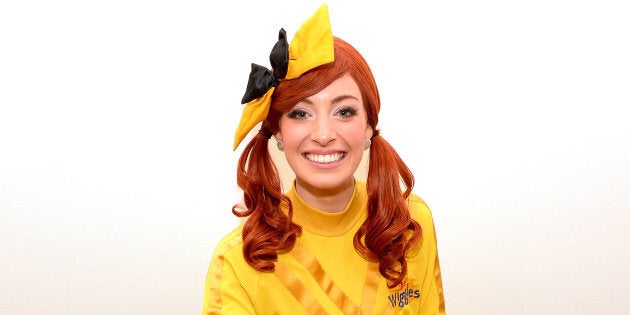 Emma "Yellow Wiggle" Watkins is proficient in all manners of dance, plays the drums and she speaks fluent sign language. She also has a gentle demeanour and rocks a giant yellow bow, so it's not hard to understand why she's easily the most beloved character on the wildly popular kid's show "The Wiggles."
"If you look in the audience, 80 per cent of the audience are dressed like Emma," Field, the group's founder, said in the interview published April 18.
"We've had lots of little boys turn up in the full Emma outfit, bows in their hair, dressed like Emma."
"Emma is the most popular Wiggle by far," Field told ABC in December. "She's the Elvis of The Wiggles."
A scroll through Emma Wiggle's official instagram shows plenty of boys rocking the signature Emma look: yellow shirt, black skirt, giant bow. And bless their bowtiful hearts, they look amazing.
WATCH: My son loves wearing dresses. What does it mean? Story continues below.
In her Instagram account, Watkins often encourages boys and girls to dress up like her, sometimes using the hashtag #boyswearbowstoo.
In response to Field's interview, some people took to Twitter to say their sons love dressing up like Emma Wiggle, too, while others applauded the show for creating a "safe space" for kids.
"My oldest's favorite Wiggle is Emma. He asked if he could have a tutu. We will definitely be dressing for the occasion," one person wrote on Twitter.
"I'm forever thankful for you wiggles for creating such a safe space," another person wrote.
"As a kindy teacher, I stress that 'all clothes are for everyone' and I love that little boys and their parents are embracing Emma for the incredible role model she is," another person tweeted.
In 2017, Disneyland Paris apologized to a British mom after initially saying her three-year-old son who is obsessed with Elsa from "Frozen" couldn't take part in their "Princess for a Day" festivities. They also changed the wording on their website from "Grant every little girl's wish with this experience" to "Grant every child's wish."
"I want people to understand that equality is a right and it's for everybody ... if a child wants to wear a dress and emulate his favorite character, there is nothing at all wrong with that, regardless of what is under that dress," British mom Hayley McLean-Glass told HuffPost.