ONE HERSHEY DRIVE, SMITHS FALLS, Ont. — Chuck Rifici is acting like a kid in, well, a chocolate factory.
Last September, the CEO of Tweed Inc. was handed the keys to the shuttered Hershey's plant in this town just south of Ottawa. In January, his company received approval from the federal government to use the factory to sell a more controversial product — medical marijuana.
Rifici is one of Canada's first entrepreneurs in the potential $1.3 billion marijuana free market.
He and a team of some 20 employees have been scrambling to have their product ready by April 1. That's the day new legislation takes effect, barring Canada's nearly 40,000 medical marijuana users from growing their own supply. To legally obtain weed, they will have to rely on a handful of new large-scale producers such as Tweed who are licensed by the government.
Construction has been fast and furious at the former Hershey's factory in the past six months, but in this industry you can't grow any faster than your product — and plants have about a four-month lifecycle.
"It's a tight timeline" Rifici says.
As a board member of the Liberal party and former senior adviser to its pot-friendly leader Justin Trudeau, Rifici is an Ottawa insider who has closely followed drug policy, waiting for the day it would allow commercial growers.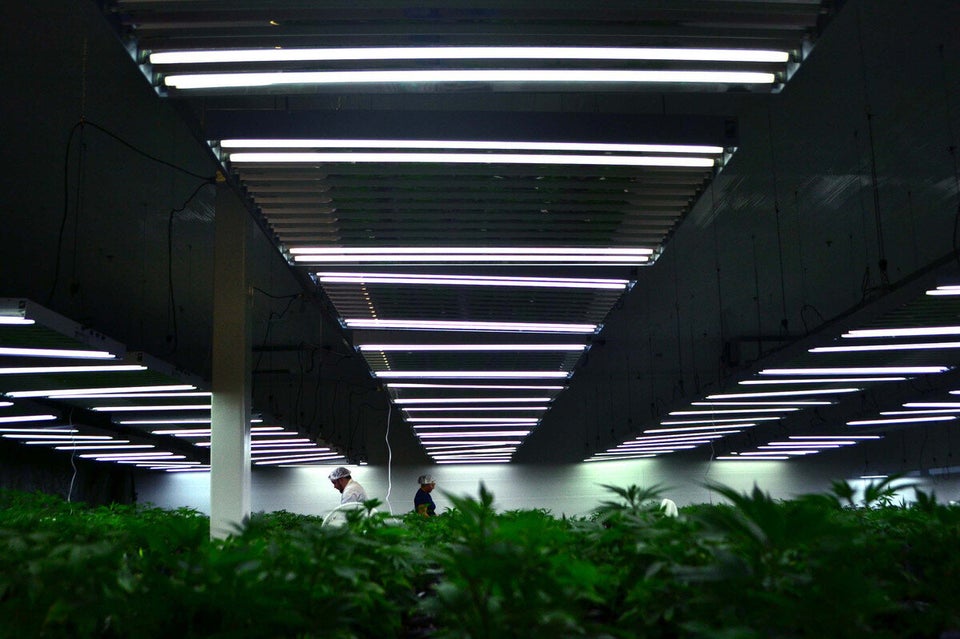 Tweed Inc. - Legal Marijuana Grow-Op
Health Canada announced an overhaul in June to put an end to the program that allowed Canadians to buy product from the government, grow pot at home for their personal use, or appoint a designated grower to do it for them — provided they had approval from both a doctor and the government.
Rifici made it his mission to learn about the budding industry. He visited medical grow-ops in Colorado to study everything from the science of growing conditions to the logistics of shipping product to customers.
Now he is in charge of a 150,000-square-foot legal marijuana-growing operation that he believes could eventually be worth $100 million a year.
"And the fact that it's a former chocolate factory, I mean, the story writes itself," he says.
He tours the facility like a proud parent, pointing out the vestiges of its previous life: a Hershey's sign on the ground, the old sugar tanks now used for watering and the former factory manager who still helps out at the building.
"I've always wanted a big vault door," Rifici says with a chuckle as he enthusiastically turns the handle on a 5,000-square-foot safe.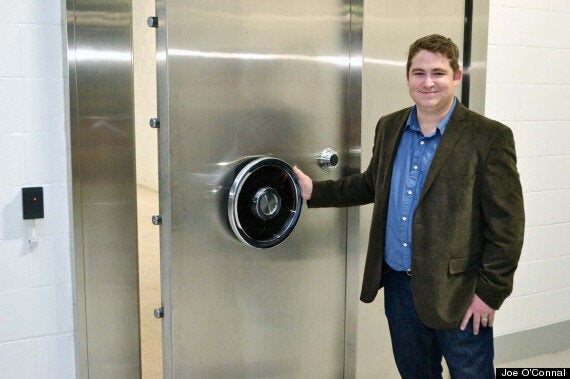 He steps inside the chamber, brimming with excitement as he describes how it could be a showroom "like a big humidor" someday — minus the wood of a humidor, since wood can grow mould and spoil the product. He envisions using the vault to discuss the finer aspects of the process such as the aging process and the bouquet with high-profile visitors.
The vault can store some 15 million grams — $150 million worth — of weed, but for now it sits empty, waiting to be filled with product that has yet to be harvested.
"We need to just grow as fast as possible and stay ahead of the curve," he says.
Health Canada has received hundreds of applications for production licences. So far it has only granted only seven, leaving the fledgling few under pressure to meet the coming demand.
Their strategies vary. One company, Bedrocan Canada, is getting its initial supply by importing from its partner, Netherlands-based Bedrocan, one of the world's few legal suppliers of medical pot. It will import both dried product and plants during the first year, and then use those plants to grow its own.
The government says the old system was open to abuse from those looking to divert their personal harvests to the black market. Health Canada says the new system will allow it to regulate and control quality in the industry. Ottawa estimates the number of medical marijuana users will grow to 450,000 in 10 years.
However, the move is also facing a court challenge from legal home growers who depend on the drug for therapeutic reasons. They say they will no longer be able to afford the alternative to narcotics, now that they have to buy it from large companies.
Tweed sells its strains for between $4 and $12 a gram and offers compassionate pricing of 20 per cent off for those on disability, so some strains are comparably cheaper than the going rate of about $10 a gram on the street.
Many in the industry are pushing for insurance providers to step in and help shoulder the cost, as they do for pharmaceuticals.
Bedrocan Canada CEO Marc Wayne says pushing for insurance to cover marijuana is a "pet project" of his. It's something that Bedrocan's Netherlands operations have succeeded in securing as a long-term solution to affordability issues, which could also mean a boom in business for providers.
Wayne is leading the charge to form an industry group to help legitimize marijuana as a medical alternative. Five of the seven licensed providers are on board and he expects the campaign to launch soon.
"I want people to start talking about this as a medicinal product and not the gold rush of being a marijuana producer," he says.
The commercial companies are subject to strict quality assurance rules from the federal government and they have their own internal standards. Word-of-mouth is the only legal type of advertising for licensed producers, so the reputation of their product is the only way to ensure repeat customers.
Health Canada also has stringent security and sanitation requirements for the commercial operations it licenses. After months of searching for a site, Rifici knew the shuttered Hershey factory would be the golden ticket for Tweed's entry into the industry.
The building cost only $5 million to buy, a fraction of what a new factory would cost. Hershey Canada had pumped $100 million into upgrades at the factory in the five years before it left. It is also conveniently located across the street from a police station and has the support of a small town struggling with high unemployment and excited by the prospect of a new industry.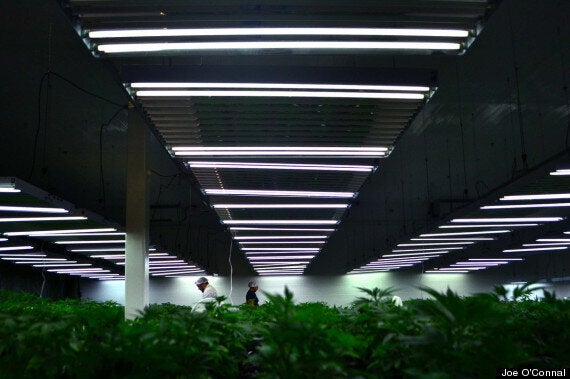 When the plant is running at full capacity, Rifici expects it to have 200 employees, about one-third the number of people Hershey's employed.
His first and most crucial hire was the company's master grower, recruited from the United States where he had been working at a compassion club in Maine.
"It was kind of odd, presenting yourself at the border saying 'I'm here to be a marijuana grower,' but he got in the country in five minutes, it was great."
Now, the company is hiring feverishly, quickly filling the front offices with call-centre staff and seeking out growers who will be in charge of one room each. They received more than 300 résumés before posting a single job.
"A lot of people would like to get into this industry, for obvious reasons," Rifici says.
So far there is only one room of plants in the factory — a sea of green that houses 25 strains of starter plants. Each is labelled with its strain and a bar code so it can be tracked from seedling to the dried product shipped to the consumer.
The factory is under constant video surveillance, and employees must sign in and swipe into every room.
Workers must wear hairnets, shoe covers and a uniform as they tend to the plants. The walls are coated in food grade anti-mould panels, which are three times as costly as drywall.
Tweed has spent about $5 million on refurbishing the factory that it hopes will some day be home to 30 grow rooms, with about 1,300 plants per strain. As much as 100 kilograms can be harvested from one room.
The company is experimenting with different equipment as it tries to master the art of large-scale marijuana production. One room has classic "Dutch style" fixed lighting, Rifici explains. They're trying a more cost-effective approach in the grow room under construction across the hall, where workers are setting up LED lights and reflector wings.
"We've had a lot of time to research it, and we'll get some things right and some things wrong. … Fortunately, it's a high-margin product," he says.
Now that Tweed is licenced, it can seek bank financing, but the fastest way to expand the business is to go public, and the company intends to become Canada's first publicly traded marijuana grow-op.
They're orchestrating a reverse takeover — in which a "shell" company listed on the TSX venture exchange will buy all of Tweed's shares so it can bypass the usually lengthy process and go public in a few months.
But the decision to go public is not because Tweed is in search of capital, Rifici insists. The well-connected Trudeau adviser has so many prospective investors — some "that would be familiar names" — that he has had to turn some down.
Instead, the desire to go public stems from a want of publicity in an industry that cannot advertise.
"For people who have never used marijuana before, we think being a public company establishes permanence that we'll be here for the long term."
Down the road, it will also give Tweed more heft to buy out small and mid-sized players, but Rifici isn't expecting fierce competition off the bat, given the expected growth in the market.
For now the industry is anticipating the opposite problem: demand that will grow faster than their plants.
Popular in the Community