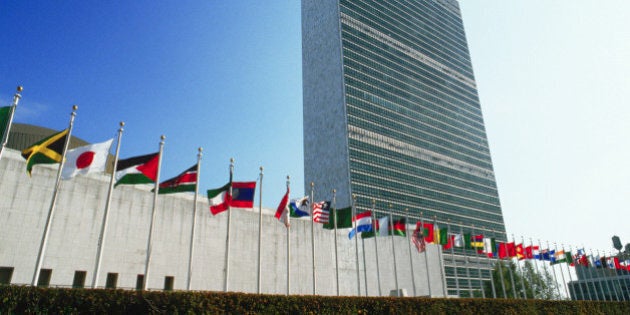 Canada has always understood that being fully and firmly committed internationally is important, not only to our own success, but also to the success of others around the world. We are a country with a great deal to offer -- it is time for us to reclaim our place.
Monday, President Barack Obama will host a special meeting of world leaders at the United Nations. He will call on all countries to increase their contributions to peacekeeping. Canada should respond by recommitting itself to peace operations and to the UN, which Stephen Harper has scorned since he failed to win a Security Council seat for Canada in 2010.
Demand for peace operations has never been greater, and the UN has never been busier, with more than 128,000 civilian and uniformed personnel serving in 39 missions across four continents.
Meanwhile, the number of violent conflicts in the world has tripled since 2008, contributing to today's toll of more than 60 million refugees and displaced people -- a record number that is straining the global humanitarian system. At the same time, climate change will tragically increase the number of refugees in troubled parts of the world throughout this century.
Canada, and all our international partners, must provide the UN with the expertise and capabilities it needs to respond to this unprecedented challenge.
It is the right thing to do -- just as we should be taking in many more refugees. It would also serve our interests. A more peaceful world is a safer world for Canada, too.
To become, once again, an active and constructive member of the United Nations and other multilateral organizations would magnify Canada's voice in international affairs. Shouting from the sidelines, as the Harper Conservatives have done for years, marginalizes Canada. That's not leadership.
So what should Canada do?
First, we need to recognize that today's peace operations are different from those of yesteryear, which often entailed monitoring fixed ceasefire lines. Most missions today are in more fluid situations, and what the UN now needs from Canada is our superbly trained soldiers in robust battalion group size and specialized capabilities, such as engineering companies to repair infrastructure, aircraft to ferry supplies and peacekeepers, signals teams to provide communications, mobile medical facilities, and mission planners. Canada has these capabilities, and should make them available to the UN on a case-by-case basis.
Second, the UN needs experienced mission commanders, staff officers, and headquarters units that can be quickly deployed. Canada can and should provide these, too.
Third, we must increase our commitment of civilian police -- including Francophone officers, who are in great demand in French-speaking countries that host peace operations.
Fourth, Canada should lead an international effort to improve and expand the training of military and civilian personnel deployed on peace operations. The bulk of the ground troops in UN missions come from the developing world. They should be provided with excellent specialized training prior to deployment. Canada must also insist that any UN peacekeepers involved in misconduct, including sexual abuse, be held accountable by their own country and by the United Nations.
Finally, we should contribute more to the UN's mediation, conflict-prevention, and post-conflict reconstruction efforts.
Because the United Nations remains the world's largest provider of such missions, it deserves our special attention -- but Canada should also increase its support for other organizations that perform peace operations in their own regions, such as the African Union.
Our contributions can make peace operations more effective, reducing the spread of violent unrest and providing hope to millions of ordinary people who wish, above all, to live without the threat of being killed or driven from their homes.
We are a nation of diverse people -- with roots in every corner of the world -- living peacefully together. It is part of what makes us Canadian.
When President Obama issues his call to the international community, Canada should respond positively. We, as Canadians, will recommit to the United Nations and to peace operations around the world.
Leader of the Liberal Party of Canada