In the '60s and '70s, a should-be-legendary group of studio musicians dubbed The Wrecking Crew played on the era's defining songs. You might not have heard of them, but you've definitely heard them on hits by everyone from The Beach Boys, The Byrds, The Righteous Brothers, and the Mamas and the Papas to Elvis, Sinatra, Lennon, and The Monkees. They even provided Phil Spector's famed "Wall of Sound."
Today, nearly 60 years later, music fans are finally getting a chance to uncover the story of this incredible group of unsung session musicians in director Denny Tedesco's acclaimed documentary "The Wrecking Crew." Finally coming off the festival circuit, the KickStarter-funded film is making its world theatrical premiere in Toronto on February 20th at the Bloor Hot Docs Cinema.
The doc, which took Tedesco nearly 20 years to complete, is a moving personal tribute to his father, the late great Wrecking Crew guitarist Tommy Tedesco, as well as to the music and the raucous times for which it was created.
Tedesco introduces audiences to the real musicians behind pop classics like "Be My Baby," "California Girls," "Mrs. Robinson," "You've Lost That Lovin' Feelin'," "Viva Las Vegas," "Mr. Tambourine Man," and countless others (you can listen to a selection below) and lets the surviving members tell their unbelievable tale in their own words.
Feature continues after slideshow
Coalescing in the heart of Hollywood during the late 1950s and early 1960s, the Wrecking Crew eventually came to include a revolving cast of close to 30-odd session players. But its core was musicians like legendary drummer Hal Blaine, guitarists Glen Campbell (who later found solo fame) and Tommy Tedesco, bass players Ray Pohlman, Lyle Ritz, and Jimmy Bond, and keyboardist Leon Russell.
Together the group rose to prominence within the L.A. recording community, working on thousands of hit songs across multiple genres for radio, television, and film. But it was as early champions of rock and roll that they really hit their stride.
"The year was 1960 and rock and roll was only five years old at that point," says Tedesco. "That was really the breaking point for a lot of the young musicians who went to Los Angeles to find work in the studios because they ended up taking jobs that the older guys wouldn't."
"As far as they were concerned, rock and roll was a dirty, filthy, nasty word," adds Hal Blaine. "The older generation of studio musicians were highly educated players, but what they didn't realize at the time was that we were highly educated too. We could read anything and we knew all about the music business, so when we showed up in our Levis and t-shirts, smoking cigarettes, they started saying, 'These kids are going to wreck the business' — hence the name The Wrecking Crew."
By the mid-'60s, word had spread about a hot new sound that was burgeoning on the sunny West Coast and as far as studio players went, The Wrecking Crew were the band in town. For years, pop music had been produced within the walls of New York City's famed Brill Building on Broadway Avenue, but as songs like Jan and Dean's "Surf City" and The Beach Boys "Surfin' U.S.A." hit the airwaves — both of which were Wrecking Crew creations — it wasn't long before musicians began making the mass exodus to the Golden State.
At the height of their careers, it wasn't uncommon for The Wrecking Crew to work 15-hour days, recording hit records in the morning, radio ads through lunch, television spots in the afternoon, and performing backup for various touring acts before going to bed. Before the decade was out, they had clocked well over 10,000 hours in the studio and worked on hundreds of hit singles, including 38 chart-toppers, nearly doubling the Beatles.

At one point, the Grammy Award for Record of The Year was awarded to a song performed by The Wrecking Crew seven years in a row. Their dedication, flair and musicianship made the West Coast sound of the 1960s a dominant cultural force while their camaraderie and sheer love for playing, injected the songs with soul and ultimately brought them to life.
"Someone once suggested to me that being a studio player was kind of like doing factory work," says Tedesco. "One day you'd be making a Rolls-Royce and the next day you were making a pinto," he laughs. "The thing about my father and the rest of these guys was that they didn't know they were recording hits, they were just recording. There were arguably times when they didn't like the music, but it didn't bother them because they were happy to be making a living and putting their kids through school doing what they loved — playing."
"We used to have a saying around the studio," says Blaine. "'TTMAR,' which basically stood for take the money and run," he laughs. "But, we always did it respectfully; we weren't trying to pull anybody's leg. If anybody ever did, they were out of our clan. We were just like a family," he recalls. "None of us knew how long it was going to last, we were just in the right place at the right time with the right stuff. We all fell into this big vat of chocolate and it really seemed like we could do no wrong. It was a really incredible ride."
For Tedesco, who waded through some dark and merciless waters to ensure that the story of his father and the legendary Wrecking Crew saw the light of day, he couldn't be happier with the results.
"I'm extremely proud of this film," he says. "I remember when I first began showing people a 14-minute piece, everyone said the same thing: 'That's really cool, but you are never going to get this thing made; you're never going to get the help of the labels or the publishers.' Everybody had a reason why it wouldn't work. My family and I have literally invested everything we have into this film: all of our life savings, the credit cards, the mortgage on our house, but it was because I knew that was the only way we were going to get this story out there.
"When I found out that my father was sick and that he only had a year, I thought if I don't make this film now it's all going to be over," he adds. "Now I have the pleasure of seeing the way that audiences around the world respond to it, and to me as a son. Some laugh, some cry, and some have even given us standing ovations. Even if you don't love the music you know it — and that says something. A lot of those guys are gone now, but the music and what they did, that's history."
As a director, Tedesco beautifully captures the members of The Wrecking Crew in all their splendour, but most poignant is his role as the film's narrator. From a quiet corner of the room, his voice carries a weight that suggests not only his proximity to his subject matter but one that is universally felt by generations of people who have loved and still cherish the songs that came to define their era.
"One of my favourite lines in the whole film comes from producer/engineer Bones Howe," says Tedesco. "I once asked him: 'Bones, what is it like? You guys were the A-Team and people were coming from all over the world to record with you. Now, you're not the A-Team anymore. How do you deal with that?' Bones just looked at me and said: 'You know what? You take the ramp up and eventually you get to the top. But it's not about staying at the top, it's about taking that ramp down as long as possible.'"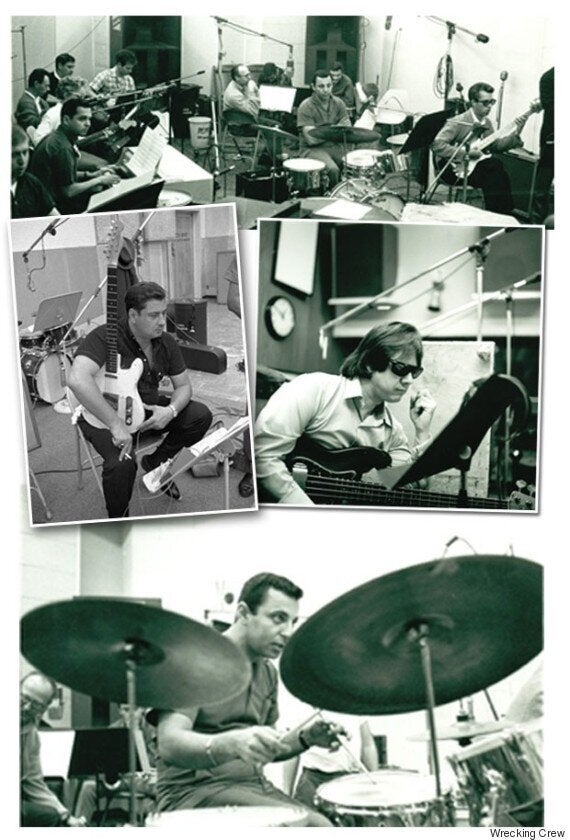 Popular in the Community