In a symbolic gesture, 12-year-old Theland Kicknosway led Canada's incoming cabinet ministers, prime-minister designate Justin Trudeau and his family into Rideau Hall for their swearing-in ceremony on Wednesday.
Kicknosway is a traditional dancer, singer and drummer who is dedicated to raising awareness about the children of the missing and murdered Aboriginal women in Canada.
During the ceremony, his mom posted this statement from Theland to Facebook: "Meegwetch for your prayers love kindness and words of support. Today I sang for the people, the missing murdered, the children and families left behind, for the past present and future... I met a nice man today, he's very kind."
This isn't the first time the Pottawatami Cree boy from Wahpole Island has been to Parliament Hill. He performed there in 2013 following his 134-kilometre walk from Ottawa to Kitigan Zibi, Quebec, to raise awareness about the children left behind.
A release about Kicknosway's journey said: "These children lost their mothers, aunties, sisters, cousins and are left to struggle with the loss and trauma that largely goes unacknowledged. Theland wants those children to know he is thinking about them and he will continue to 'walk in a good way' to be there for them."
During his campaign, Trudeau promised to hold an inquiry into the more than 1,200 Indigenous women who have gone missing or have been murdered in our country since 1980.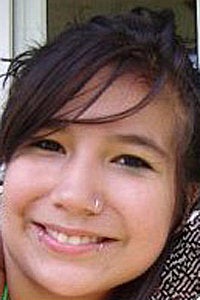 Canada's Missing Aboriginal Women
Popular in the Community