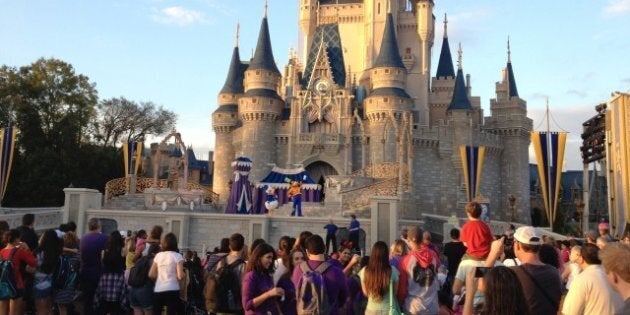 Taking your child to Walt Disney World and Universal Studios in Orlando is akin to a religious pilgrimage, even for a child as young as three. Toddlers may be too young for the big rides, but the theme parks still revolve around their primary interests: princesses and pirates, superheroes and spacemen, witches and wizards and ferocious dinosaurs and cats in hats.
Disney World is like the giant of Mickey and the Beanstalk, a big lumber behemoth that is epic and massive, if somewhat unsophisticated. Sprawling doesn't even begin to describe Disney World's grounds. At twice the size of Manhattan, it's a veritable Vatican City-style fiefdom that contains four theme parks (Magic Kingdom, Epcot, Animal Kingdom and Hollywood Studios), as well as rooms for thousands of hotel guests, a massive downtown district and a transportation system befitting a small city with busses, boats, trams and monorail, not to mention parking lots that stretch out for approximately ever.
Universal is relatively petite with only two parks: the original film studio-themed one and the newer Island of Adventure which skews a bit older and packs in more action-oriented rides. What Universal lacks in size and nostalgia, though, it makes up for in variety and hipness. Unlike Disney, Universal is not relegated to its intellectual property, so you'll get everything from The Simpsons and Harry Potter to Spongebob Squarepants
Both Universal and Disney are different enough to make them equally worthwhile of a trip. And yes, everything you've ever heard about the wanton waits and legendarily long lines is true. But that doesn't mean it needs to affect you.
These theme parks are incredibly popular and therefore can be incredibly crowded, but careful planning can help you game the system because most people simply don't do it. So here are some tips and tricks we learned from a recent visit.
Tips and Tricks For Avoiding Long Lines at Disney World And Universal Studio. Slideshow text follows for mobile readers.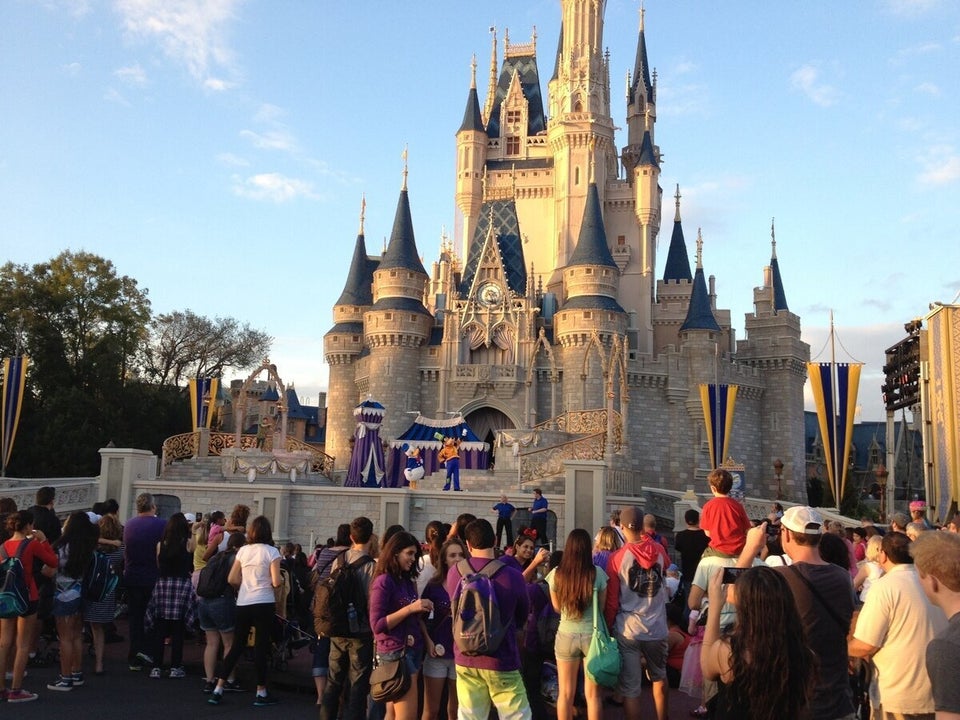 Tips and Tricks For Avoiding Long Lines at Disney World And Universal Studio
If it's possible, avoid going during school holidays. Most people can't, which is why it's so crazy crowded during peak season, but the difference is immeasurable. Hitting Disney during Christmas or March break will result in lineups that range from 45 minutes to over two hours to meet various princesses, while our visit during early January meant almost no waits at all. And Universal's Wizarding World of Harry Potter can be so popular that during their most crowded days, it can take hours just to get in that area of Universal, with even more hours required to make your way into Hogwarts for the indoor roller coaster. Going off-season means you'll be able to just waltz in, grab breakfast at the Three Brooms and hit a few rides before relaxing with a mug of Butterbeer.
Stay Onsite At Disney World
The theme-park hotels do cost more than staying off park in Kissimmee, Fla., but time is also a form of money. Staying at a Disney Hotel not only means that you can avoid the frustrating traffic jams and fighting for spots in the park's epic parking lots, but you also get early or late access to the parks during "Magic Hours." In our case, we stayed at the Downtown Disney Hilton because it was cheaper than hotels on the monorail, but still allowed us into Magic Kingdom at 8am. So were able to cover most of New Fantasyland, the princess-centric area that just opened this winter, before most of the park-goers even made it past the turnstiles.
Stay Onsite At Universal Studio
Staying onsite at Universal is even more convenient and considerably cheaper than Disney World. We stayed at the Loews Royal Pacific Resort because of its sprawling pool and tropical feel, though the Hard Rock and Italian-themed Portofino Bay hotels are just as user-friendly. All the resorts are connected to the park by a waterway and can be reached either by walking along a path or taking a boat which departs every few minutes. Staying onsite means you get into the Wizarding World of Harry Potter an hour early.
Do Pass Go — Universal Studio
If you decide not to stay onsite at Universal, it still may be worthwhile to pick up an Express Pass. It can admittedly add anywhere from $36 to as much as $120, to the price of your ticket depending on the date, but the sheer increase in attractions you'll have time to visit may still make it worthwhile. Also, be aware that quantities are limited (otherwise they'd have no value) and are priced to demand, so the busier the park, the more costly the pass.
Do Pass Go — Disney World
Over at Disney, they have a FASTPASS system that is free, but also requires more forethought. Basically a FASTPASS allows you to pick a ride that you want and then get a pass to skip the line at some point later in the day. You'll have an hour-long window to make it to the ride and you can't have more than one FASTPASS active at a time (they're all connected through your park pass). But if you plan out your day properly, you should be able to skip the line at almost every Disney attraction, from the Safari in Animal Kingdom to Space Mountain in Tomorrow Land. This is especially important for low-capacity, high-popularity rides like Peter Pan's Flying Ride.
You may want to just wander the parks aimlessly, but unless you have more days booked than you know what to do with, that's generally a bad idea. At Universal, you can probably slide by with some aimlessness so long as you do Harry Potter right away, as it's easily the most popular part of the park and gets progressively fuller throughout the day.
Disney World, however, is an entirely different beast. You will want to plan out exactly what your must-see attractions are, look up the busiest rides, and then put together a strategy for picking up passes that moves you through the Magic Kingdom's various areas in a navigable order. It sounds over-the-top on paper, but in practice, it isn't. Over-planning will reduce backtracking, quash complaining and shrink wait times to their greatest degree. Epcot and Animal Kingdom require far less advance legwork, but the insane popularity of Magic Kingdom means that those with a strategy will be most likely leave to with their sanity intact.
Even if your kid is beyond stroller age, it might be worthwhile getting one. All the parks are massive and getting between the various areas within them will require plenty of walking. The less exhausted your kid is, the less likely they are to melt down or freak out. The parks can be stressful enough without that. Plus, if your younger kids still nap, they can tuck out in the stroller. which will save a time-consuming return visit to the hotel.
Both Disney and Universal have park hopper passes but doing more than one park in a day is a fool's errand — I know because I attempted to do Animal Kingdom and Epcot in a single day and saw about half of each. Going from any park to any other park in Disney will take at least 45 minutes, so work that into your schedule. You can walk between Universal's two parks, but unless you really only have one day for two parks, it's best to give each one a full a day. The less rushed you are, the less stressed you'll be and trying to cram too much into a day is asking for trouble.
The thing about Universal and Disney is that the staff really does seem to go out of their way to help you. When the Simpsons family did a shift while we were waiting in line, meaning our son, who sleeps beside a plush Homer every night, missed meeting the Simpsons patriarch, we were told when to come back and then popped into the front of the line. Time and again the employees did their best to help whenever we needed it. I assume the park supervisors realize how aggravating crowds and lineups can be, but since that's out of their control they do what they can with their employees.
Catch The Characters When You Can
The coolest part of the parks for kids is meeting the various characters, but to maintain realism there is only ever one of any character around at a time. Disney has established areas to meet Tinker Bell and the Little Mermaid, and while there are some other semi-permanent meeting spots (Winnie the Pooh hangs out by his ride, natch), most of these characters don't necessarily follow a set schedule.
If you see Homer and Marge and want to get a photo, don't come back later because they may not be there. These parks are always in motion so do what you can while you can. Oh, and realize that it's not just a photo op — at least not to your kids. The lineups are long because the characters really spend time interacting with kids, and those memories are far more magical than the photos.
Disney specializes in dark rides — those totally enclosed, animatronic-filled attractions where you sit on a vehicle that takes you through. Thing is, these rides have no age-restriction like the roller coasters or spinny rides do. Many are quite dark and lit with black lights, which can be scary for really little kids. Even the Winnie the Pooh and Peter Pan rides are a bit intense, but you'll definitely wanna keep any easily frightened tot off the disturbing Pirates of the Caribbean ride. One exception is the "It's a Small World After All", which is a brightly lit dark ride and one of the most magical from either park.
There are plenty of other exclusively unscary attractions, too, like Tom Sawyer Island, Prince Charming Regal Carousel or Jungle Cruise inside Magic Kingdom. Universal boasts Seuss Landing, an area themed on the the whimsically surreal imagination of Dr. Seuss, as well as a Curious George water park and "An American Tail"-themed playground where everything is so huge your kids feel like they're mouse-sized.
Sit Down and Eat — Disney World
Theme parks are rife with junk food, but that doesn't mean you have to eat it. It's a great idea to bring snacks into the park, so you can give your kids a granola bar or apple when their energy runs low rather than relying on whatever's nearby. But I'd also recommend going to a sit-down restaurant and using the time to decompress, though do try and avoid going between 11-2 as that's when restaurants are at their busiest.
At Magic Kingdom, you'll find great French cuisine at the mega-popular new Be Our Guest restaurant (which also serves wine, making it the only place to get alcohol in the Magic Kingdom). There's nice seafood at Columbia Harbor House in Liberty Square as well as Italian at the "Lady and the Tramp"-themed Tony's Town and Mexican at Tortuga Tavern.
Sit Down and Eat — Universal Studios
Over at Universal, you can grab great San Fran-inspired food from Lombard's Seafood Grille or pub fare at Finnegan's Bar and Grill. Little Harry Potter fanatics will love eating at the Three Broomsticks (it's a bit pricey but outside you can pick up some cheap fresh fruit and croissants) and though we never ate there, Mythos Restaurant has won numerous awards as best theme-park restaurant. I'd also recommend leaving the park altogether to get a break and enjoy some of the options at Universal City Walk. The Hard Rock Cafe and Emeril's are both popular, but we had our best meal at Jimmy Buffet's Margaritaville, which also had nice relaxing live music.