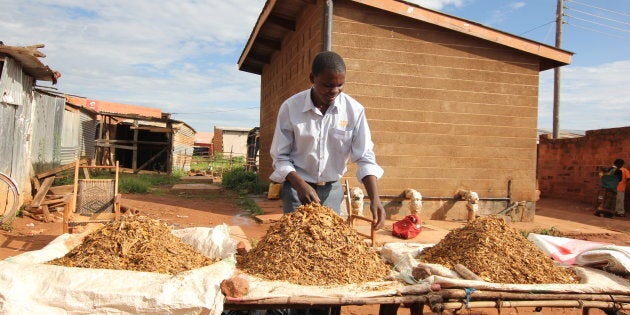 In developing the Sustainable Development Goals, the UN created a global knowledge platform, the World We Want, in which people shared their vision of how they would like to live. Alongside that vision and the SDGs came the mantra: leave no one behind. If we take seriously these intents, we need also to become more critically activist about the political and economic barriers that do leave people — the poor — behind, and that get in their way of enjoying the World We (all, supposedly) Want.
As an example, consider Chanda, a small-scale farmer in rural Zambia. One of his crops is tobacco, because it is the only one that guarantees cash at the end of the growing season. That's because the transnational tobacco firms have developed a system in which they control the tobacco leaf firms, which in turn put Chanda and his family under contract — perceived by many farmers as a guaranteed income. Each year the leaf companies supply the inputs and buy the product while Chanda mysteriously finds himself falling deeper into these companies' debts. The labour-intense crop eats into his family's ability to seek other work. The risk of green tobacco sickness is real. He and his family never rise out of poverty, which brings with it more disease, which in turn increases their poverty. Meanwhile the tobacco transnationals positioned comfortably in the background, and availing themselves of decades of free trade and investment treaties, post record profits.
This was one story shared at the recent Canadian Conference on Global Health, in which the theme was Leaving no one behind: reflection for action in a changing world. It is only one of many stories that capture how our recent past (and still very present) era of status-quo economics and politics keeps the World We Want out of the reach of the many. Inequalities in wealth and power continue to worsen, while the past few decades have made only a modicum of improvement in the lives of the world's poorest.
There are solutions. In Chanda's case, it involves creating viable value chains for less harmful and more useful food crops than tobacco. It requires governments to be willing and able to confront powerful economic interests that might stand in the way. It needs a healthy and educated citizenry to hold their governments and global finance to account. And it thrives only when people have the ability to express their voices, and their protected rights to do so.
The SDGs offer us a much grander agenda for change than the earlier MDGs. Their headline messages are inspirational. But they also run the risk of diverting focus away from the macro-level political and economic forces that seem intent on entrenching, rather than reversing, our legacies of inequality. Simply stated: we cannot preserve the status quo, because we now have evidence that it has not worked.
Those of us working in global health, by the very fact that we have this job, are in a privileged global class. Maybe not the one per cent, but more so than those in the bottom half of humanity. We need to exercise that privilege more forcefully in confronting what Paul Famer, in an early book, called Pathologies of Power. And we must do so in authentic partnership with the Chandas of the world, whose voices are too often left unheard.
If we keep in mind that every action we take in our work should lead to greater equity in the global distribution of the resources needed for healthy lives, and in the political capacities of the currently marginalized to shape their own and their families' future destinies, then there is cause for a cautious optimism in moving forward on the SDGs and the world we all want.
Sameera Hussain is a CIHR Health System Impact Fellow working with the Canadian Society for International Health and the University of Ottawa. Her current area of focus is collective intelligence around the health-related Sustainable Development Goals.
Ronald Labonté holds a Canada Research Chair in Globalization and Health Equity at the School of Epidemiology and Public Health at the University of Ottawa.