A perfect storm of incredulity, fueled by institutional corruption, is on the horizon in Brazil; the dark thunderclouds of rising discontent in sharp contrast to the popular images of sun-drenched beaches and samba-driven smiles. Across the globe, people are getting ready for the showcase event of the world's most popular game, but in Brazil, the rallying cry among much of the populace is Nao Vai Ter Copa -- There Will Be No World Cup.
The brain trust at FIFA, the sport's governing body, that operates as if the truth is just a lie undiscovered, awarded the World Cup to Brazil thinking that the spiritual home of the game, a country that has won the tournament a record five times, would do whatever it took to make the 2014 edition a rousing success. But, "for whom?" people are demanding to know.
The protests in South America's largest country underline the popular belief that the cost of the World Cup, the most expensive ever at $11 billion and rising, is coming at the expense of new funding for schools, hospitals, public transport, and thousands displaced to make room for construction related to the World Cup and the upcoming Olympics in 2016.
Angry grassroots movements have sprung up around the country, focusing their efforts on getting people out onto the streets to protest. Social media has been used to inform and organize in ways not seen before. It is now all right to love football, but to hate the World Cup and especially the gatekeepers, FIFA.
Earlier this year, during a congressional hearing held by Brazil's tourism and sports commission, former FIFA World Player of the Year and 1994 World Cup winner Romario, now a popular politician and member of the Brazilian Chamber of Deputies, said:
"We can't expect anything from FIFA, where we have a blackmailer called (General Secretary Jerome) Valcke and a corrupt thief and son-of-a-bitch called (President Sepp) Blatter."
And while FIFA trots out soccer legends like Pele and Ronaldo to promote the tournament, groups with names like the Landless Workers Movement (MTST), and Urbanos Direitos (Urban Rights) march in their thousands, occupying the land directly around the Itiquerao stadium, in Brazil's largest city, Sao Paulo, site of the opening game between Brazil and Croatia on June 12.
While Jennifer Lopez and Pitbull fill our television screens with the official World Cup song, teachers in Rio and Belo Horizonte, bus and subway drivers in Sao Paulo, oil workers in Cubatao, airport personnel in Guarulhos and garbage workers, the orange-clad "Garis," who are out in force making sure Rio is clean for the tourists, have marched, demonstrated and gone on strike in numbers not seen in a generation. They are drawn together in part by websites like Portal Popular da Copa e das Olympiadas, and by citizen journalist movements like MIDIA Ninja, a Portuguese acronym for "independent narratives, journalism and action," created to galvanize disparate movements across the country.
"The passion for the sport is huge...but things are no longer as before," says Rafael Vilela, one of the founders of the Midia Ninja collective. "There is a new level of consciousness in Brazilians. People want more change, and cannot tolerate the organization of an event like the World Cup to be run from the top down, without considering the Brazilian people, with a totally disproportionate cost to other World Cups in the past."
Midia Ninja and Fora do Eixo (Outside the Axis), a music and cultural collective, have created a community called Cinelandia in downtown Rio, where people can come in, play music, debate, write their blogs, and edit their cell phone videos and post them online. There are edit suites mounted on shopping carts, and portable generators to power them. The protests can be seen live on the internet via Twittercast.
"The democratization of media and information in a country like Brazil where just seven families monopolize all of the television, radio and print media is a big challenge, but that is our motivation," says Felipe Altenfelder, a founder of the FDE collective.
American director Spike Lee has been in Brazil working on a new documentary called "Go Brazil Go," in which Felipe, Rafael and other members of Midia Ninja figure prominently.
"We'll be on the streets, covering all political and cultural movements, the passion for football and this new moment of political unrest," says Vilela. "We have a portal called ninja.oximity.com; a hub that will be able to add content of great quality, taken by hundreds of collectives and networks of communication that will need visibility and access.The portal will have a system of simultaneous translation.''
Among their number is Canadian Nadim Fataih, an activist who has spent three years filming protests in Spain, Greece, and in Tahrir Square in Cairo. "We're going through the first truly global revolution that humanity has ever seen," he says in a trailer posted on YouTube, soliciting funds for his work in Brazil with the "Guerilla" media collective.
Brazilian photo journalist Ana Lira is one of the founders of Direitos Urbanos (Urban Rights). She is from the north-eastern city of Recife, which will hold five games. Working with other journalists and citizen groups, she has meticulously documented the circumstances of the deaths of 27 people (including one journalist) and the wounding of over 300 others during the street protests. Even more troubling to her is the law that was rushed through congress that would classify protestors as terrorists.
According to the international human rights watchdog Index on Censorship, the bill allows for use of force by the military police and punishment for violent actions during demonstrations. A controversial bill was created to punish "infractions" committed during the World Cup. In its text, acts of terrorism are associated with religious or ideological positions, and it also limits Brazilians' ability to strike. The bill was nicknamed the AI-5 FIFA, after the 1968 AI-5 Act, which gave extraordinary powers to the then-President and suspended key civil and constitutional guarantees for over 20 years.
"The most incredible thing is the silence of (Brazilian president) Dilma (Rousseff)," says Lira. "She is the President. She had an incredible history of resisting dictatorships in Brazil, but she is saying nothing about this law and how hard it is for all of us who do not support the World Cup."
Dilma Rousseff was a member of a Marxist revolutionary group following the 1964 military coup d'état in Brazil. She was captured, imprisoned for two years and reportedly tortured. It is a very important narrative for Brazilians. Her complicity in allowing the World Cup to proceed at the expense of the Brazilian poor is seen as a sell-out to the rich.
"There are a lot of people suffering, some have died or become seriously sick because of the removal of many communities," continues Lira. "This week in Recife, one more community was torched. They always say these favelas were burnt by some accident, but all of them had one point in common: they were located in areas that were desired by big constructors."
Even more provocatively, 170,000 security personnel will be on the streets during the tournament, trained in part by forty FBI officers now in Rio de Janeiro, assigned to "anti-terrorist" duties.
But outside the country, does anyone care?
American journalist Dave Zirin has a book published this week called Brazil's Dance with the Devil; the World Cup, the Olympics and the Fight for Democracy. In it he opines that
"this belief that the lion's share of World Cup expenditures are for foreign consumption, while the disruption and pain will be shouldered by Brazil's masses is widespread. Every protest, every rally, every cry of despair is connected to the 'the three D's': displacement, debt and defense. The stats on displacement, debt and defense can be numbing or easy to disregard for outsiders. The numbers on people expelled from their homes vary wildly, but without question, hundreds of thousands of the most vulnerable residents in the country have been or will be relocated by either carrot or stick, whether through financial reimbursement or through the barrel of a gun."
Journalist Yan Boechat, whose recent assignments included covering the conflicts in Afghanistan and the Congo, will be covering the protests in his native Brazil for the most influential newsmagazine in Brazil, Revista Istoe.
"If Brazil does well on the field, then perhaps people will be happy and not protest as much," he says. "But if Brazil loses there will be big problems and civil unrest. I think the way we play the World Cup will define a lot of things that will happen outside the stadia. We're going to have protests; that's for sure. But if Brazil fails, they will be much larger. There will be violence."
If past World Cups are any indication, look for the hosts to get some help. Remember South Korea versus Italy in the 2002 World Cup and the Ecuadorian referee who later admitted taking money from South Korean officials? Or the most dubious of all: Argentina's win over Peru by six goals in the 1978 World Cup. The chiefs of the military junta had gathered in Buenos Aires to watch and a Peruvian goalkeeper of Argentinian extraction duly had a nightmare evening. Corrupt to the core.
FIFA wants a show, not protests. They know Brazil has to win to keep people quiet. Dilma Rousseff knows that with a Presidential election coming up later in the year, her chances of winning would be a lot better with a sixth Brazilian World Cup win.
A penalty call made or not made. A linesman's flag held up for offside. Or not. It happens. There is precedent.
"I have spoken and I will repeat here," says Romario. ''Now we have to cheer for Brazil to win on the field, because it would be perfect for football, but off the pitch we've already lost and there is no way to reverse it."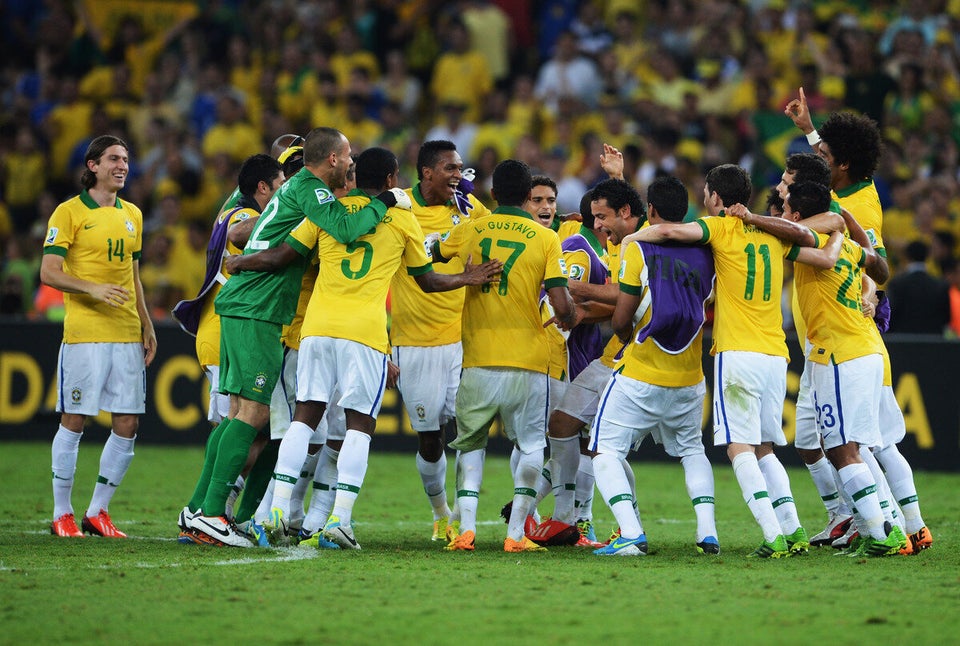 Who'll be at the 2014 World Cup?