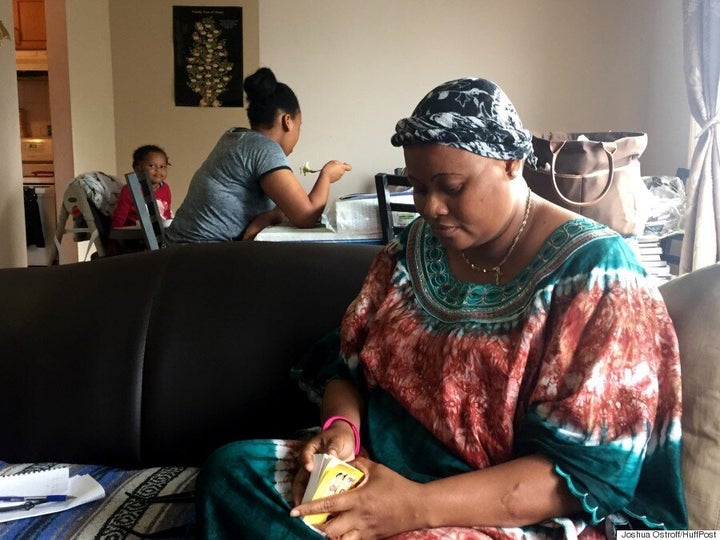 Samantha Bowens sits in her Toronto living room. (Photo: Joshua Ostroff/HuffPost Canada)
"I don't think they understand what I'm dealing with. I just don't want people to feel sorry for me. Right now, I have a lot of shame, shame and pain. And this is what no mother wants."
Samantha Bowens is a 37-year-old single mother. She moved to Toronto from the island of St. Vincent when she was 17, and other than a sojourn to Saskatoon with her husband before their marriage broke down, this city has been her home. She lives with her daughters, Daniella, 15, and Sarah, 2, in an apartment building downtown near Trinity Bellwoods Park.
But it's not just any apartment. It is run by Houselink Community Homes, a non-profit supportive housing organization that goes beyond affordable accommodation. Houselink also provides a range of other services, from problem-solving to community-building for their tenants, all of whom are struggling with mental health issues.
Supportive housing is not a particularly well-known concept in Canada. It's like affordable housing in some ways — there is rental assistance, and there are not enough units — but it's geared toward people struggling with mental illness, so support services are also provided.
Toronto has 5,063 mental health supportive housing units and 9,885 people on the waiting list, up from about 900 in 2009. The Access Point, which co-ordinates the city's mental health and addictions support services, estimates that 400 supportive housing vacancies come up annually. (An additional 9,000 people with mental illness are in traditional social housing without supports.)
The Canadian Mental Health Association told HuffPost Canada it would cost about $150 million to house those waitlisted people with rental and social support services.
A Mental Health Commission of Canada report found there were about 25,000 supportive housing units across the country. These range from Supportive Housing of Waterloo, which runs a 30-unit apartment as well as a hoarder outreach program, and Homeward Trust Edmonton, which recently opened the 21-unit Iris Court for people with schizophrenia, to Nova Scotia's Tawaak Housing, which owns and operates two six-unit apartments for homeless aboriginal people, to Vancouver's McLaren Housing, which cut the ribbon in July on a 12-storey complex that adds another 110 units to the mix.
That report also found that Canada needs a minimum of 100,000 units — or four times what we have now — to handle the 120,000 homeless and 520,000 "inadequately housed" people living with mental illness.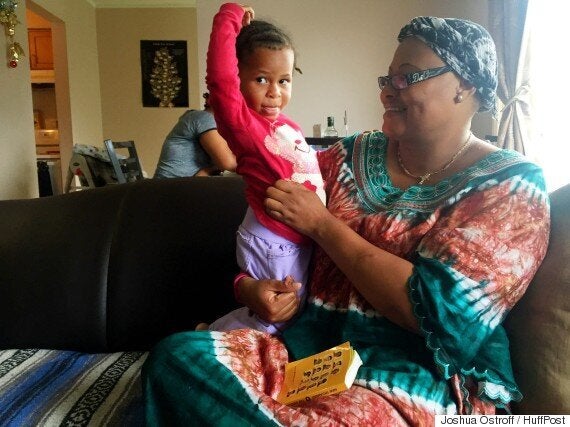 Daniella just came home from school, where she's in Grade 10, picking her sister up from daycare en route. Sarah, who started walking at only nine months, as her mother proudly notes, is crawling on her mom's lap, cooing and gurgling and flashing a grin as wide as her face.
Bowens is smiling, too. It would be hard not to. But her depression goes "on and off," she says, especially now that her teen is back at school and her little one is in daycare.
"Both of them are out now, and that is a bit depressing for me, because I'm going to be at home alone. I can't get out. I can't walk. I get very depressed when the winter come."
Bowens also has challenges with her physical health. Since having Sarah, she's been unable to walk properly and feels pain and numbness in both arms. Worst of all, she can't carry her baby.
She has also been unable to continue her job as a personal support worker for elderly people who can no longer help themselves. She now requires some of the same services she once provided to others.
Doctors haven't been able to diagnose exactly what's wrong with her, she says. "They just keep giving me more medication." But Bowens actually ended up at Houselink before this situation began, after fleeing an abusive relationship to an emergency women's shelter.
"The person I broke up with used to come into the house, and I called the police several times," she said. One day, she took her daughter and left. "But then I become so depressed there. So depressed I was shouting at Daniella, and hitting her."
The shelter called social services. Six months after becoming homeless, Bowens was finally settled at Houselink, where she's remained since 2011.
"I like this house and I wouldn't give it up for anything. I am at peace. I went through the worst when I had [Sarah]," she says, looking down at her toddler. "If I'd been living in government housing, it would've been more stressful. I would've lost it, because I didn't have that strong support."
Bowens talks about how clean and well-maintained her housing is, the opportunities to work for Houselink part-time, and to become more independent. The financial assistance to send kids to summer camp for music lessons. That they let tenants get involved in the organization itself.
"They understand you, they help you. I feel safe living here," she said. "I'm blessed."
Organizations such as Houselink arrived in the late 1970s and 1980s because large psychiatric hospitals were shutting down as human rights activists decried the way patients were treated. Meanwhile, psychotropic drugs made mental illness more manageable outside of an institutional setting.
"That idea was that people were going to move out of the hospital sector into the community sector, but the money didn't flow along with the people. So they were ending up living in squalor and becoming homeless," said Brian Davis, Houselink's executive director. "And really, what you're replacing is a physical straitjacket with a medical straitjacket. It's not necessarily a panacea."
In 1975, the Ontario government closed down the Provincial Lunatic Asylum on Toronto's Queen Street. Built in 1850, it was the first of its kind in the province. The property was eventually reimagined as CAMH, the Centre for Addiction and Mental Health, with only a patient-built wall remaining as a reminder of its questionable past.
The nearby Lakeshore Psychiatric Hospital, built in 1890, followed suit in 1979. Their long-term patients were sent home, though most had no home to go to.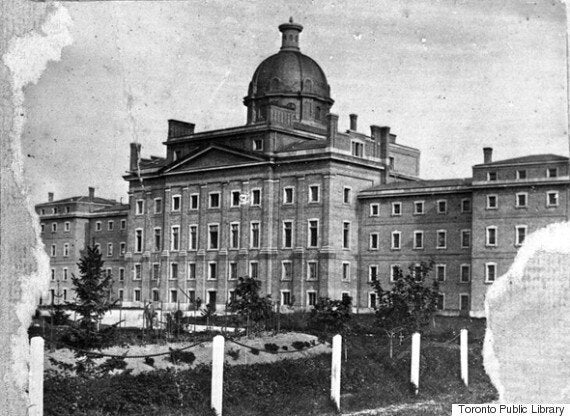 The Provincial Lunatic Asylum was built in 1850. (Photo: Toronto Public Library)
Houselink, a supportive housing pioneer, was founded in 1977 to help these de-institutionalized men and women, known as psychiatric "consumer survivors." Many found themselves on the streets of Parkdale, a historically low-income (albeit now gentrifying) neighbourhood in Toronto's west-end close to the now-shuttered psychiatric institutions.
According to the University of Toronto's Centre for Urban and Community Studies, "housing was neither plentiful nor adequate for discharged psychiatric patients, but by 1981, between 1,000 and 1,200 patients lived in South Parkdale."
Houselink's early organizers helped some of these folks find safe, shared accommodation to rent together, thus avoiding homelessness, illegal "bachelorette" apartments, or sketchy rooming houses.
The organization grew quickly, gaining charitable status, and began purchasing homes and apartment buildings in the 1980s, thanks to federal and provincial housing initiatives. In the '90s, their funding started coming from health departments. That allowed them to better weather the storm of affordable housing cuts in the wake of Jean Chrétien's Liberal government dumping the responsibility on the provinces.
"When (Ontario Premier) Mike Harris came to power, it just stopped affordable housing in general from being built," Davis said. "So from a financial perspective, we were in a much better position than [regular] affordable housing."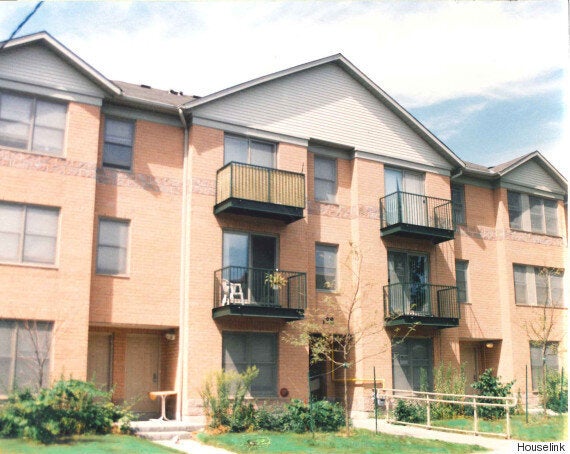 One of HouseLink's properties in Toronto.
Houselink's current funding comes from the province, the city of Toronto and donations from individuals and organizations ranging from the Ontario Trillium Foundation to the United Way to unions like the Steelworkers Humanity Fund. Houselink currently owns 22 building in Toronto and has "scattered units" in another 20 privately owned apartment buildings across the city, but it's getting tougher to expand, despite the massive waiting list.
"The vacancy rate in Toronto is really, really low, so it's hard to find landlords that will rent to us. Discrimination in the housing sector is rampant," said Davis. "Also, more and more landlords are finding out that as soon as the tenant moves out, they can upgrade the unit and charge twice as much. So we're finding we're being pushed more and more to the outskirts."
One thing that makes Houselink particularly special is that it is "consumer-centred," which means residents are involved as both employees and members of the board of directors.
"It helps keep us more grounded," Davis said, and it helps the residents even more. "Recovery is about having a job, home, and friends. It's about having meaning in your life."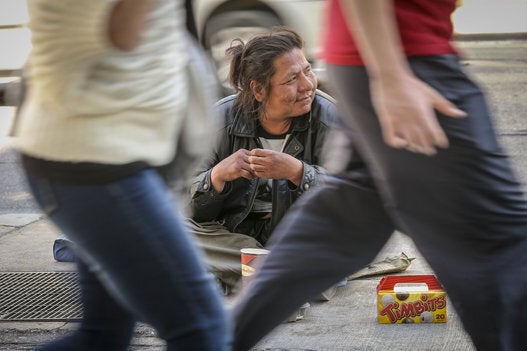 Canada's Homeless
Curtis B. is the president of Houselink's board of directors. The 53 year old has lived at Houselink since 2007. Before that, he spent some time in jail for fraud, and seven years living rough on the streets.
Houselink helped Curtis get his life back, a harrowing, happy-ending story that he shared with HuffPost. (Read it here.)
While some of Houselink's support is pragmatic — controlling bedbugs, mediating conflicts between tenants — much of the group's focus is on fostering autonomy and building community.
The kitchens don't just provide warm meals; they also teach life skills. "If you spend years or decades on the street, you forget how to cook," Curtis said, "or how to shop even."
He also stressed the importance of the social opportunities to fight the stigma and isolation of mental illness, and of knowing when to push residents to be more independent and when to jump back in.
More than 100 residents have part-time positions at Houselink, from reception to kitchen work to custodial services, and they also make up half the board of directors.
"I came from an accounting background and I was a small-c conservative when I was young," Curtis recalled. "I didn't even think poor people should be allowed to vote, because they didn't pay taxes. I would mock them. I was that person. I lived well. So I take it through that lens. And I have another lens that I can apply on top of that, which is when I was sleeping on the sidewalk.
"Unless you have a place to live, you can't do anything. We don't need research. We don't need studies. Everyone should know that. But we're a political football sometimes, we're seen as completely an expenditure," he said.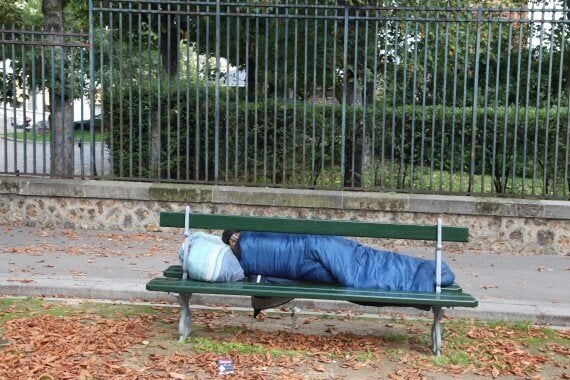 (Photo by Francois Lochon/Gamma-Rapho via Getty Images)
Housing has been historically hard to get onto political agendas, but programs such as Housing First, which provides people with a place to live without conditions such as having a job or being in rehab, have proved that it saves money.
A CAMH study found the cost for supportive housing ranges from $15 a day for a low level of support to $115 a day for high support. That compares with between $330 and $681 dollars daily for psychiatric hospitalization.
The national At Home / Chez Soi report, which focused on mentally ill participants, found that every $10 invested in Housing First services resulted in an average savings of between $21.72 for the neediest participants to $3.42 for those with the lowest needs.
"[It] showed the return on investment [of] putting people into supportive housing," Davis said. "It's the cheapest deal."
Much like the Canadian Alliance to End Homelessness, which crunched the numbers and told HuffPost Canada it could be eliminated for only $46 per Canadian, Davis is pushing for a national housing strategy to provide consistency while recognizing that other factors, such as vacancy rates and cultural makeup, may require localized approaches, too.
"It is a solvable solution."

This campaign season, HuffPost Canada is going past the sales pitch, away from the attacks, and beyond the ballot.
Our Beyond the Ballot series is deep diving into three major problems facing Canadians: climate change, housing insecurity, and elder care. This election is our opportunity to join forces and come up with solutions. In this installment we look at supportive housing for people with mental illness.
More BEYOND THE BALLOT stories
Tells us what you think on Twitter or Facebook with the hashtag #BeyondTheBallot.