I have just returned to Canada from over two months in Italy, where I managed to cross something off, if not my bucket list, then at least my "stuff I really want to do" list: attend a Serie A match.
I was in Florence in late October, and decided to try and get a ticket for the Fiorentina vs. Juventus game. The day before the match, a man at the tourist information office tells me it's a "grande partita," an important game, with 200 extra police and that it isn't likely there are seats available. Still, he sends me to a ticket office, and warns me about a certain section of the stadium that could be "pericoloso per le donne" -- dangerous for women. He pronounces it "periholoso," as do all Florentines. Not sure why, but the letter 'c', if a hard sound, comes out like an 'h' in this part of Italy. He tells me to bring my passport, because tickets at Serie A matches include your name, providing some ability to control who enters the stadium (a useful tool at matches that can become violent).
At the ticket office a young tattooed man shows me the stadium layout. "This section," he says, "has a few at 30 euros." My kind of price! He shakes his head. "Periholoso per le donne." It is the section about which I was already warned. I know I should be offended by the apparent sexism, but I find it kind of adorable. Another section has tickets at 300 euros. Let me think about that for a nano-second. No. He finds me a spot at a quite reasonable price, closer to 30 than 300. As I leave, young tattooed man smiles. "Grande partita," he says, reminding me to bring my passport because all the extra police will surely want to see it. He also looks me over and advises me not to wear my current black and white outfit.
The next morning, I ask Jacopo, the hotel concierge, about taking the train to the stadium. His eyes light up. "Signora, va alla partita?" -- Are you going to the match? He looks impressed and tells me about the police. He asks when I bought the ticket and where. He tells me that there is the possibility of a train strike -- imagine a country where strikes take place during recessions -- but assures me that he'll get a taxi for me if necessary. You must get to the match, he says. "Grande partita."
At the station, where thankfully there is no strike, the scene is repeated with the man selling me my train ticket. Where and when did I buy the ticket? Big match. Extra cops. Before getting on the train I ask a Trenitalia guy if I'm on the right platform. He nods. As I walk away he calls out, "Signora, va alla partita?" Yes, I tell him. "Grande partita" he adds -- extra police.
Once on board I am joined by droves of people in viola, or purple, the colour of Fiorentina. Most are men but there are also women with children, couples, and many, many fathers and sons. It is nearly two hours till match-time, but once I get off the train I see that leaving early was a good idea. Fans and police fill the street.
Italy has many different police forces, all of whom have stylish uniforms and smart hats, some with feathers. The police at the match are the beret-wearing kind, many quite fetching as they check our ID and bags. I even see them administering breathalyzer tests. When I get to my seat I realize that it is a really good seat. It is so good that I wonder what on earth would have been included with the 300 euro seat. Would I have been allowed to go into the locker room and shower with the players? Would I have been allowed to stand on the sidelines with the elegantly-attired coaches (much more dignified in appearance than, say, baseball coaches), yelling and gesticulating?
I also realize I am in a Fiorentina section. I now understand why I was warned against wearing black and white, Juventus' colours. I am a Juventina, though not fanatical as such. I enjoy watching specific Juventus players, some because they are legends, some because they are good-looking, some because they are both. My favourite player is good-looking legend Andrea Pirlo and if I had any doubt as to soccer's popularity in Italy, a recent quest having to do with the midfielder demolished it.
In September, when I arrived in Italy, I decided to buy Pirlo's autobiography. I walked into what I thought was a generic bookstore and soon realized it was a religious bookstore run by nuns. Sorry, I said to the sisters. I was looking for Andrea Pirlo's autobiography. "Penso, Quindi Gioco," they said, cheerfully. Yes, I answered, surprised they knew the book's title (which translates to "I Think Therefore I Play"), and surprised they approved. They sent me to a bookstore nearby.
My true colours won't show at the match. I am wearing blue and decide -- as when in an alien church -- that I will stand, sit, sing, kneel, pray, cheer whenever the people around me do. I won't boo, though, as the Fiorentini do when Juventus come out onto the pitch all handsome in their Trussardi suits. They wave at the Juventus fan section -- buffered by rows kept empty so as to prevent trouble -- and quickly leave. The competing fans shout chants back and forth. By the time both teams come out to warm up, a scary, bleached Italian lady in front of me is shouting obscenities at Juventus. I'm glad she isn't behind me because then she might notice me taking an overwhelming number of pictures of the enemy players and that would be periholoso.
I am seated between a young couple wearing purple scarves, and a divorced dad and his son. I know this because I overhear the father expressing concern about getting the son back to his mother's home at the agreed-upon time. Dad and son leave and return with Italian stadium junk food and a Fiorentina jersey for the son. I guess I am sitting next to Guilty Divorced Dad. Surprisingly, he has brought me a drink! It's a Coke. I don't drink pop of any kind, but I don't want to be rude so I thank him and drink away. Yuck. We chat a bit. He compliments my Italian.
Shortly before the game begins comes a wonderful co-ordinated display, typical at Serie A games, where fans carrying coloured bands lift them simultaneously and, behold, the Fiorentina flag in all its glory appears. The Fiorentini burst into Oh Fiorentina, which is mighty catchy. Divorced dad sings with gusto. Between the co-ordinated fans and the songs, I am impressed. I've seen it on TV. Seeing it in person is something else. A few years ago, when Madonna was dating Alex Rodriguez, I attended a baseball game in Toronto between the Blue Jays and the New York Yankees. The best thing Toronto fans could come up with was a drunken, recurring "Yankees suck" and Madonna's picture stuck onto some sticks.
The game begins and pretty soon, Juventus gets a goal. Divorced dad begins to shout "Dai, ragazzi," or "Come on, guys!" I find this touching. He has such hope. Shortly thereafter, Juventus gets another goal. Divorced dad is distraught. The Juventus section is gloating and chanting and waving their banners and divorced dad can take it no longer. "State zitti" he yells, in their general direction. It means "shut up" and all I can think is, "oh yeah, that'll really stop them." During half-time, most of our section gets up, but divorced dad sits with his face in his hands as his son looks away. The stadium is not covered and what had been a cloudy afternoon turns sunny. I point that out and add that it is very early in the season. "It's only October. It's week eight in a 38-week season," I tell him. He manages a brave smile and says again that my Italian is good.
The second half gets underway and pretty soon we get the kind of game that makes me really enjoy and defend soccer, regardless of the victor. With two thirds of the game over, Juventus is still up by two. By minute 85, Fiorentina is up two, with four goals scored in under 20 minutes. Three of the goals were scored by Giuseppe Rossi, who grew up in New Jersey, but has Italian parents and also plays for the Italian national team. For the latter, some Americans have given him grief -- strange for people who hardly care about the beautiful game.
The Fiorentini erupt. The stadium becomes a great canvas of viola, scarves waving, colourful chants going back and forth, many rude. By Fiorentina's third goal, my section are all on their feet -- so I am -- singing to the tune of the Battle Hymn of the Republic. I play along for my own safety's sake.
I am happy to see divorced dad happy. "Grande Beppe! Grande Pepito!" he shouts, using Italian diminutives of "Giuseppe." When Fiorentina get their fourth goal, scary bleached lady is weeping and the couple next to me start making out like fiends. I pray for no fifth goal for fear they will start having sex. I toy with the idea of telling them to get a room, but think better of it.
Minutes before the final whistle, divorced dad tells me that he and his son are leaving early to avoid traffic. He offers me a lift to my hotel, but I tell him this is my first time at a Serie A match and I want to stay till the end. I have no illusions that Juve will make a comeback. Their body language tells me they have "crollato," or collapsed. I feel awfully sorry for them, looking so dejected, but then remember they make millions of euros a year for chasing a ball around a field.
What I don't admit is that I want to take pictures of the few minutes after the match when the players walk around the pitch shirtless. For my money, that is one of the best moments in any soccer game. But no such luck. The final whistle blows and the crowd bursts into their ninth or tenth rendition of Oh Fiorentina, which I now pretty much know. Everyone stands and it is impossible to see the players much less move independently. I am swept out of the stadium and onto the train. In the packed train I wish I had taken divorced dad up on his offer.
Back in the centre of Florence, there is purple everywhere and everyone is discussing the match. All I hear is "Juve" and "ammazzato," which means slaughtered. When I walk into my hotel lobby Jacopo and three other men on staff are waiting. They pounce. How was la partita? "Era stata fantastica," I say. It was fantastic. As I wait for the elevator I look over and all four of them are standing there, beaming at me. An honour guard. I half expect them to salute. I don't think I have ever had Italian men look at me with such respect. I don't think I've ever had any men look at me with such respect.
The next morning I go out for a coffee and all I hear around me is "Juve" and "ammazzato." I want to say "It's only October. It's week eight in a 38-week season." But I think better of it.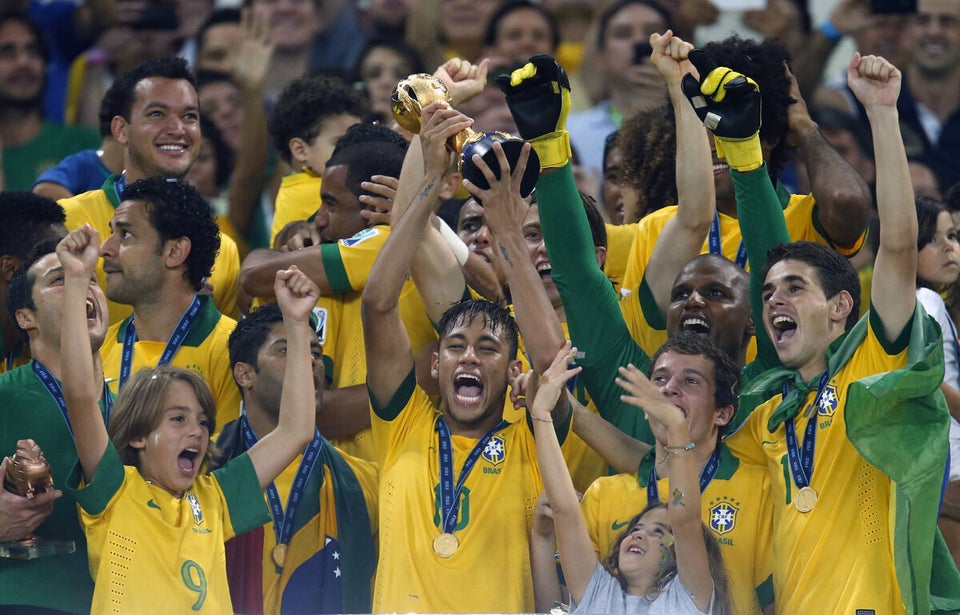 10 World Cup Predictions
Popular in the Community