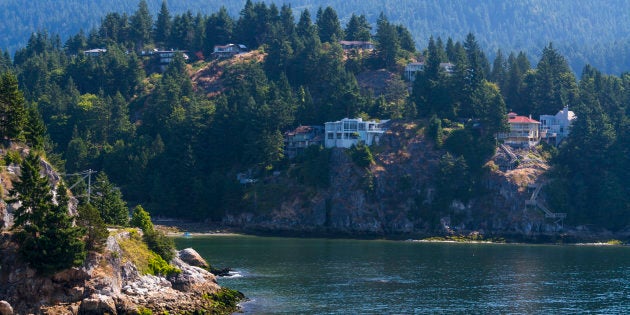 It costs $1,210 to buy a single square foot of living space on the west side of Vancouver, far and away Canada's priciest neighbourhood for residential real estate, according to a new survey from Century 21.
In fact, seven of the 10 priciest neighbourhoods in Canada are located in Greater Vancouver, and an eighth — White Rock — is just south of the city.
Vancouver's domination may not come as a surprise, but what may surprise some is the extent of the disparities in Canadian real estate.
At the other end of the price spectrum, in Windsor, Ont., you can buy a square foot of living space for an average of $94.64, or about one-thirteenth of the price on Vancouver's west side.
The study estimated the average price per square foot for a "typical" home in each area. So in downtown Toronto it looked at the prices for condos, but in suburban Richmond Hill it looked at the prices of detached homes, and so on.
Oakville, downtown Montreal see largest price jumps
The study also compared per-square-foot costs with historical data, and found that the Toronto suburb of Oakville has experienced the largest price increases for housing of any neighbourhood or city surveyed.
Prices in Oakville have grown 493 per cent since 1997, a nearly six-fold increase, and now sit at $627.33 per square foot.
Downtown Montreal has seen the second-largest spike in prices, with per-square-foot costs rising 468 per cent since 1997. But at $533.30 per square foot for condo prices, central Montreal ranks as only the 12th most expensive neighbourhood in Canada.
Watch: Canada's best cities for jobs and affordable homes
The survey also found that only two provinces — Nova Scotia and New Brunswick — have seen falling prices over the past decade. Per-square-foot prices fell 16 per cent in Moncton, N.B., between 2006 and 2017, to $99.84.
We compared the data in Century 21's report with per-square-foot costs in the U.S., and found a few interesting comparisons:
Vancouver's west side is about as pricey as San Francisco: $1,210 psf in Vancouver versus about C$1,110 in San Francisco, according to 2016 data from Visual Capitalist.
Manhattan is still way more expensive than downtown Toronto ($1,770 versus $818), but Toronto's suburbs are becoming pricier than New York's other boroughs and suburbs. At $627, Oakville, Ont., is roughly equal to Brooklyn ($611) in terms of housing costs, and is pricier than Queens ($506) or Staten Island ($357).
What's Going On In Housing?

Our weekly newsletter delivers the news and analysis you need on Canada's housing market. Sign up below and don't miss an issue.
Popular in the Community