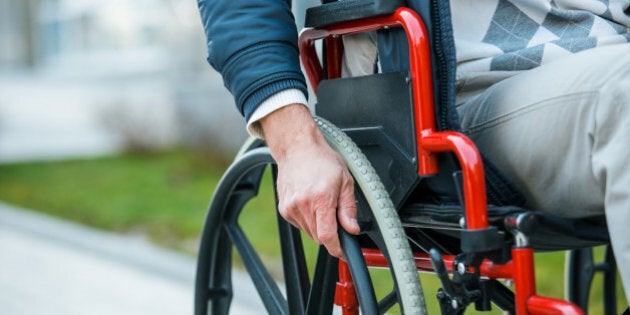 Do you know how much a manual wheelchair costs? Not the kind you buy from the Sears catalogue when you break your leg and need someone to push you around for six weeks. I'm talking about the kind that a paraplegic might need, that offers the correct ergonomic support and fits the lifestyle of the person who will rely on it for years.
My friend Heather uses a manual wheelchair. When she purchased it three years ago, it cost $6,000. The same chair today has a price tag of almost $9,000. You can buy a brand new car for a comparable price! Heather would love to purchase a push-assist chair, which would make travelling up grades and over carpet easier. But with a price tag of $10,000-14,000, these chairs are out of her reach. Out of reach for a lot of people, I suspect.
Or, how about this: Do you know how much hearing aids cost? The type of hearing aids I need run at about $3,000. Each. I'm fortunate to have a good job with a solid benefit plan. But that plan will reimburse a maximum of $500 -- once every three years -- on hearing aid purchases. That's a drop in the bucket on a $6,000 expense. Even with a good job, I can't afford $5500 for hearing aids -- and, so, I bumble along without them.
Having a disability in Canada can be expensive. While big-ticket items can make you stop in your tracks (or put the brakes on your wheelchair), smaller expenses can really add up over the long term.
A friend who requires custom orthopedic footwear, tells me that a pair of basic shoes costs about $600; while boots cost about double that. She too has a good employee benefits plan, but she expresses frustration at always needing to justify her purchases; and at needing to pay out of pocket while waiting for partial reimbursement. She very rightly points out that even if you have a benefit plan or private insurance, you still need cash on hand to purchase things up front.
Food costs are another consideration for many people with disabilities.
Whether the purchases are big-ticket items or cost just a few dollars, they still need to be paid for. Lumbar support cushions and other special pillows (like wedges and rolls); shower seats; grab bars; walkers, canes, and braces; flashing notification systems; Vitamixes, masticating juicers, and food processors; and assistive software like Dragon Naturally Speaking are some mid-priced things that people with disabilities may need to purchase once in a while. Occasional budget purchases -- like Oxo kitchen implements -- may also need to be made. But an Oxo vegetable peeler still costs more than a dollar store peeler.
There are also semi-regular and regular expenses. The daughter of my friend Gina was diagnosed with diabetes a couple years ago. Immediately following diagnosis, Gina splashed out for $600 worth of supplies including insulin, blood test strips, syringes, glucose tabs, urine test strips, and a glucose meter (although glucose meters are sometimes free when you buy the blood test strips). All of these supplies (with the exception of the glucose meter) need to be purchased on an ongoing basis. The blood test strips alone cost $100 for 100 strips -- and given the number of daily tests required, a package of 100 strips should last about 20 days.
Other costs that might be incurred on an on-going basis include over-the-counter medications like Liquid Advil, Naproxen, or Rub A535; vitamins and supplements; ostomy supplies; physical therapy, osteopathy, massage, acupuncture, or chiropractic treatments; counselling, including occupational therapy, psychological, and dietician/nutritional support; tensor bandages and support stockings; and essential oils.
Food costs are another consideration for many people with disabilities. My friend Kate points out that her diet has a tremendous impact on how her body functions. Good quality food costs more not just to buy but also to prepare. For instance, she roasts squash whole -- requiring that she run her oven longer -- since it's difficult for her to halve uncooked squash. And since her body doesn't absorb nutrients well, she juices, which requires her to purchase more fruits and vegetables.
As a single 40-something homeowner and pet guardian, Kate has additional expenses. She needs regular or occasional help with home repairs, pet care, yard care, housekeeping, and cooking. While some of her expenses might be lessened in a rental unit, Kate doesn't feel like moving is an option, given the amount of energy she would need to expend.
Finding the money to pay for disability-related needs is often a struggle, regardless of one's employment status.
All of these examples were mined from friends who have good jobs or other sustained sources of income. But what happens if you can't work because of your disability, and you need to rely on government income assistance programs?
In my home province, the government recently announced changes to the Saskatchewan Assured Income for Disabilities (SAID) program. The proposed changes meant that some clients would have seen their monthly allowance for groceries, clothing, personal care items, and incidentals clawed back to a maximum of $150 per month. While the Saskatchewan Government says there is extra funding available for special dietary needs, most other out-of-pocket disability-related expenses would have to come out of that $150 too. In response to loud public outcry, the government has promised to slow down the implementation of these changes, and to meet with the individuals affected. However, it has not promised to scrap the changes altogether.
In British Columbia, disability benefits are set to increase for the first time since 2007. Beginning September 1, rates will increase by $77/month. However, there's a catch. Currently, people who receive disability benefits can purchase an annual transit pass for $45. Beginning September 1, when the benefits increase, the cost of transit passes will also increase -- to an astounding $624/year. The cost of the passes will be deducted monthly from each client's $77 increase -- meaning that those clients who choose to keep their bus passes will actually see only a $25/month increase to their benefits.
Having a disability is costly. Finding the money to pay for disability-related needs is often a struggle, regardless of one's employment status. What we need to keep in mind is that oftentimes people with disabilities have vulnerable health. While it may seem as though a Vitamix, for instance, is an unnecessary expenditure, would we as a society rather help someone purchase that Vitamix, or would we rather see them admitted to an emergency room? When we look at the big picture, which is the better financial option? Which is the more compassionate and ethical option? And then: why do governments keep getting it wrong?
"HOH Oh!" pieces by Jacki Andre explore living life with a disability, and especially issues related to being hard of hearing (HOH).
Follow HuffPost Canada Blogs on Facebook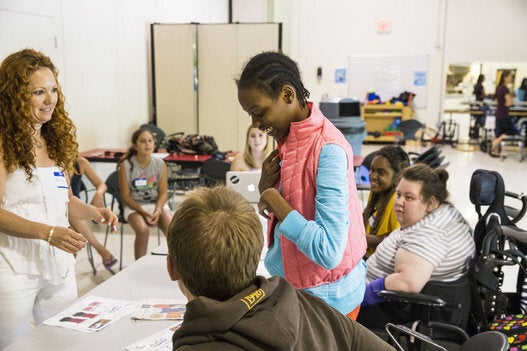 Designer Mom Campaigns For Disability-friendly Clothing For Kids