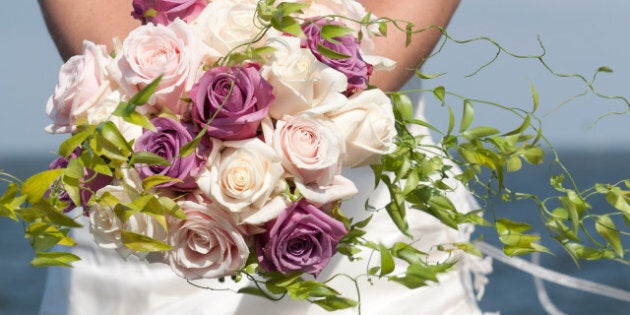 I have been covering Fashion Week in Toronto since the Fall 2009 shows and this season was the first time I saw an exclusive wedding collection. Paraezo Couture's latest collection, headed by former wedding salon creative director, Bruce Dang, showed a series of gowns with amazing detailing (you have to love the beading, lace, feathering and architecture of each of these pieces) that surely fits the bill of a princess wedding. However, the princess wedding we're talking about is more 2008 than 2012.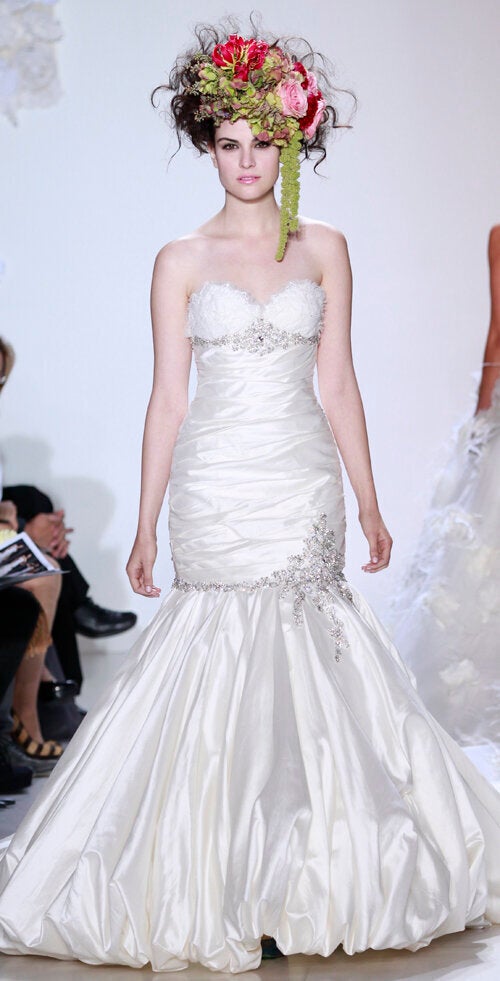 While every other bridal designer has, since the Royal Wedding in 2011, focused on gowns with straps and sleeves, the vast majority of dresses presented at Friday's show were strapless. These are styles that would have been expected three or four years ago or earlier -- covered shoulder gowns were definitely an issue when I was looking for a gown for my 2010 wedding in 2009 -- and at least two looked like a certain very popular dress from that TLC reality show.
In addition, most of the gowns fit a certain type of wedding -- a ceremony in old, traditional places of worship, perhaps St. Paul's Basilica or Cathedral Church of St. James, both in Toronto, followed by a reception in a grand ballroom at the Royal York or King Edward. In the case of Paraezo, garden weddings or ones in smaller places of worship need not apply.
A good bridal collection should have variety and should definitely not be screaming styles that were popular in 2008. Good bridal collections should also have dresses that would not be too overwhelming on smaller women, as most of the dresses seen at the Paraezo were. Not everyone is model tall or that slim, after all. In fact, chances are, if one is a size zero, one is probably under 5'5″. Designers, especially lines headed by men, often forget that.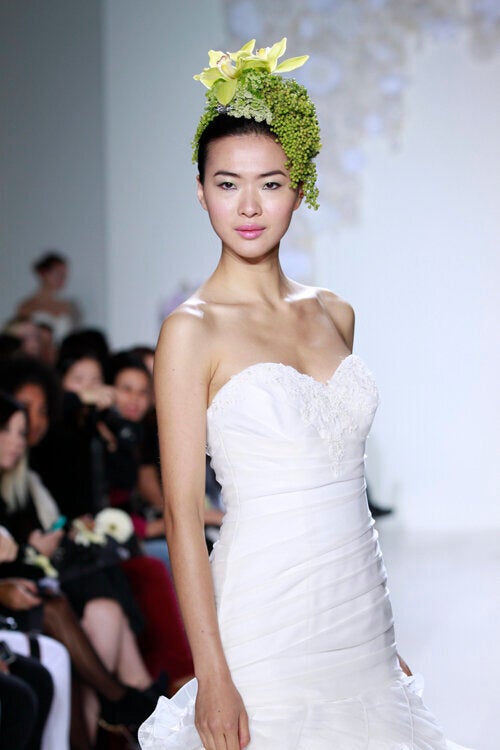 Another issue with the Paraezo show was the setting itself. It was presented in the smaller studio space, which wasn't the best at showcasing such grand gowns. In fact, it looked a bit constricted, as if one had a ceremony in a chapel rather than a cathedral. These dresses are not meant for a chapel. Most of the dresses were so wide that they took up most of the runway, practically grazing the shoes of people sitting in the front row. In addition, the all-white space of the studio, combined with the lack of a dark backdrop, was not the best way to show off wedding gowns. A darker backdrop along with a larger space would actually make the gowns stand out a bit more, especially in photographs and video to show off more of the detailing. Besides, who wants to see floating heads and shoulders?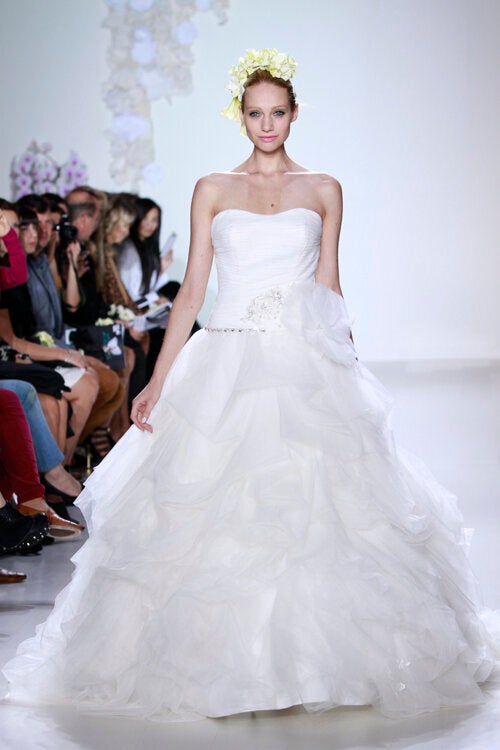 While the gowns may have seemed a bit out-of-date and the presentation space, not ideal, it is to note that the headpieces worn by the models are definitely something to talk about. Despite the small space, these gorgeous white and colourful pieces of flowers, leaves and mosses give off a warm weather vibe. However, not one of the brides came out wearing a traditional veil. Perhaps the designers were going for an extremely "grand" look, opposed to a traditional, demure bride.