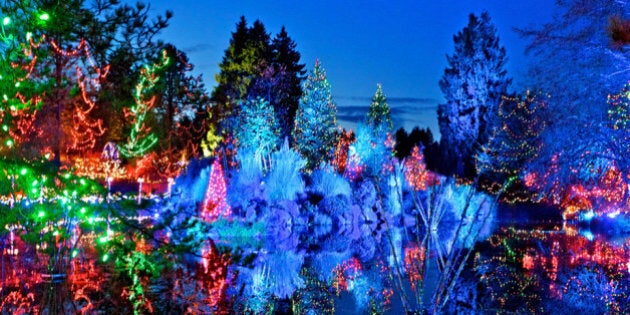 It's Christmastime in Vancouver. And though it rarely snows in the city, a series of colorful light displays may yet turn it into a winter wonderland.
Here's a list of light attractions that are not to be missed this holiday season.
The Stanley Park Miniature Train and its surrounding area become settings for kitschy, kid-friendly sets featuring Scrooge McDuck, the "Peanuts" gang and the citizens of Whoville. The Christmas Train provides even more holiday entertainment, taking visitors through luminous sights that will excite children and adults alike. Bright Nights runs until Jan. 5, 2014.
Afraid of heights? This is a great reason to get over it. North Vancouver's freaky bridge and its surrounding park play host to a gorgeous light display in the heart of nature, with lights adorning the bridge, forest trails and the Cliffwalk, an attraction that takes visitors around trees and along a granite wall. Organizers have a special treat in store this year: a 46.4-metre Douglas fir adorned in lights, the tallest living Christmas tree in the world! Partial proceeds will benefit the B.C. Professional Firefighters' Burn Fund. Canyon Lights runs until Jan. 4, 2014.
Check out Christmas light displays in Vancouver from past years. The story continues below the slideshow: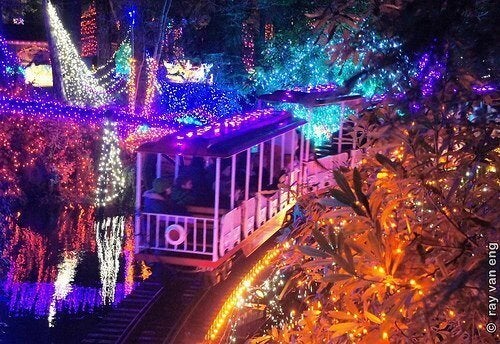 Christmas Lights In Vancouver
A tradition that has lasted 50 years, the Parade of Lights sees sailors set their boats aglow in thousands of bright bulbs before sailing through areas such as False Creek, Burrard Inlet, Coal Harbour and Deep Cove. As many as 50 ships with over 100,000 lights have taken part in past years. You can even book cruises on the ships or, if you don't feel so inclined, take part in shoreside events. The last ships sail on Dec. 23.
Canada Place is staking its claim as ground zero for downtown holiday entertainment as it hosts a series of activities throughout December. The waterfront venue will host a skating rink with a Northern Lights theme, tours of the Woodward's windows and a holiday train. Christmas at Canada Place runs until Dec. 31.
Canada Place's flight simulator is hosting a special ride this holiday, inviting visitors to help Santa Claus find Rudolph and save Christmas! Guests will also enjoy a special Christmas Plaza with live music, Santa's Arctic Art Workshop with ice carving demonstrations, and Leonida's Chocolate Cafe and Swiss Style Nuts. FlyOver Canada's Christmas ride runs until Jan. 5, 2014.
The Vancouver Parks Board has decked out a massive tree at Beach Avenue and Bidwell Street with 12,000 cascading SLED lights (seasonal light emitting diodes) that look like electrified moss. The tree remains lit until Jan. 7, 2014.
Over a million twinkling lights are expected to brighten the many plants and trees at VanDusen Botanical Garden. The festival will host two nightly sessions of Dancing Lights at Livingstone Lake, in which an elaborate display brightens and darkens to the rhythm of Christmas music, while children can enjoy photos with Santa against a background of colourful bulbs. Music artists including The Christmas Revelers and the VOC Sweet Soul Gospel Choir will entertain guests at the festival's performance stage. The Festival of Lights runs from Dec. 11 to Jan. 4, 2014.
The parks board has decorated this Yaletown tree in 5,000 white lights, similar to the Elm Grove in English Bay. You'll find it lit up on False Creek at the foot of Richards Street until Jan. 7, 2014.
Every year, the St. Paul's Hospital Foundation covers the building's brick exterior with stars and strings of light as a fundraising event . Donors who contribute $1,000 have their names listed in the courtyard, while the names of people who donate at least $2,500 are lit up in stars on the side of the building. Lights of Hope runs until Jan. 6, 2014.
In the summer, it's a fountain. In the winter, it becomes a display that's pretty enough to distract drivers as they head into Stanley Park. The Vancouver Parks Board has lit up the fountain with 6,000 multi-coloured SLED lights that reflect beautifully off the water when it's dark out. The Lost Lagoon Fountain will remain lit until Jan. 7, 2014.
Sea creatures at the Vancouver Aquarium have been looped into the holidays as part of Luminescence, an exhibit that sets anemones, cuttlefish, corals and jellyfish all aglow. The event features a floor-to-ceiling installation that shows what happens in the ocean after the sun sets, Jelly Swarm, an installation that shows jellyfish lit up by LED lights, and lanterns lit up by an electric eel. Luminescence runs until Jan. 22, 2014.
Jack Poole Plaza at the Vancouver Convention Centre plays host to a beautiful tree lighting celebration that will see the 50-foot Vancouver Christmas Tree lit up alongside three smaller ones near the Olympic Cauldron. The trees will remain lit from Dec. 6 through Jan. 3, 2014.
Every year, residents of 2400 to 2900 Trinity Street turn their East Vancouver community into a parade of lights as neighbours compete for the titles of best house and best block. Visitors vote for their favourite houses as they walk along the route, while donations are collected for Harbourview Daycare and St. James Cottage Hospice. The festival runs until Jan. 5, 2014.