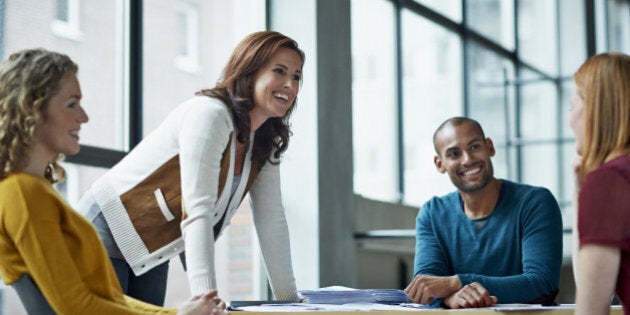 There is a common divide between entrepreneurs who get it and those who don't. Successful outcomes aside, entrepreneurs who want to make it to the top must also have a humbling desire for knowledge. Entrepreneurs tend to find themselves in a strategic kerfuffle at some point or another as their business grows, and sometimes have issues amongst even the simplest of daily operational tasks.
Being underprepared for what may unveil itself due to lack of experience or know-how can really be a pain in the entrepreneurial butt. I'm not saying there's anything wrong with diving head-first into the risky world of entrepreneurship, but when it comes to wanting your business to be a success, it's always valuable to spend time speaking to or reading about already established entrepreneurs who have reached these goals, while being resourceful with obtaining facts on how to better your business. Every smart businessperson has their go-to book, and it's quite inspiring to see someone walk the path of achievement that you crave; you may gain leads into the vicinity of the right answer for growing your business, and perhaps even yourself, successfully.
I find it difficult not to heed the advice of someone who has "been there and done that." During a recent discussion with Michael Priyev, partner at web design company Toggle Web Media, I listened to his take on how to separate entrepreneurial success from failure. "To be a successful entrepreneur you need to think like a businessperson. Working with many entrepreneurs, the biggest setback I see is not a lack of talent, but a lack of business savvy". Having worked with multitudes of new startups and nonprofits, Priyev's advice is one that greatly applies to digital business, since it is currently such fertile ground for entrepreneurial ideas. Although it may seem unnecessary to have exceptional business knowhow at the start of a venture, "it may save you from heartache and costly mistakes moving forward" says Priyev.
Here's why: Truly successful entrepreneurs think through all stages of growth from startup to maturity and have a good idea of what's in store. Each time a new project is launched, lessons are learned on what to avoid from the last time around. But what about the new entrepreneur? What is destined for the individual who has yet to learn from failure? Well, it's time to plan and strategize by analyzing prospective business situations, researching, compiling data, and making fact-driven decisions.
Having a keen understanding of your business plan is vital in avoiding stress of the unknown; an ailment which makes one feel unsure whether the figurative plane they've just jumped out of is flying over a lush jungle canopy or the Grand Canyon. Knowing the facts offers a clearer vision of the steps ahead, allowing the entrepreneur to see things from a more objective perspective, and as a result, be able to break large projects into smaller and distinct steps. Not only can this ensure more effective utilization of your resources of time, energy and finances, it can help dodge potential high stress levels. When things feel like they're getting critical, humans tend to exhibit impaired creativity and reasoning, and when this occurs, the cool fact gathering entrepreneur may find they have made a quick impulsive decision to benefit the short term, which can be counterproductive towards the project as a whole.
For those hiking alone on the rocky path to success, remember, reading about and speaking with notable and relevant entrepreneurs in the same industry will help you see how they did it; why not avoid the mistakes someone else already endured? Of course nothing sounds more elementary than "reading is important", however "leaders are readers", and successful entrepreneurs know to read and learn constantly. Equipping yourself with the tools you need for your entrepreneurial adventure is where it's at when it comes to taking your efforts seriously, why not give it your best shot?
Follow HuffPost Canada Blogs on Facebook