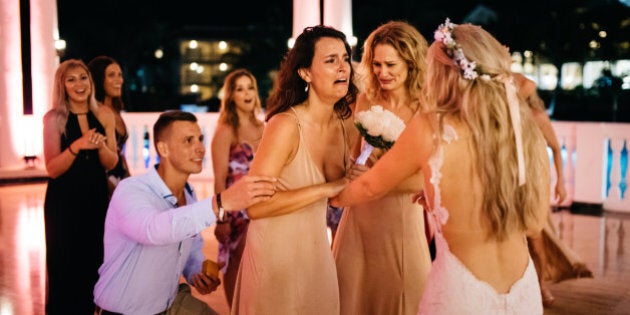 If you had the chance to make your best friend happier than anyone could imagine, you'd take it, wouldn't you?
What about if that meant sharing your wedding day with her?
For new bride Jess Nakrayko, it was a no-brainer. In fact, she orchestrated the whole thing.
When St. John's native and current Saskatoon resident Nakrayko held her wedding in Jamaica in April, she was thrilled to be able to have her celebration with 45 of her nearest and dearest from across Canada. And that of course included her longtime best friend, Jessica Kieley and her boyfriend, Adam Brake.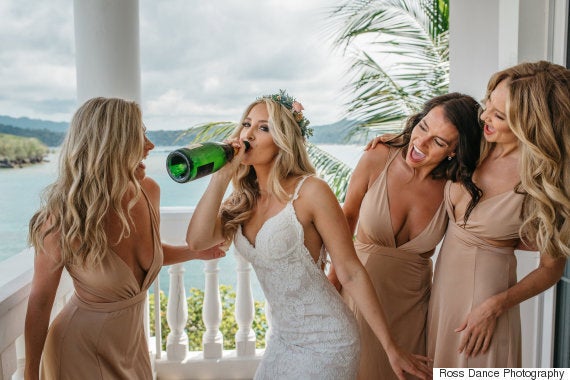 "I had my two best friends and my sister as my bridesmaids," Nakrayko tells HuffPost Canada. "My sister was living in Australia, and Jess literally poured herself into my wedding. She planned a full trip to Montreal for my bachelorette, hosted an incredible shower and just did a lot leading up to the wedding."
Meanwhile, Kieley and her boyfriend were getting increasingly serious, having bought a house together in St. John's. But when Nakrayko asked about their potential engagement, Kieley dismissed it, saying she was so consumed in her friend's wedding, she hadn't really thought about it.
But Nakrayko knew Brake had other plans and talked to him about the idea of proposing while they were all in Jamaica.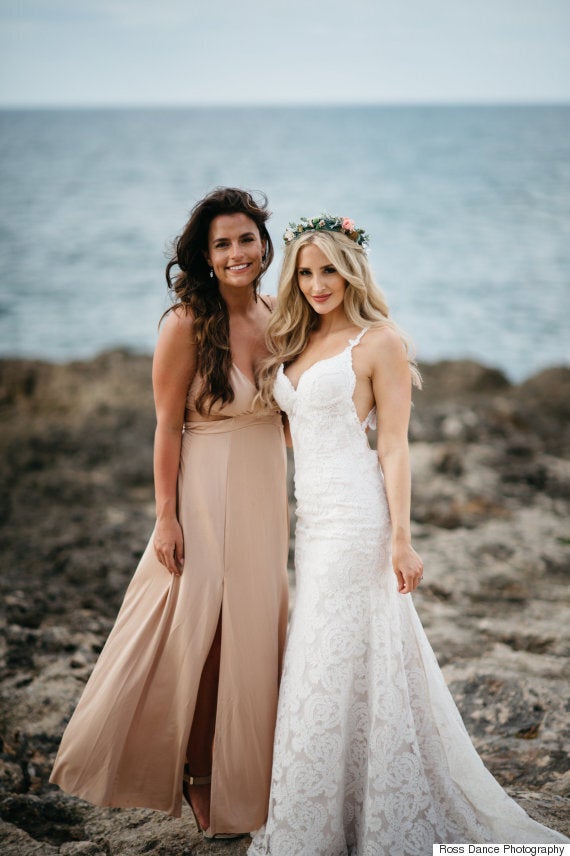 "He told me, 'I don't want to take anything away from your wedding trip,'" recalls Nakrayko. She told him as long as it didn't happen on the wedding day, she didn't care.
But as she and her sister were planning the details of the reception and got to the bouquet toss, an idea dawned on them.
"My sister said, 'what if you didn't throw the bouquet, but you passed it to Jessica, and Adam was waiting behind, down on one knee?'" Nakrayko explains. "And we just lost it."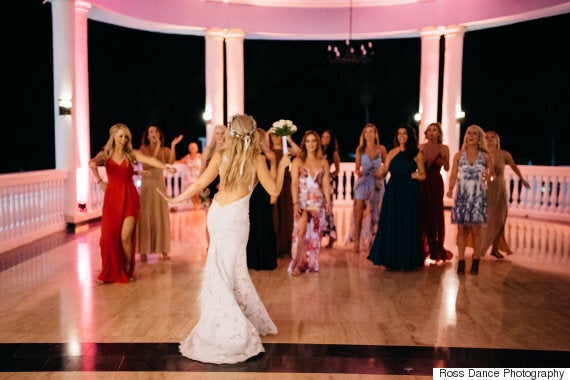 "The very last 'wedding' duty of my day was to have the bouquet toss. Nobody knew but my sister, and the photographer and my husband, James."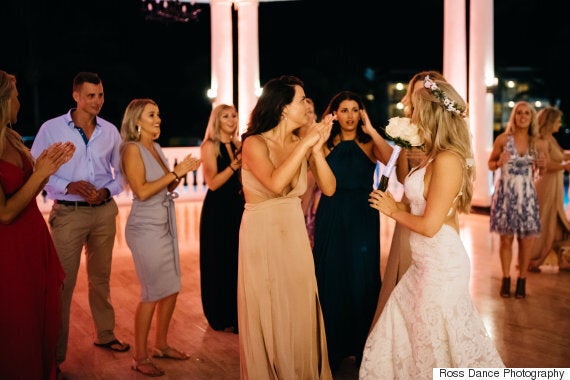 "So then we had the song change from 'Man I Feel Like A Woman' to Bruno Mars' 'Marry Me.' I started walking to Jessica, and there was a moment where we locked eyes, and as I went to pass her the bouquet, she started hysterically sobbing, saying 'no, are you serious?'"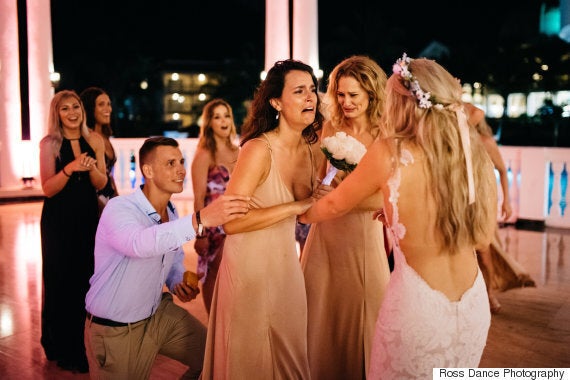 "I said, 'yes, turn around!'"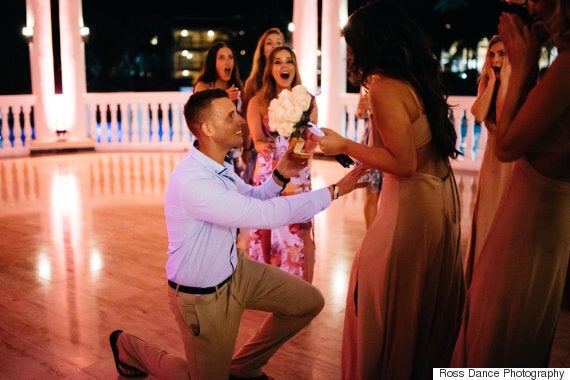 Kieley was shocked, and so was everybody else at the wedding. Nakrayko couldn't have been more thrilled.
"I was looking forward to that all day. Even walking down the aisle I was so excited about it happening," she recalls.
"Just her face alone, her reaction alone was worth it. I was like, I'm done, she can have it from here on out."
I was looking forward to that all day. Even walking down the aisle I was so excited about it happening
And despite receiving mixed reactions from friends the next day — "I had messages asking 'Why did you do that?" — to her it felt like the best way to honour her friendship, and perhaps more importantly, what weddings are supposed to be about.
"The way my husband and I looked at it was sometimes the actual concept of a wedding gets lost. It's to marry your best friend and spend the rest of your life with them and celebrating love and sharing your love with everyone else."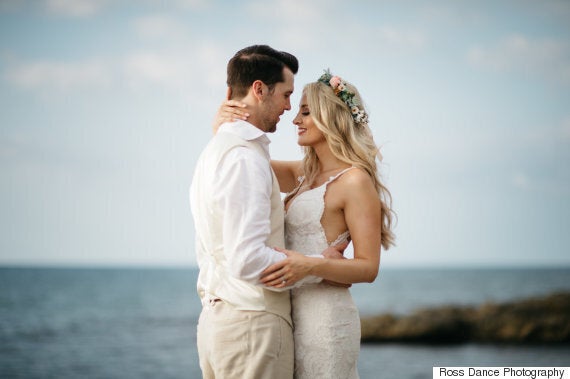 "My best friend was starting her love story — I didn't even think about that being me giving up my day. I have love and I want people close to me to have that love too.
"I don't think that people need to be greedy about love."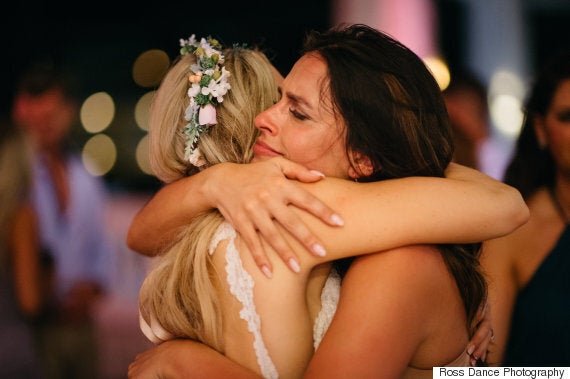 Stay On Top Of The Trends

Get the biggest lifestyle news sent to your inbox
Popular in the Community