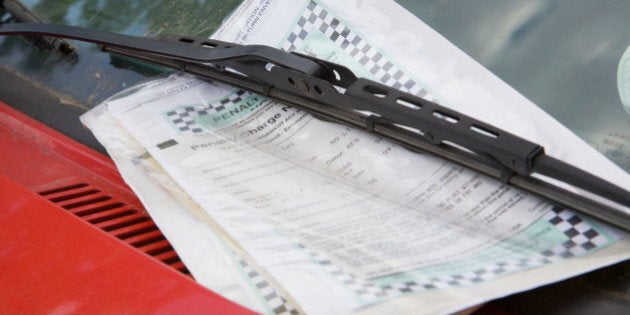 The Criminal Code makes it illegal to do anything with the intention of alarming the Queen. I'm not sure our courts have ever found someone guilty of violating this law, but regardless, Canadians are expected to treat Her Majesty with a certain minimum standard of decency.
The same is true for our governments' treatment of Canadians. Section 12 of the Charter prohibits our governments from treating us in ways that are shocking or alarming. In fact, no government in Canada can treat anyone in ways that outrage Canadians' standards of decency. And this is a very good thing. None of us want to live in a country where the authorities can impose grossly disproportionate and brutal penalties for relatively minor infractions.
Lukas's truck -- worth approximately $100,000 -- was heavily modified for his work in the Northern Alberta oil patch. It contained an estimated $35,000 worth of tools in locked boxes, a hydraulic hoist worth over $10,000, and a bed valued at more than $40,000, not to mention other customizations for work in the pipe industry.
This highly valuable truck was necessary for Lukas's job and yet it was sold at auction by the City for a mere $18,500.60. And if Lukas wants any of the money from the sale -- minus the City's costs for towing, impounding, and selling, of course -- he needs to fill out a form and allow 90 days for the claim to be processed.
Did none of those involved think in a lucid moment of self-doubt that what they were doing to Lukas might be unethical, immoral, or illegal?
How did this happen? It started when Lukas drove his truck from Grand Prairie and parked it in front of a friend's house in South West Calgary. Lukas was in a rush to catch a flight to Germany so that he could spend the holiday season with his mother who had recently been diagnosed with breast cancer. As it turns out, the truck was in a two hour residential parking zone and Lukas failed to request a free permit from the City. A neighbour complained and the truck was impounded.
Lukas's friend contacted the City to try to resolve the matter after the truck was impounded. She was told by parking officials that they couldn't help her since she didn't know the vehicle's plate number. She was also unable to reach Lukas to get the plate number since he had lost his phone en route to Germany. And since only registered owners may remove items from an impounded vehicle, she could not even retrieve the truck's contents for Lukas.
Like a Rube Goldberg machine, the neighbour's complaint triggered a series of events that led inexorably to the sale of the truck. Did none of those involved think in a lucid moment of self-doubt that what they were doing to Lukas might be unethical, immoral, or illegal? Apparently not, since the entire process continued on until an unknown buyer purchased the truck at far below market value.
Here's the problem: proportionality. No one -- not even Lukas -- thinks that parking in a two hour zone without a permit should go unpunished. That is a parking offence. But similarly, no one with a moral compass thinks that losing a $100,000 of property for a mere parking offence is appropriate either. What should have happened? Parking tickets? Yes. Impounding the vehicle? Sure. Selling it at a fraction of its market value and only relinquishing the proceeds upon request? That's beyond the pale.
Section 12 of the Charter protects us from two categories of government treatment: those that are inherently abhorrent and those that are grossly disproportionate. No Canadian government -- including Calgary -- can treat us in a fashion that is far out of proportion with what is appropriate considering the circumstances.
So ask yourself this: is it appropriate for Calgary to take $100,000 in property and undermine Lukas's ability to earn a living for failing to get a free permit?
Follow HuffPost Canada Blogs on Facebook
Popular in the Community