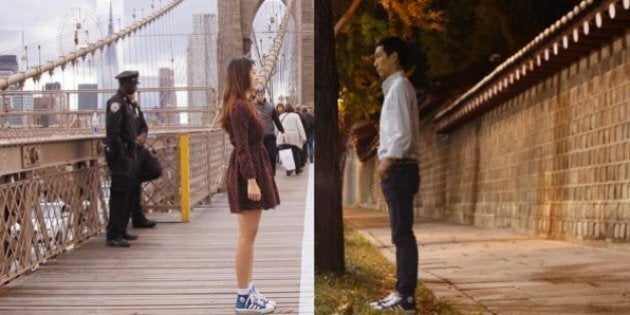 Despite being oceans apart, Korean artists Danbi Shin and Li Seok couldn't resist creating an art project together.
So they took to social media under the name shinliart to create a series of images that capture the reality of long distance relationships. The pair, who are engaged in real life, call the series "Half & Half," and hope the project will also show the similarities of two very different lifestyles.
"It gets quite emotional when we get inspired by doing the same thing, but in a different place. Sometimes, the cultural difference (between the West and the East), shows [a] different mixture of emotions even when we view the same object. That makes it interesting," Shin tells The Huffington Post Canada.
While Shin is based in New York and Seok is located in Seoul, the couple schedules their photo ops via video calls so they can take their photos simultaneously — despite their 14-hour difference.
Check out some of the images below.
Popular in the Community