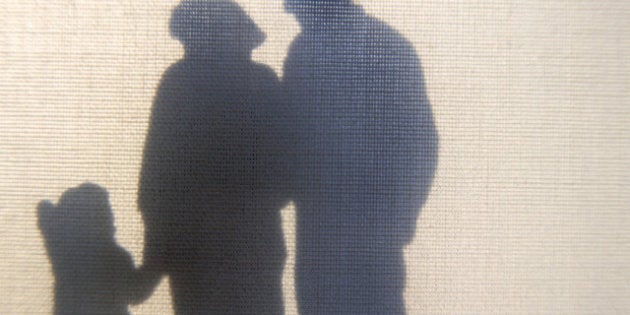 Living in the province of Ontario, I am fortunate to have the day off on February 20 because of the statutory holiday "Family Day". This holiday was created because the provincial government felt that "there is nothing more valuable to families than time together. And yet it seems tougher than ever to find, with so many of us living such busy lives."
Single parent households, blended families, same-sex families, cohabiting families. There so many more configurations that I haven't even mentioned. But when you're divorced and single, the expression "family day" suddenly takes on a very new meaning.
What if you're divorced with no children, and have no extended family? Does that mean you can't celebrate Family Day? No. I suggest that you reach out to your friends who have become your extended family. Let them know how special they are to you. Start building important bonds and relationships that you hope can be long lasting.
If you have become estranged or alienated from your family and children, use this time to reflect and try to understand what went wrong. Perhaps this can be the day when you start mending those broken bonds. The ending of a relationship between a parent and a child is probably one of the most painful experiences that can happen.
To be estranged is a breakdown of the bond between a parent and the child; a distance between the two is created. For whatever reason, there was something that caused the loving relationship to turn into one of apathy or hostility. If you ask me, parent alienation is a form of mental abuse.
"The most heinous situation in child custody disputes is called pathological alienation or parent alienation syndrome (PAS). In this scenario, one parent becomes obsessed with destroying a child's relationship with the other parent when there is no good reason to do so. Alienation can be mild, moderate, or severe... The children's will and choice are removed from them through a form of brainwashing. This is a serious form of child abuse, because if it isn't stopped, the children are headed for psychiatric disturbances, failed relationships, and dysfunctional lives in which they will pass this behavior on to their own children."
So what can you do to overcome these devastating scenarios?
In an interview I conducted with Dr. Robert A. Simon, a clinical and forensic psychologist in California, the doctor offers a slightly different perspective on the issue:
"I have concerns about the use of the term 'Parental Alienation Syndrome' because I think this oversimplifies the phenomenon and searches for its cause within an individual. In reality, there is a lack of quality, objective and empirical research to validate the notion that there is an identifiable syndrome that corresponds to the problem. Instead, this is a multi-faceted problem. The issue of children becoming alienated or estranged from a parent is a very real phenomenon and a huge problem.

However, I am concerned that raising this issue during the course of child custody litigation has become rather "trendy" these days. And when children resist contact with a parent, this is rarely the result of a malevolent parent setting out to destroy the child's relationship with the other parent. It is far more complex.

One of the things I've come to understand about this problem is that even on the rather rare occasion when a parent deliberately sets out to alienate his children from the other parent, the other parent often behaves in ways so as to "confirm" the alienation. In terms of re-establishing a relationship with your children, it is vital that you look carefully at yourself and at what you are doing or have done that may play into the hands of the children's other parent. Otherwise, no matter what the courts do, the children will still struggle in their relationship with you.

My suggestion is that you consult with a qualified, experienced family law specialist who has worked with issues of alienation before, and that you also hire a family law forensic psychologist to consult with you, and the attorney on the matter."
I also suggest that you work with a parenting expert, psychologist, psychiatrist or social worker to help you understand the dynamics of your relationship. This will help guide you to make things right once more.
But even if you are having a difficult time rebuilding the relationship due to painful experiences, you should still try to work with a professional; you are most likely dealing with your own emotional turmoil that needs healing.
For a gut wrenching story on the disastrous effects of PAS I urge you to read A Kidnapped Mind: A Mother's Heartbreaking Story of Parental Alienation, by Pamela Richardson. The book is a heartrending and mesmerizing story of a Canadian mother's separation from her child and their eventual reunion; it's a tale of grief and sadness, but also peace.
What I hope that you will take away from this post is how important it is for children to have a healthy relationship with both their parents. But I am not talking about physically or emotionally abusive relationships. I am talking about a loving, healthy relationship where children are not used as pawns and both parents take their responsibilities seriously, whether they be emotional or financial, so that they can best give their children what they need in life.
If you are contributing to the breakdown of the relationship or the other parent is, please reflect and consider the long term effects this will have on your child and start rebuilding those relationships today.
If you are as fortunate as I am to have a healthy relationship with your children, then give them an extra hug on Family Day and tell them how much you love them.
Parent-child relationships and the meaning of family is an important topic for many. What are you doing on Family Day to encourage a good relationship or overcome a bad one? I would love to hear from you, please share your thoughts.