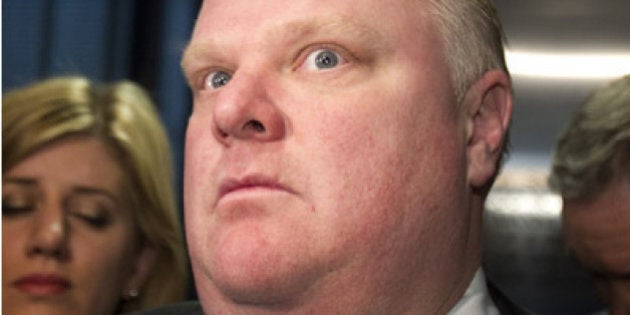 More police documents regarding the investigation into Toronto Mayor Rob Ford and Sandro Lisi were released Wednesday, including a description of the infamous crack video which begins on the third page:
Here is the full text of the police description:
The video appears to have been filmed surreptitiously showing Mayor FORD consuming what appears to be a narcotic while inside a residence.

Mayor FORD is holding what appears to glass cylinder in on hand and lighter in the other hand while engaged in conversation with individual(s) off camera. At one point I hear Mayor FORD say the name Liban.

At one point, Mayor FORD holds glass cylinder to his mouth. Lights the lighter and applies the flame to the tip of glass cylinder in a circular motion.

After several seconds Mayor FORD appears to inhale the vapour which is produced, then exhale vapour.

At the end of the video, Mayor FORD's attention is drawn towards an illuminated electronic device (looks like a cellphone) which briefly passes in front of the recording device.

Mayor FORD appears to look into the recording device. He then drops the glass cylinder and lighter on a table next to him; he briefly points at the camera and asks if it's on.

Length of video: Approximately 1 minute.
The video itself has not been made public but Mayor Rob Ford admitted last year that he had smoked crack cocaine.
Journalists Robyn Doolittle, Kevin Donovan and John Cook, who saw the tape last year, also declined to be interviewed by police, Canada.com reported.
Five videos in total were found on the computer of Mohamed Siad, police say in the court documents.
Police believe Siad, one of dozens of people charged in the Project Traveller drugs, weapons and gang investigation, was trying to sell the crack video, previously released documents indicate.
There seem to be failed attempts to record Ford leading up to the full video, and finally there is a video of someone who appears to be Siad filming himself "giving a short narrative of what was just captured," police say in the documents.
"Siad advises that to record someone secretly you should aim the camera towards that person and they won't know what you're doing as your (sic) just playing with your phone," police write.
"He then advises that's how you would catch a person slipping. He then goes on to say 'Or even catch a mayor smoking crack.'"
At one point on the crack video, police also allege they hear Ford say the name Liban.
Lisi is facing a charge of extortion in relation to the video, as police allege he threatened both Siad and a man named Liban Siyad, who was also charged in Project Traveller.
This is the second set of documents released about Project Brazen 2 after the earlier set of documents outlined Ford's meetings with his friend and occasional driver, Alexander Lisi. Lisi is currently facing extortion charges.
In the past, Mayor Rob Ford has claimed that the crack tape did not exist, but police documents released in November allege that Ford tried to buy the tape.
With files from The Canadian Press