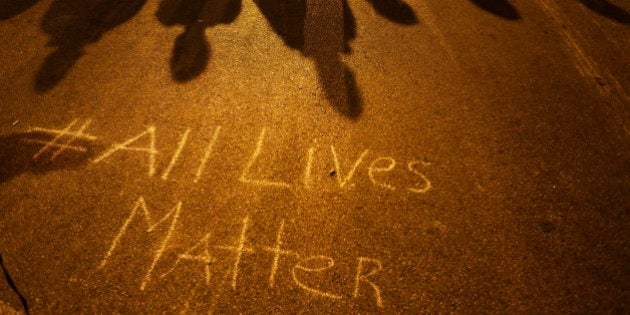 On the eve of the third anniversary of Black Lives Matter, a movement that exists to prevent anti-black racism by the police, one of The Tenors inserted the phrase "All Lives Matter" into the lyrics of "O Canada" during major league baseball's all-star game. Then, to make sure we believed our ears, he held up a sign with the same phrase.
Dude was dubbed a "lone wolf" by his fellow tenors who immediately repudiated his actions and kicked him out of the group, albeit only "until further notice." But he is certainly not alone in his use of the phrase.
J. Lo faced a similar social media backlash when she tweeted a photo with the hashtag #AllLivesMatter, and The Cult's lead singer publicly apologized after being pilloried for saying "All Lives Matter" during a show at Ottawa Blues Fest, prompting the crowd to chant it back.
It's not just celebrities, though. Twitter has countless #AllLivesMatter tweets, and while some users, like that tenor, may naively claim to be trying to promote peace and love, many are using it as a racial dog whistle to diminish and discredit Black Lives Matter.
Then there are the folks using it who don't care so much about subtlety.
The phrase has been controversial since it was first used to push back against the Black Lives Matter movement. Yet on July 8, the Toronto police's TAVIS division decided to include it in a memorial tweet about the tragic police shootings in Dallas.
While we can hopefully all agree on sending out condolences to Dallas, TAVIS' use of this hashtag is ironic considering they are at the forefront of the discussion over racist policing in Toronto.
Police union boss Mike McCormack also retweeted it, and he's on the record claiming systemic racism doesn't exist, telling the Toronto Sun that "It's not true and it's not acceptable to suggest it."
So he must have hated that the Toronto Star editorial from last fall headlined "TAVIS and carding both need to go" mentions "troubling incidents involving TAVIS officers include a case where a gun was drawn on teenagers in community housing, a history of arbitrary stops and searches, allegations of assault and a public strip search in broad daylight."
The editorial also mentioned an earlier investigation from 2010 that found "TAVIS officers resorted to carding more often than any other police unit, stopping people who had committed no apparent crime in order to ask intrusive questions" and that "TAVIS officers were targeting a higher proportion of black people -- 41 per cent of everyone carded, compared to 23 per cent by other police units. (Census data listed just 8.4 per cent of Toronto's population as black.) It's a pattern consistent with racial profiling."
Now maybe they didn't realize that "All Lives Matter" is used as racist dog whistle -- a seemingly positive phrase that actually sends out the contrary message that black lives don't matter. But that's a big maybe.
I would like to think that the police, of all people, are following this controversy closely and that their social media managers know what they're tweeting out into the world and how it will be perceived.
But maybe they don't. Maybe you don't. Maybe your uncle doesn't. (Though, c'mon, you've heard him rant after a few glasses of red at Thanksgiving.)
Maybe you refuse to believe that when you say, tweet or even sing "All Lives Matter" what people hear is that you're racist.
But if you don't think that it devalues the lives of black people consider this: would you yell "all lives matter" at a Holocaust memorial? What about a funeral, would you walk up to the grieving family, give them a hug and whisper "all lives matter" into their ears?
No? Well, last summer your fellow travellers in the All Lives Matter "movement" did vandalize a mural in Ottawa memorializing murdered transgender women of colour.
Installed as part of the capital city's Pride celebration, your philosophical friends graffiti'd "ALL LIVE MATTER, NO DOUBLE STANDARD, YOU HAVE BEEN WARNED."
So now you've also been warned. This is who you are rolling with. Feel free to peruse Twitter or comment sections on BLM-related articles if you have any doubts.
And once you've been woke, here's a great cartoon that you can share with your former All Lives Matter compatriots that clarifies why it can't possibly address the issue of racism and policing even if the people saying it all had the best intentions.
Oh, and as for the folks who watch the protests over the shootings of Alton Sterling and Philando Castile and want to pretend that this is an American issue that has no place in multicultural Canada? Well, just because the police here aren't killing black people with the same frequency as down south, doesn't mean that racial profiling and police violence, including officer-involved shootings, aren't also an issue.
His life mattered. And when we reach a point in our society where all black lives do finally matter as much as all white lives, then you can bust that old hashtag back out.
Follow HuffPost Canada Blogs on Facebook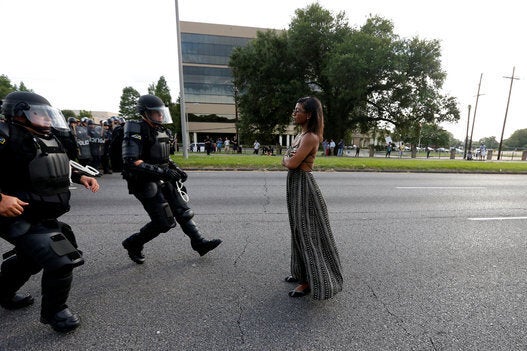 Black Lives Matter