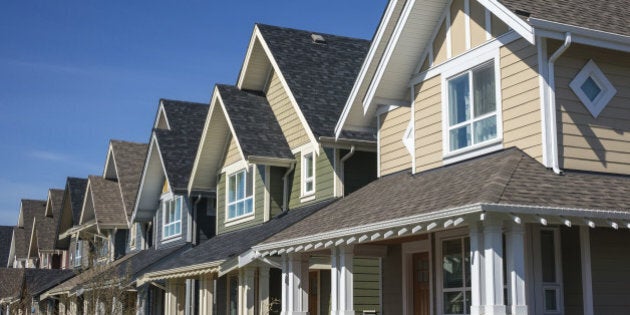 In Toronto and Vancouver's hot housing markets, affordability is "becoming a growing challenge for many individuals and families," Royal LePage noted in a new report.
Buying any type of residential property in Greater Toronto is 11.9 per cent more expensive today than it was a year ago, the realtor said in a survey released Wednesday. In Greater Vancouver, residential real estate is up 12.9 per cent in a year, to an average of $928,532.
No wonder an ever-larger group of real estate market experts is warning that housing affordability is headed towards a crisis.
But an economic forecast from TD Bank says that problem could soon reverse itself, in the form of a slowdown in the housing market that will end years of house-price run-ups in Ontario and British Columbia.
Citing "signs of extreme weakness" in the housing market, TD Bank — the country's third-largest mortgage lender — predicts housing markets in Ontario and B.C. will turn down next year, and stay down at least through 2017.
In Ontario, TD sees home sales falling 1.4 per cent next year, before falling a steeper 9 per cent in 2017. In British Columbia, the forecast calls for a 7.4-per-cent decline in home sales next year and a 14.1-per-cent drop in sales in 2017.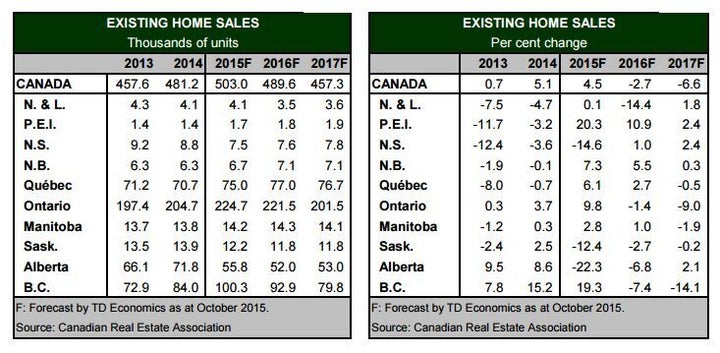 That will take a toll on house prices. TD sees Ontario house price growth slowing to 1.9 per cent next year, basically the rate of inflation. Prices are expected to fall by 1 per cent in 2017.
British Columbia house prices will continue to grow next year, at a slower 4.3-per-cent pace, but prices will turn down in 2017, TD predicts. It sees them falling by 1.2 per cent.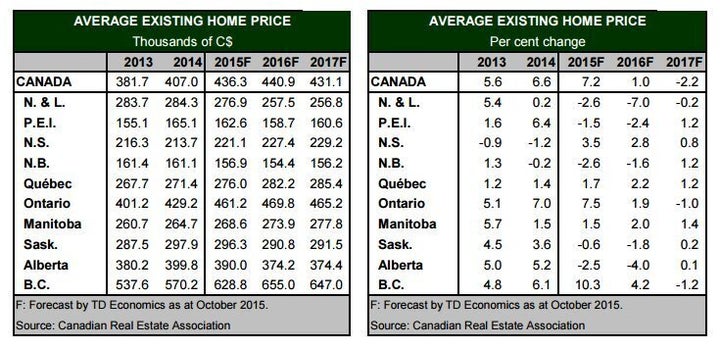 The weakness will be due to "both weaker demand as well as a multi-year period of overbuilding," TD economists wrote.
"As affordability challenges continue to intensify, markets in B.C. and Ontario are expected to record a tapering in sales and price growth in 2016 and into 2017.
"But, barring a shock to employment or interest rates (which we view as unlikely), corrections in these regions are likely to be orderly."
Runaway House Price Growth In Toronto Suburbs
Royal LePage's house price survey, released Thursday, took a more rosy view of the housing market, despite its warning about eroding affordability.
"Home ownership remains a bright light amid unsettled investment and savings options in volatile global capital markets," the real estate agency said in a statement.
It noted that the country's steepest house price growth has shifted to Toronto's suburbs. The median price of a two-story home in Richmond Hill jumped 18.6 per cent, to $963,561, while in nearby Vaughan they rose 18 per cent, to $842,173.
"As homes in legacy central Toronto neighbourhoods move increasingly out of reach, we are observing that the more affordable areas in Southern Ontario, including the GTA suburbs, are experiencing substantial price appreciation and heightened sales activity levels," Royal LePage CEO Phil Soper said.
Popular in the Community