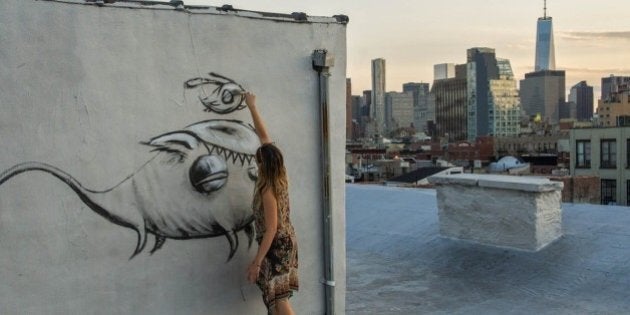 It's rare that people get to experience street art when they merely stumble across a painted wall, take a picture and then keep walking.
I started to experience street art when I met Perth Artist Hayley Welsh at her recent exhibit, Hijacked, in collaboration with partner and photographer Andy Faraday. I walked into the warehouse space they transformed and every piece of art related to the emotion I was feeling at the time -- mostly fear -- through messages like, listen to your little voice.
Manchester-born Welsh has that effect on people. She weaves a poignant narrative into almost every piece -- a message for each person to reflect on in the moment like "take the leap," and "dream big." Welsh and I recently chatted about her creative process and what it's like to be a female street artist.
What kind of art do you make?
My work is all about trying to capture an emotion that I'm going through at the time. Sometimes I do street art like large-scale stuff, sometimes I work small in my sketchbook, sometimes I do a bit of sculpting and wood modeling. I try to keep a bit of a range to mix it up and keep myself entertained.
When I look back on my work, it's a bit like a diary of moments in my life and how I was feeling at that time.
Talk me through your creative process.
I like collecting things. I think it's like creating a nest. My grandma and granddad used to go to charity shops and car boot sales religiously every Sunday to collect stuff in their house.
My house is like that -- I collect stuff. I collect things that I see. If something speaks to me I know I want to make something with it, or sometimes I know I have something that I'll make something out of at some point.
In all senses it always starts with the emotion. When I'm collecting stuff I might be down or when I'm doodling in a book, I'm escaping. I'm just kind of transferring my thoughts onto paper.
What kinds of things inspire your work?
A lot of my inspiration comes from wanting to illustrate how I'm feeling. I started illustration as a degree and I find that my art is illustrating the narrative of my emotions.
This kind of started when I moved to Australia. It was about whether I'm doing the right thing to be living on this side of the world, while my family is on the other side. It's about connecting with a doubt -- where I'm living and what I'm doing -- and my art is a byproduct of me figuring out what I'm doing. By finishing an artwork, I've had some kind of resolution.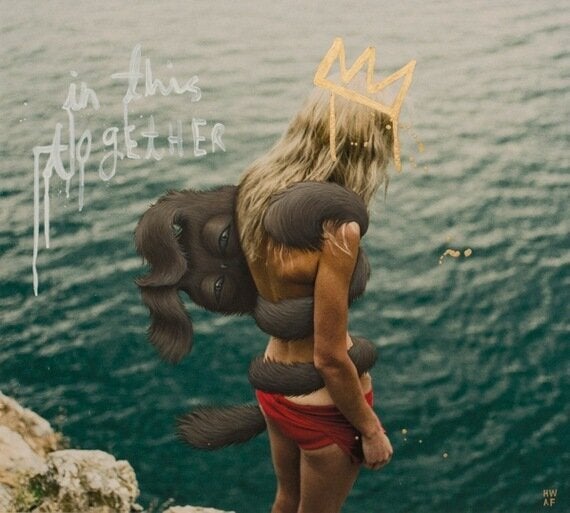 A piece from Welsh's recent work in collaboration with Faraday called "Take the Leap." Photo credit: Hayley Welsh and Andy Faraday
How do you curate your self-image to represent your role as a street artist?
I prefer my work to speak for itself. It shouldn't be my sex or what I wear. It should be about the art and how that makes people feel. I don't want to stand out as being a "female" street artist. I'm an artist like anyone else. I don't wear mini-skirts or heels when I am painting walls, just comfy jeans or shorts and a t-shirt most of the time.
How do you measure the success of your work?
I know what I don't refer to and that's sales. I know you can't control what people will like or not like, but you can have a conscience and have control over the experience.
Whenever I do a show I try to have some experience that people can walk away with or felt like they tried something different. I guess if I see someone connecting with the work or hear that someone is connecting with it, it has worked. As long as I have satisfied me figuring out my emotion in the piece, then it has kind of done its job and I can leave it in the hands of the audience.
In September, Welsh and Faraday will host Not Another Open Studio, an invitation to a small group of people to join the duo in their new studio and see some work in progress. Visit www.welshandfaraday.com to follow what they're creating.
I'm fascinated by creative women -- their passions, challenges, and contributions to society. If you know a creative woman to feature, please tweet @kmarano.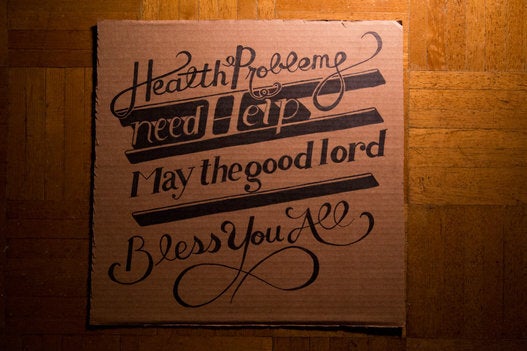 Artist Redesigns Signs For Homeless People