"Some people fit into girl and boy, and some people don't. And that's OK, because they're still people." — Odessa Hewitt-Bernhard, 13
City View Alternative is comprised of four classes of Grade 7s and 8s. Just 64 students occupying half a hallway on the third floor of another, barely bigger junior public school. The property, in the Brockton Village neighbourhood of Toronto's west end, has a history as a school since 1881.
But perhaps City View's most pivotal year came in 2013 when 22 scissor-wielding students joined together to cut the ribbon on their new all-gender washroom.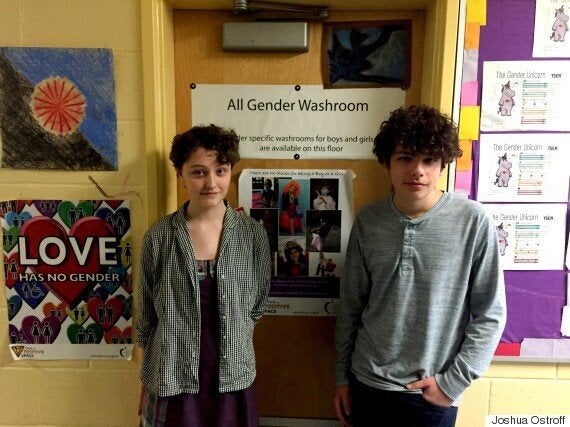 City View became the first school in Toronto to have one, and the first in Canada to do so proactively rather than in reaction to a complaint.
It was also among the first to have a multi-stall, all-gender washroom rather than one single stall. (The school prefers the term "all-gender" than "gender-neutral" as it's more inclusive.)
"A lot of people from outside the school ask me about it and say, 'That's weird,'" said Odessa Hewitt-Bernhard, a Grade 8 student and member of the school's Queer-Straight Alliance (QSA). "But because it's not weird for me, I explain it how I see it: it's a bathroom, it's pretty in there, there's artwork. It's nice."
The fight for trans rights is the civil rights struggle of our time. But as the issue has risen to the forefront of politics and pop culture, the backlash has been harsh.
There's North Carolina's infamous "bathroom bill" that bans trans people from using the bathroom of their gender identity, and prompted Bruce Springsteen to cancel a recent concert. It's one of 12 U.S. states with bathroom bills before legislatures and Canada's own transgender rights bill C-279 was derailed when a conservative senator added a discriminatory bathroom amendment. Nothing has been passed yet in its place.
"Being at the edge of an issue is always interesting because you get to see the turns the issue takes, and you get to see how it's affected by other things. No issue is singular," said 14-year-old Severn "Sevy" Lortie, another Grade 8 member of City View's QSA.
"For instance, religion is a big obstacle because you want people to be able to practice their religion, but the idea of having religious rights that exclude other people's rights doesn't make sense to me. Like, our right is that you don't get to be together?"
He added: "For the record, I really do have nothing against religion itself. I think it's amazing. You get stories, and it's the embodiment of us trying to understand how everything works. I think the issue is when that understanding starts excluding people because you have this rigid path you want to follow — this is God's way.
"If I had a very religious Catholic person who was against [multi-stall all-gender bathrooms] I would never call them sexist or homophobic because as soon as you start using those, it just shuts everyone up. You don't need to go into the details of it. I'd just say it's for people who don't fit in."
Lens of social justice at school
It's not a huge surprise that City View was a pioneer on this front as their mandate is to teach through a social justice lens and to encourage activism. When consent was added to Ontario's updated sex-ed curriculum, it was a result of a school project by then-City View students Tessa Hill and Lia Valente. Their petition garnered 40,000 signatures and a meeting with Ontario's premier and education minister.
Like the consent issue, the push for an all-gender bathroom was also student-driven, arriving in the wake of the passage of Toby's Act in 2012, a transgender rights bill that added gender identity and expression to Ontario's human rights act.
"Social change is never easy. But we need to push forward."
"We started conversations about the difference between sex, gender and sexuality health classes with an eye to queering the health curriculum," recalled David Stocker, an award-winning City View teacher. He's also the instructor in charge of the school's QSA and a father of three, including a trans-identified pre-teen, and the youngest, Storm.
If that name sounds familiar, that's because Stocker and his wife sparked an international media circus after a Toronto Star story on their decision to raise Storm as gender-neutral.
The impact of the new health class lesson plans on gender identity and expression was felt almost immediately in City View's hallway, Stocker said.
"We started seeing graffiti go up on the washroom door signs. So people put a dress over one of the images on the boy's washroom, and a sign went up beside the girls' icon that not all girls wear dresses' and then another sign that said 'girls or not-binary' and 'boys or not-binary.' We had this idea that a discussion was happening among the students.
"So we said, if our school is about social justice activism, maybe we have to look in our own hallway."
The students started advocating for a third option.
The process took a few months. There were parent information sessions, which were relatively easy given the inherent progressive nature of City View parents, and consultations with the school board's gender-based violence prevention office, which asked how they had laid the foundation for a multi-stall all-gender washroom. That turned out to be key.
"If you just plop down an all-gender washroom because you legally have to, it's going to be very problematic. There will probably be violence in it, and people will be made fun of. So the TDSB (Toronto District School Board) has to work on creating an better environment," said Hewitt-Bernhard.
Since City View's bathroom opened, 50 other schools have followed suit. That was always the alt-school's strategy — set a precedent where it's easier and prove the potential. Now, due to an Ontario Human Rights Tribunal complaint by a trans child who was bullied over his gender identity in a bathroom, the TDSB announced in February that it will soon be available in all schools.
CBC reported that after the decision the child "scrawled" a note, decorated with pencil stars, that read "I'm glad about what people have done about the bathroom issue. I hope nobody has to go through what I had to go through."
But Hewitt-Bernhard said schools need to go beyond what is mandated.
"Opening an all-gender washroom is basically just good PR, but creating a better environment for people who are trans and LGBTQ is not." She noted that while she supports awareness events like the International Day of Pink — an anti-bullying campaign with a focus on homophobia and transphobia — she said it needs to be incorporated into school every day.
"In class, we talk about issues of justice. One of the reasons one of the reasons our school is such a safe place is because of that."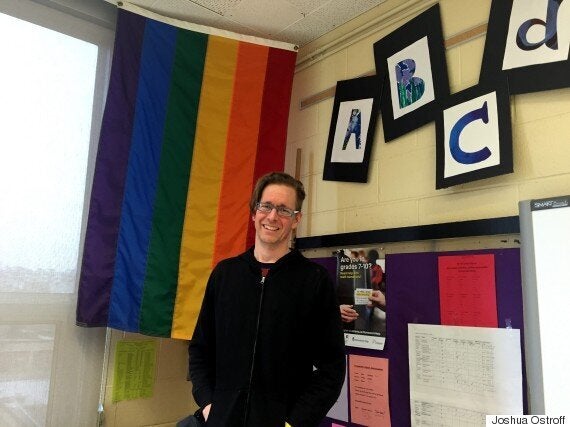 Stocker also noted that despite the expansion of all-gender washrooms and the fact that "on paper the TDSB is one of the most progressive school boards on the planet," many, if not most, of them won't have multiple stalls.
"That's where people start flying off the handle," he explained. "People just don't worry so much about that because it's a single person in there at any time.
"The thing about the multi-stall that's so critical is that by making it available to everybody across the gender spectrum, which may include trans students, nobody has to out themselves," Stocker adds. "The all-gender washroom was not about necessarily supporting trans students at all."
"Trans people have a right to use the washroom of their lived identity. So if you are male assigned at birth and you feel like you're a girl, it's likely and possible that you will use the girls' washroom in the school and you have the legal right to do so. All-gender washrooms respond to students who are gender non-conforming or gender fluid, and allies."
Story continues after slideshow: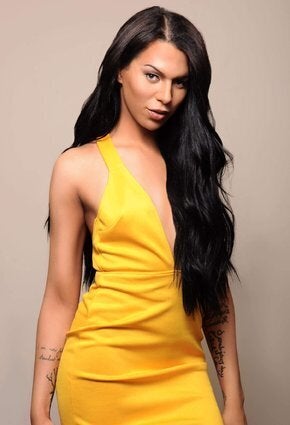 Transgender Heroes
Since their all-gender bathroom opened, kids from City View have visited other schools to talk to parents and teachers about their experience and assuage their concerns. The experience has been challenging as the reaction outside of their school's progressive bubble has been more fraught.
"They were like, 'Woah, those parents are really upset, and I'm surprised,' Stocker said. "[They] thought this would just be a done deal. So there's still a lot of work to be done."
"You have to be open," Lortie advised. "It's really easy to get angry at the person saying, 'You're not credible, you're just kids.' But you have to see it from their perspective, and just work with them. I listened to the points they had to say, and I thanked them for sharing and that I welcomed the discussion and then I asked them questions."
Both Lortie and Hewitt-Bernhard said that teaching kids about gender identity and gender expression early is key. Though both come from progressive families, they said that when they arrived at City View in Grade 7, they didn't understand the issue or the need for an all-gender washroom.
"I think it's important to start teaching these ideas as soon as possible," said Hewitt-Bernhard. "You don't need to say everything but it's important to know that people who are trans exist. Because if someone is young and they are trans, you don't want them to feel that they're wrong in some way.
"People know that they don't fit in at an early age."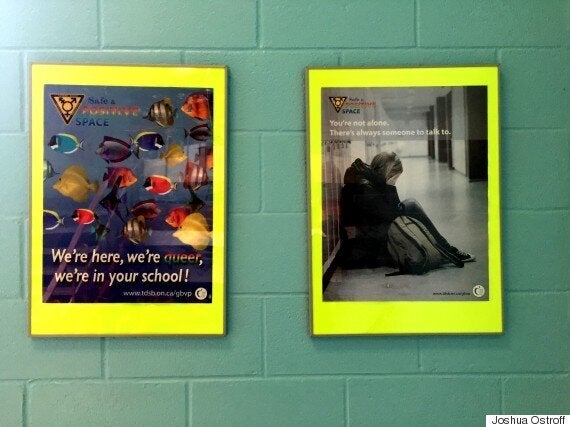 All-gender washrooms have since spread to schools across the country.
It's still somewhat piecemeal as far as accessibility, but despite efforts by some parents and religious organizations, the human rights argument has seemingly won the day when it comes to the battle over school bathrooms.
'We'll be on this path for some time'
When the Vancouver School Board debated genderless washrooms in 2014, police were brought in to maintain order. But when North Vancouver installed its first gender-neutral washroom last fall, Seycove's principal Mark James was asked by VanCity Buzz if there was any pushback from parents, faculty or students. He responded "none whatsoever."
The country seems to have move on, though Stocker noted a survey by Canadian human rights group, Egale, found that 61.5 per cent of trans students "feel unsafe at school because of gender or gender expression," while over half of trans students feel unsafe in school washrooms, second only to phys-ed change rooms.
"You still have significant amounts of homophobia and transphobia. So I think we'll be on this path for some time," said Stocker.
Naturally, City View has started pushing us down that path already.
"It's like being afraid of the dark, right? You're afraid of what you don't know and you tend to close yourself off to that kind of stuff."
Last year, they offered the option of an all-gender cabin on their year-end trip, an idea prompted by a trans student who did not felt comfortable sleeping in a gendered tent during a fall camping trip and had wanted to stay home instead. There was a bit more concern here from parents, but the plan went ahead with four single gender cabins as well as four shared cabins with private change areas.
Lortie was one of the students who volunteered for the all-gender cabin. He described it as a great experience, and one that got him hanging around with people other than his best friends.
"It's like being afraid of the dark, right? You're afraid of what you don't know and you tend to close yourself off to that kind of stuff," said Sevy about parental concerns over these efforts to create trans-inclusive spaces. "I don't put anyone down for that. Everyone is scared of something that's new to them.
"Just because I'm a kid doesn't mean I'm immune to growing up and when I'm an adult I'm sure I'll be afraid of some thing for their kids. Ultimately, parents are really concerned for their children's well-being — but how they do that should be evaluated."