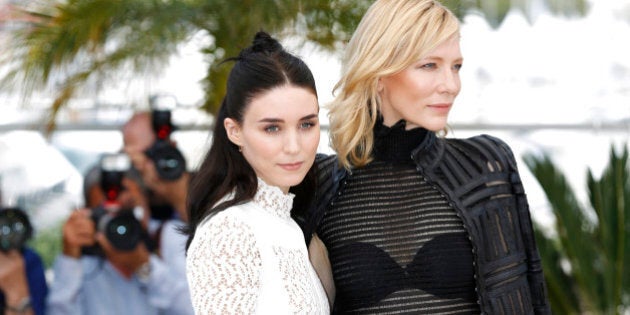 This Sunday, the 88th annual Academy Awards will air. One film that will garner considerable attention at the ceremonies will be Carol, which earned an impressive six Oscar nominations in categories that include Best Adapted Screenplay.
The movie is an adaptation of The Price of Salt, a 1952 romance novel by Patricia Highsmith in which Carol Aird -- who is married and has a child -- meets Therese Belivet in a department store. The encounter leads to a passionate affair. The book is believed to be the first, and for many years was the only, lesbian novel published that portrayed a happy ending for its female protaginists. At the time, lesbian fiction could be deemed obscene and seized by the authorities if the women were not portrayed as misguided, making choices that led to a bad end.
Historically, lesbian relationships flew under society's radar and attracted little negative attention. In the 19th and early 20th centuries, so-called "romantic friendships" between women were somewhat tolerated, at least among the middle and upper classes. Females could have intense relationships with one another provided they kept any erotic conduct discreet. However, beginning in the 1920s, sexologists and psychologists began to define intimacy between women as abnormal or the result of mental illness. Consequently, lesbians quickly joined gay men as objects of scorn and derision.
Surprisingly, Highsmith, herself a lesbian, was able to get The Price of Salt published despite the fact that she failed to inject an unhappy ending. Neither did she portray Carol or Therese as suffering a sense of shame about their sexuality. This prompted Phyllis Nagy, who wrote the film's adaptation, to remark how radical the novel was "in terms of its overall conception -- two central figures not giving a rat's ass about sexual identity. No one frets about being gay; others fret on their behalf."
This then-rare positive portrayal of lesbianism must have been a source of great comfort to women who identified with the fictional love portrayed in Highsmith's novel. As Katherine V. Forrest, a lesbian writer whose romance Curious Wine is considered a classic of American lesbian literature, explained:
"Back in those days ... 'perversion' could have no reward in novels about us, even those we ourselves wrote. For unrepentant lesbian characters who did not convert to heterosexuality, madness, suicide, homicide waited, or, at best, 'noble' self-sacrifice."
Nevertheless, despite such negative depictions of lesbian love, Forrest -- who came of age in the 1950s -- added:
"The importance of [lesbian] fiction novels cannot possibly be overstated. Whatever their negative images or messages, they told us we were not alone ... they led us to look for and find each other, they led us to the end of the isolation that had divided and conquered us. And once we found each other, once we began to question the judgments made of us, our civil rights movement was born."
While Carol is not based on a true story, it makes one stop and think about "how much we don't know about a past that unfolded in the shadows until not very long ago." Indeed, prior to the 1960s, detailed accounts of the private lives of lesbian couples are rare. One notable exception involves two remarkable and very real women named Frieda Fraser and Edith Williams.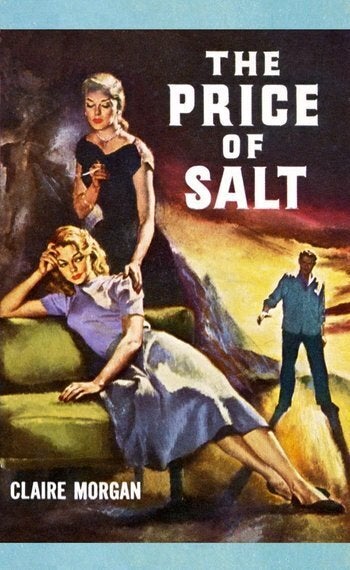 During an era of emerging hostility towards lesbians, an unapologetic and life-long romance blossomed between Fraser and Williams. Their relationship lasted from the 1920s until Williams' death in 1979. Fraser was a prominent researcher and lecturer in microbiology. Williams was one of the first females in North America to graduate as a veterinarian.
Their relationship is well documented through the many letters, later donated to an archive, they wrote to each other during periods of separation. Their epistles expressed their daily life, the love they shared, and the challenges they faced from their families who opposed their union. The letters also make it clear that they too did not give "a rat's ass" what anyone thought of their union.
In fact, Neither Williams nor Fraser attempted to keep their relationship a secret. Thus, Williams wrote to Fraser in 1926, "I said [to my family that] I was going to see you, and they said that they hoped I had got over that absurd business." Demonstrating a sense of humour and gift for puns, Fraser wrote back to Williams that same year, "Either you arrive just before Mother & we greet her arm in arm, or Mother arrives just before you & will want me out of arm's way ... It would be a nightmare if it weren't so funny."
Both The Price of Salt and Carol depict the ever-looming threat gay and lesbian parents faced from courts that would deny them access to their children because of their sexuality. Carol's husband becomes suspicious of her relationship with Therese, which leads to divorce. Carol is forced to give up custody of her child but demands regular visitation even if supervised.
Homosexuality was legal grounds for ruling a parent unfit as late as the 1980s. Consider this statement from a lesbian advocacy group in 1977: "One of the most terrible penalties we pay for stepping out of line is the loss of our children."
We now live in an era where homosexuality has become sufficiently mainstream that a prominent film like Carol can be made and celebrated at the Oscars -- one of the ultimate nods of cultural acceptance -- without society batting a collective eyelash. However, given the hostilities directed at gays and lesbians in the 1950s, it is a wonder Highsmith had the courage to write and publish the story, albeit under the pseudonym Claire Morgan, on which the film is based. One wonders how many creative expressions were silenced throughout history, and continue to be censored today, by homophobia.
Follow HuffPost Canada Blogs on Facebook
Popular in the Community