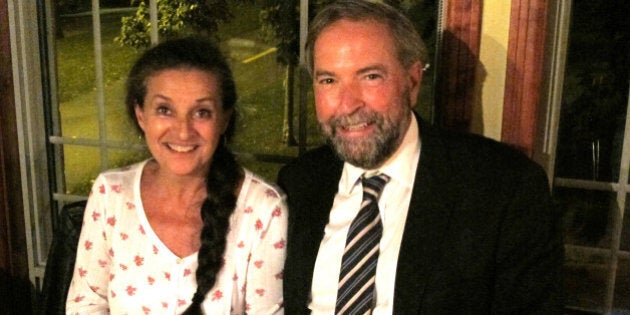 VERDUN, Que. — NDP Leader Thomas Mulcair may come across as an angry, bullheaded and intransigent figure, but his wife wants you to know he is a really kind man — even if he doesn't always show it.
In her very first interview, over dinner at Crescendo, an Italian restaurant overlooking the St. Lawrence River in the working class borough of Verdun, southeast of Montreal, Catherine Pinhas, says Canadians don't know that her husband is a sweet guy. Seated next to him, she describes a man who cares for people, visits friends at the hospital and has earned the long-time loyalty of his staff.
After a complicated order, substituting Mulcair's vegetable soup for another tomato juice, ensuring that Pinhas's meal has no bell peppers, asking that she can have the arugula salad on special without ordering the $29 Table d'Hôte and that the Boston cod for both has no breading, Pinhas says Mulcair is one of the best people she knows.
But Canadians don't know it, she says.
"They see him as a big brute — which is totally false. I could never be with a brute," she says, her brown eyes flashing. "He is nice, he is kind. ...That, I would like people to know," she says, grabbing his hand tenderly. He smiles at her.
The NDP leader is wearing a navy suit and tie — and keeps his jacket on during dinner — while his wife is dressed more casually in a white cotton long sleeve shirt with pink flowers and simple gold jewellry.
Mulcair places the blame for his "Angry Tom" image — one of a man with a sharp tongue and an uncontrollable temper —squarely on strategist Brian Topp, his main adversary in the NDP's 2012 leadership race.
"During the leadership race, one of the candidates decided that that was going to be their theme against me. They tried to paint me in a negative light," Mulcair says.
The waiter forgets the tomato juice and brings the soup, but Mulcair says nothing.
Topp's campaign may have promoted the image of Angry Tom, but Mulcair earned it years before when he first sat in the opposition benches at the National Assembly in Quebec City, as his wife will later note.
"He has this role (to play) and they are not used to it, to have people who stand up and will say enough is enough, and will scream, or will ask questions" — Pinhas smacks her fist into her open hand — "short ones, so they don't have time to think on the other side."
When Mulcair quit Liberal premier Jean Charest's cabinet in 2006 — either because he refused to support a condo project in a provincial park or because he refused a demotion, depending on whose version of the story you believe — Charest said his former environment minister had trouble working in a team.
Mulcair believes his negative image has stuck partly because he has been standing up to a very tough opponent in Prime Minister Stephen Harper. Sometimes the debates get "very rough and tumble," he says, pushing his shoulders back so his chest rises. Harper has never faced such a tough opponent, he says.
"I don't shy away from a good tough debate, at all. It's always been part and parcel of my understanding of what we have to do in politics, because otherwise you end up like Stéphane Dion or Michael Ignatieff. You are just going to be roadkill."
Pinhas, a psychologist who has a private practice in downtown Montreal but works two days a week at a long-term care facility for the elderly that is part of a community health network east of the city, doesn't like politics.
She tells The Huffington Post Canada that she worries about Mulcair, and she hates seeing negative stories about him.
"I don't like it at all," she says, looking at Mulcair, as the waiter brings the fish sitting on a bed of spinach. Pinhas looks disappointedly at all the red peppers on her plate.
Pinhas later explains that she is very sensitive. Sometimes, she doesn't manage her emotions properly, just like her husband, she says.
"He has character traits, and he has the good and the bad side of them," she says.
My sensitivity is my strength and my weakness, she says. "I am a very good psychologist because I am sensitive, but I will be affected and upset more easily than others."
Mulcair can give the impression that he is intransigent, she says. "His determination, well, it's the same thing as being bullheaded."
You can't be bullheaded without being determined, she insists. It's just not possible. "You don't know how to use it, or you use it badly. He has the faults of his qualities."
Pinhas is a loving critic. She keeps him on his toes. When Mulcair starts talking about a former mayor of Laval who was a really good guy "unlike some of his successors," Pinhas interjects loudly — "Arrête!" He pauses, then continues with his sentence. Mulcair has been accused of not reporting, in 1994, a suspected bribe attempt from then-mayor of Laval, Gilles Vaillancourt. He was also forced to pay $95,000 after he was sued for defamation for calling PQ minister Yves Duhaime an "old c*nt" whom he looked forward to seeing put in prison.
Story continues after slideshow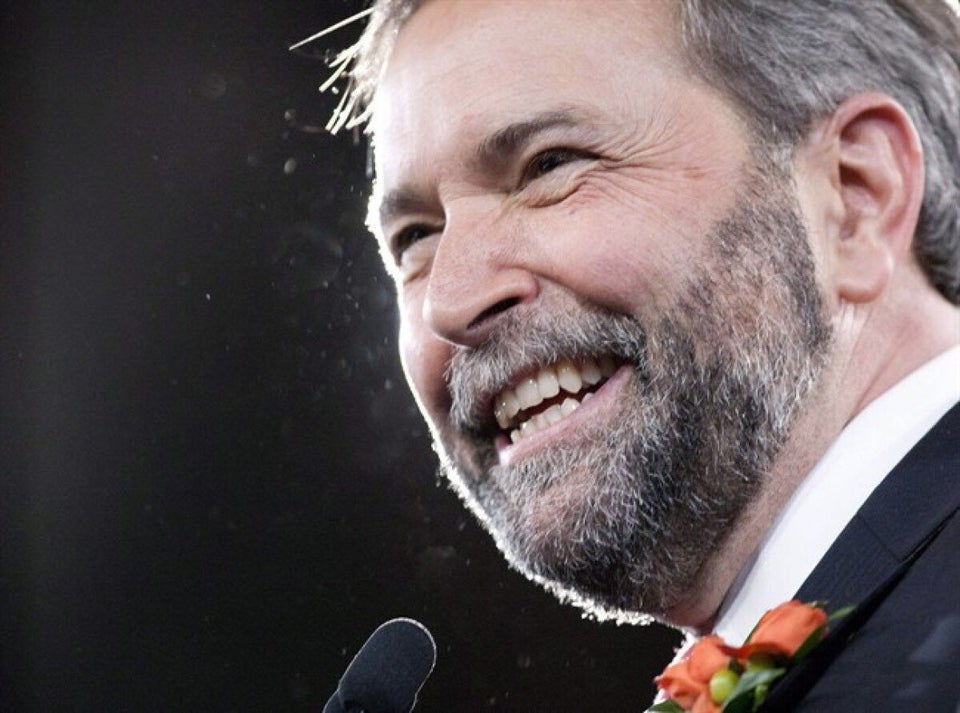 10 Little-Known Mulcair Facts
Pinhas says their relationship has evolved over the years to be one of support. "When I feel fragile or overwhelmed, then he is more solid and I can lean on him, and it's the same thing the other way around," she says.
They have been together 39 years, married for 37. They met in 1974 when Pinhas, a French citizen raised in Paris, was in Canada for her cousin's wedding. Mulcair was dating the bride's sister at the time. Pinhas, who at 58 is an elegant and beautiful woman with long brown hair, an easy smile and bright brown eyes, recalls walking down a grassy hill as a 19-year-old towards the bar where Mulcair, also 19, was fixing drinks.
It was love at first sight. "There were fireworks," she says. She returned to France with his photo and the two wrote each other every day before they wed.
"I sent him love notes saying I miss you, and he would write back, you miss me," she said in French of their lost in translation moments. "I thought to myself, he's really quite bold." He sent her presents, once a 45-inch record — though neither will say what was on it — that drove her mother crazy. "She thought he had no head on his shoulders."
They came from different backgrounds. Hers was very bourgeois: her parents had a live-in housekeeper to help look after her and her sister. "My parents' friends probably used hangers to straighten the backs of their children at the dinner table, and them," she says looking at Mulcair, "they were 10 children with four sandwiches and maybe a chicken wing."
"I was spoiled," she later adds.
Mulcair, who grew up in Chomedey, a district in Laval on the north shore of Montreal island, says that when he was eight, he would put several of his brothers and sisters to bed and change their diapers. "This was real stuff that you had to do because there were six others under you."
They have two sons in their 30s — Greg, a Cégep physics professor, and Matthew, a sergeant with Quebec's provincial police force. Matthew and his wife, Jasmyne, a school teacher, have two children, Juliette, 4, and Raphael, 4 months.
All are working in public service, Mulcair notes. "That comes from a way of seeing yourself in society, I think."
Mulcair knew he wanted to be a politician when he was a teenager. One of his teachers, a priest, helped him understand the obligation to help others and he felt inspired by his local mayor. A guidance counsellor told him he would have to go to law school if he wanted to be a politician. The couple waited a long time before Mulcair finally jumped into politics in 1994, running for the provincial Liberals in his hometown. When offers came in 1984 and 1989, Pinhas and Mulcair say their children were too young. "I couldn't be daddy and mommy, it's impossible." Pinhas says. "I could only be mommy."
"We told ourselves the opportunity will come again," she says.
"And it did," Mulcair adds.
"The family is the real life, and then there are jobs. We are not going to take any risks to the family for jobs — even if they are important jobs," Pinhas says.
Politics is about people who can make a difference, Pinhas says over dessert. A crème brûlé — his favourite — and coffee with cream for him, nothing for her. The restaurant has run out of gas for the torch and the crème brûlé has been baked. Mulcair stares at the soupy mixture. "It's a cream soup," he says, "a two out of 10," but he finishes the large serving anyway.
Politics is about giving back to Canadians a sense of pride, listening to them and doing something, Pinhas explains. But she says she never wanted do it actively because it annoys her too much when she sees injustices and inequality. "Especially," her husband interjects, "when we can do something about it."
Pinhas finds it especially difficult working in the healthcare field and seeing seniors thrown into bankruptcy because they can't afford the bills. "It's not acceptable, a society like that."
Similar values ground them, she adds.
"It's honesty, it's love, it's frankness. It's not complicated, it's being true — and respecting each other because we are all different, but respecting everybody. For me, that is key."
"She practises what she preaches, believe me," Mulcair interjects "Catherine is like that, she is straight, straight, straight."
Pinhas knows she can give her husband advice, but she does it respectfully. "Who am I to tell him what to do? But I can tell him, I have the impression that…."
"If she hears me say 'Harper something,' Catherine will always look at me and say, 'Mr. Harper,'" Mulcair adds. "She tells me that I need to have that respect."
"I have nothing against them (the Conservatives) or him," Pinhas says of Harper. "I do not agree with a lot of things — otherwise we would not have embarked in this whole adventure — but the respect is there," she says.
Still, Pinhas says she really cannot stand some people.
"It's less obvious in you than it is in me," Mulcair jokes.
"But in me there is no Irish, which helps," she retorts.
When the bill comes, Mulcair tips 15 per cent. The waiter is pleased.